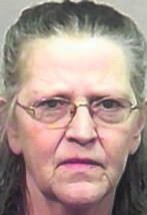 Louisa County investigators are taking a closer look at the death of a third person with ties to Ulisa Mary Chavers.
On Tuesday, authorities said they are examining the death of Eleanor K. Bowles, the mother of Chavers' boyfriend Reginal Cody Bowles, whose body was found at the bottom of a 33-foot-deep well on his Louisa property in March.
In April, investigators exhumed the apparent remains of Chavers' second husband, Clent Chavers, in the backyard of the house they shared in Amelia County.
A cause of death has not yet been determined for either man.
Authorities now say they are investigating the fact that several thousand dollars was removed from Eleanor Bowles' bank account, before and after her death, and ended up in Chavers' account, said Maj. Donald A. Lowe of the Louisa Sheriff's Office.
Officials already have said they suspect Mary Chavers collected the Social Security money of Cody Bowles and Clent Chavers after they disappeared.
On July 5, 2004, Chavers reported finding Eleanor Bowles' body in a trailer beside the house where Chavers was living with Cody Bowles — who was still alive at the time.
Eleanor Bowles, 69, was discovered in a chair with food and vomit in her mouth, Lowe said. Her death was ruled a natural death, and no autopsy was conducted.
Now that authorities have discovered the two men's bodies, Lowe said investigators wanted to have an autopsy performed on the body of Eleanor Bowles, but they can't because her body was cremated.
"It doesn't pass the smell test," Lowe said of Eleanor Bowles' death, although he added, "we're not accusing anybody of anything."
Other discoveries have raised investigators' eyebrows.
Eleanor Bowles had eaten breakfast every morning at a restaurant in the Mineral area of the county, but she stopped going soon after Mary Chavers became her caregiver in 2004, Lowe said. Chavers began cooking meals for Eleanor Bowles and administering her prescribed medication.
Eleanor Bowles had bought a burial plot and a headstone for herself but later got a refund, and "within a year, she's dead and cremated," Lowe said.
Investigators also say they have identified inconsistencies in Chavers' statements about the disappearance of Cody Bowles.
After Cody Bowles disappeared at least two years ago, Chavers told a neighbor he had moved to Florida to be closer to one of his sons. But she told authorities that Bowles had ridden off to Sturgis, S.D., on a motorcycle.
She faces charges of concealing Cody Bowles' body, credit-card fraud, identity theft and possession of a sawed-off rifle. Her trial in that case is scheduled for Oct. 21.
Authorities believe Mary Chavers buried Clent Chavers in the backyard of their former home in Amelia in spring 1994, when he was 68. She has told investigators that after he died of natural causes, she dug a hole and dumped him from his wheelchair into it and buried him.
Authorities on April 10 dug up what they believe are Clent Chavers' remains, wrapped in a bedsheet in a shallow grave. The skull was missing.