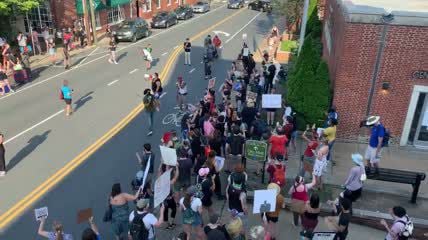 Charlottesville has no immediate plans to repave a section of Market Street, city officials said this week.
Protesters last month spray painted "Black Lives Matter," anti-police phrases and other comments on the street in front of the Charlottesville Police Department at the end of a protest on June 21.
A cleanup cost estimate document released by the city last week cited about $19,600 in costs to clean up the paint, but a nearly $15,600 repaving estimate drew questions from community members.
Deputy City Manager Paul Oberdorfer said the city is not going to spend money unnecessarily.
"As long as the temporary black-out [paint] lasts — ideally, we want to get through fall and hopefully, the statues are no longer an issue and the police issues are remedied — there's really no reason to do anything at this point," he said.
Last week, the police department said that four people "have been charged" with vandalism, but did not identify those individuals and said it would not until all warrants were served. A police department spokesman said Wednesday that police are still in the process of serving the warrants.
City maintenance crew staff used a stormwater flusher truck with a high-pressure jet to power wash off the paint, but not all of the paint could be removed by power washing, chemical stripping or abrasion, Oberdorfer said. The crew used back-out paint to cover up what remained.
To comply with Federal Highway Administration guidance and the Manual of Uniform Traffic Control Devices, any conflicting markings on the pavement must be removed to provide drivers with clear navigation, he said.
"Black-out paint is a temporary solution to remediate the effects of the graffiti with milling and resurfacing as the preferred permanent solution," he said.
The city has a road repaving schedule and is in the process of getting on a 20-year cycle, Oberdofer said.
That particular stretch of Market Street was repaved last year.
"It's hard to say how long it'll last," he said, of the black-out paint. "It's just going to be dependent on traffic and weather. But certainly over time, at some point, we'll reach a point where we have to do something."
Approximately $4,439.08 was spent in-house for the clean up, which included approximately $1,706.88 for the use of trucks, $17.34 per hour for two hours of use of a thermoplastic trailer, $908.72 for materials, approximately $1,679 for 12 city employees to work 93 hours and $47.13 for supplies.
Oberdofer the crew was diverted from other scheduled maintenance activities to respond to Market Street.
Be the first to know
Get local news delivered to your inbox!