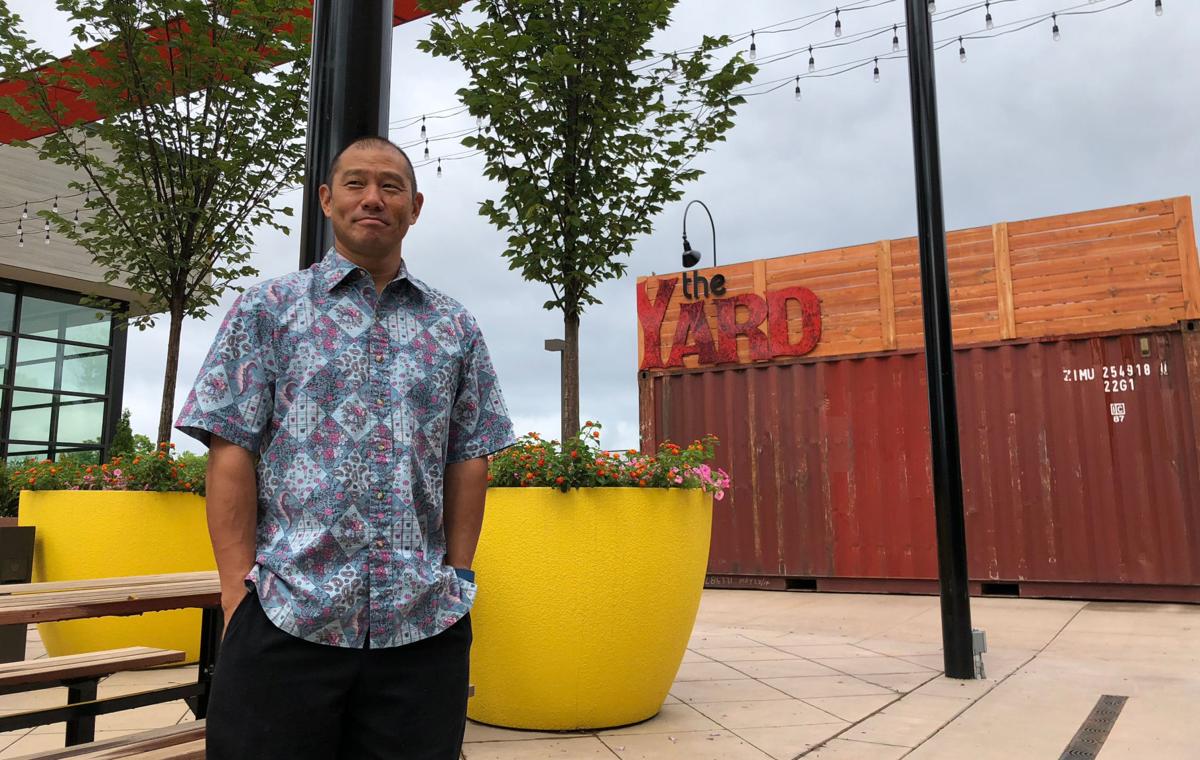 At 10 a.m. Tuesday morning, Riki Tanabe was just three hours away from signing a long-term lease for his first real restaurant, Mochiko Cville, at The Yard at 5th St. Station in Albemarle County.
"I'm scared and excited, but I'm more frightened than excited," he said slowly, choosing his words carefully.
"If you were in your right mind, you wouldn't be excited, you'd be worried," he said. "There's an 80 percent chance of failure, so the odds are stacked against you from the beginning, especially if you don't have restaurant experience."
Although he's never owned or managed a restaurant before, Tanabe does have significant experience in the field. It's just his signature Hawaiian dish that's still a little untested in Charlottesville.
You've heard of Spam, yes?
Well, in Tanabe's home state of Hawaii, that canned meat is so popular, it's often put under lock and key to prevent shoplifting.
Hawaiians eat more than 5 million pounds of Spam a year, according to National Geographic, incorporating it into everything from Spam fried rice, to Spam and eggs to the dish at issue here: Spam musubi, which basically is a sushi presentation of Spam.
"Hawaii has definitely kept Spam at the forefront of culture," said Aven Hormel Kinley, one of Charlottesville's connections to this piece of kitschy Americana.
Kinley's great-great-grandfather, George A. Hormel, founded the Geo. A. Hormel & Co. in 1891. The company later became Hormel Foods, and it has manufactured Spam since 1937.
In 1941, more than 100 million pounds of Spam were shipped to overseas Allied troops during World War II, including those stationed in Hawaii.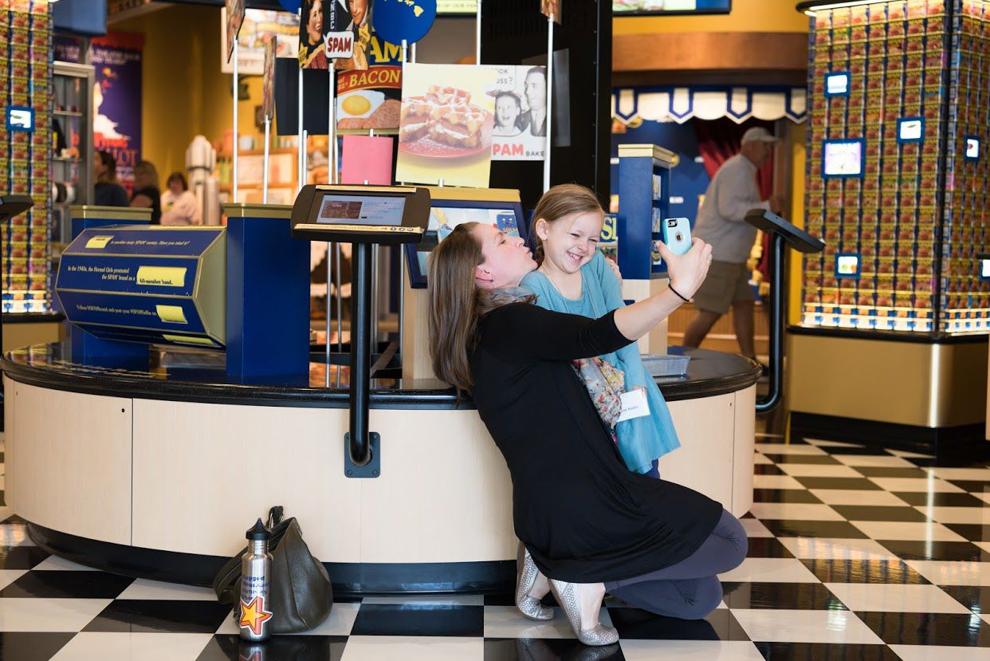 Its savory profile complements sweet and spicy Hawaiian staples, and it ships and keeps well, which is crucial for a remote population center like the Hawaiian Islands.
Ironically, Kinley hasn't eaten Spam since she attended the 2017 opening of a Minnesota nature center named after her great-grandfather, Jay C. Hormel, who took over the company in 1927.
And, although she's never tried the Hawaiian food Tanabe has been serving at his Mochiko pop-ups around town — including at her son's school — it turns out he baked Kinley's wedding cake 11 years ago during his 17-year run as the pastry chef at Albemarle Baking Co.
Tanabe studied the culinary arts on the island of Oahu, at what is now The Culinary Institute of the Pacific. He moved to West Virginia in 1998 and became a pastry chef at the Greenbrier Resort.
It was not an easy existence, he said.
"I realized it was going to be a lot of nighttime work if you're going to be working at high-end restaurants," Tanabe said. "Some of the people I worked under were alcoholics, doing drugs and marijuana. It was very stressful, and it wasn't a healthy lifestyle. I still wanted to cook, but I didn't want it to be like that. The hours were much healthier with pastries."
In 2000, a friend introduced him to Gerry Newman, who was opening Albemarle Baking Co. in Charlottesville.
His sharp wit and thoughtful leadership in the kitchen quickly endeared him to Newman, who calls Tanabe "a loyal friend, incredible coworker and skilled chef" — and a loving husband and father, to boot.
"Riki thinks through and sometime [graphically] draws out his ideas for food. He sees the presentation, texture and taste, and wants everyone working with him to 'see' how the customer will see it." Newman said. "He gives thought to who will need to do a task and makes sure it fits their skills."
In an interview, this leadership style came to life as Tanabe mused aloud about needing to find a chef who would best complement his own skills and relieve pressure on him, while still leaving space for a trusted and skilled self-taught chef he currently employs.
Tanabe left Albemarle Baking in June 2017, and has been catering and doing pop-up events under the Mochiko brand ever since, always with the eye to open a bricks-and-mortar location.
In addition to Newman's mentorship, Tanabe sought out the help of the Community Investment Collaborative's 16-week Entrepreneur Workshop program, which trains 30 entrepreneurs twice a year. Its protégés include, among others, Wildrock in Crozet, Charlottesville Ballet, Rivanna River Co. and several caterers and bakers.
His deep culinary experience provided a lift and benefit to the workshop's other aspiring food entrepreneurs, according to Waverly Davis, CIC's communications and engagement director, and she lauded his dedication and determination to succeed.
Tanabe credits CIC, and his CIC-assigned mentor from Harvest Moon Catering, with helping him identify and refine his brand and decide whether the Hawaiian specials would fly in Charlottesville.
"They make you go through the steps of interviewing and talking to people, and observing the food trends at the most popular restaurants in town," he said. "Originally, I thought everything here is organic, farm-to-table, no GMOs. But barbecue is big here — there's a lot of red meat and pork and burgers. You just have to find your market and cater to the people who are really enthusiastic about it."
When Tanabe first started offering Spam musubi at the City Market, he could pretty quickly identify who would try it by whether they bore a smile or a smirk.
"People would walk by our stall and smile, and they would gravitate over and buy dozens," he said. "We would see others who would come by and smirk. One lady actually said, 'You're kidding, right?'"
It's no joke — he sells out of Spam musubi every Saturday.
As the late Anthony Bourdain said of Hawaiians and Spam: "They love it, and they make you love it." (On Facebook, he also called his serving of Spam musubi "the apex of all human creation." To be fair, it was shaped like an actual apex.)
While musubi can be found on virtually every corner in Hawaii, Tanabe wants the restaurant to introduce this area to much, much more, including Hawaiian culture.
His menu will include Japanese-inspired Hawaiian foods, including (Spam-free) noodles, sticky and fried rices, poke bowls and more.
"It's going to have kind of a contemporary Hawaiian design, with wood tones and greens," he said. "People still think Hawaii is luaus and grass skirts and people walking around half-naked. I want them to know this is what a real store or deli would feel like in Hawaii."