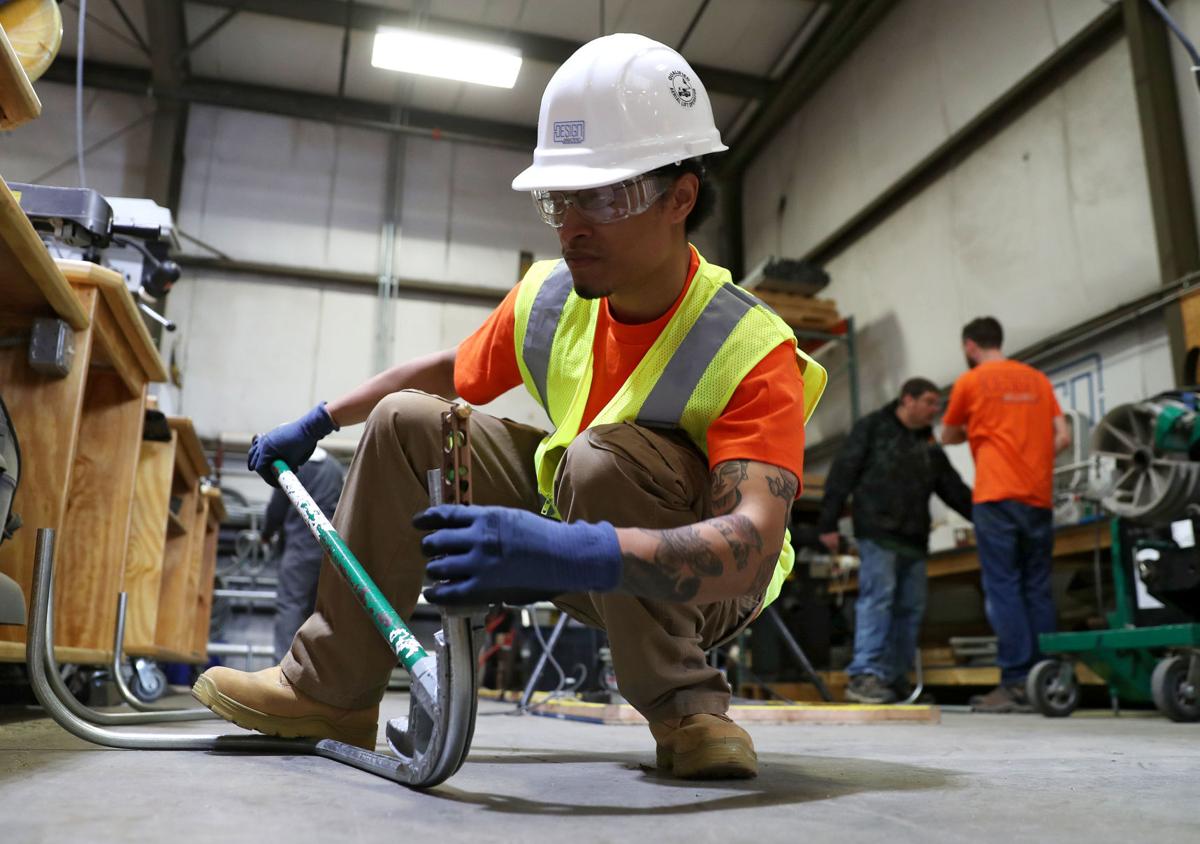 In a cavernous warehouse off East Market street, Adrian Rosas, a Monticello High School sophomore, concentrated on bending a piece of electrical conduit pipe using a mathematical formula he'd been given by his supervisor, Brian Sullivan.
Nearby, a dozen men in safety glasses used pliers to pull wires through inert junction boxes and cables. Some of the men, like Rosas, were young, some old, some white and some were newly arrived from war-torn countries. None had experience with electrical wiring.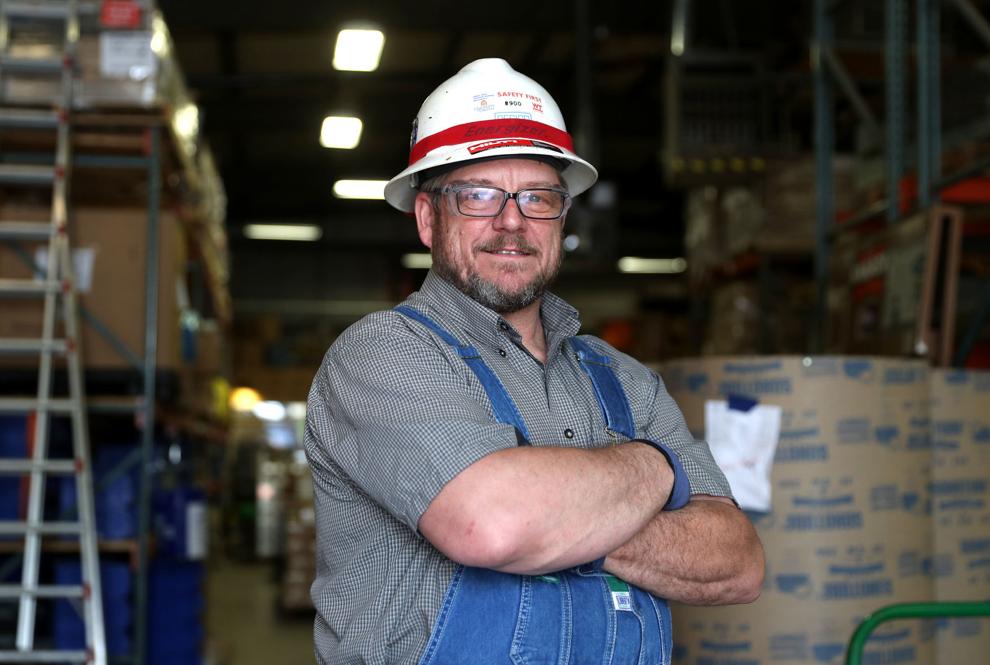 "We don't hand out participation trophies here — this ain't Little League. If you want it, you gotta get up and get it," Sullivan barked. "These guys are doing great. But I'm patient with them for about three or four weeks — after that, I go cur-dog on 'em."
This is "electrical boot camp," a privately-sponsored two-week program teaching the basics of electrical wiring and safety. Design Electric, a Charlottesville-based commercial contractor, will graduate nearly 50 students from its boot camp program this year. The graduates will then join the company for a four-year paid apprenticeship program that also pays tuition to attend electrical trade school at night.
It's generous, for sure, but there was no other way to hire the number of electricians the company would need to staff the eight to 10 years of construction projects it has booked, according to Design's personnel director, Casey Carwile.
Despite his desk job, bloody cracks crisscrossed Carwile's fingers. Asked about the wounds, he shrugged. "Many of us have had to leave our desks because we're short on manpower — we're happy to do it, but that's how great the demand is."
The latest unemployment rates in the greater Charlottesville region stood at just 2.9 percent in February, according to state data — more than two percentage points below what economists consider "full employment."
While demand is not necessarily surging in all employment sectors — nor in every region of Central Virginia — recruiters and employers alike say that good help is hard to find here, across most industries.
At the end of last year, just 74 construction workers and 39 accommodation and food service workers were collecting unemployment checks in this region. Glance westward down Main Street, and it's clear those numbers won't suffice for a city that's putting up hotels, hospital expansions, restaurants, office and apartment buildings faster than Google can keep track.
Thus Design Electric is scouring high schools, jails and refugee processing centers for trainees. Across town, Katherine Hamilton, a recruiter tasked with staffing the new Draftsman Hotel, has been known to stake out bus stops to find potential housekeepers who won't require parking — a benefit the hotel cannot offer at its location on The Corner. (Ironically, lack of transportation has traditionally been a problem for the chronically unemployed.)
Of the restaurant industry, Ty Austin, who owns all three Sticks Kebob shops in Charlottesville, said, "There's no shortage of applications, but there is a shortage of good ones."
The nursing field is a beast unto itself. According to state data, there are 4,892 current openings for registered nurses in Virginia, and only 187 candidates. The shortage is only expected to get worse, as an aging population requires more health care.
A recruiter for the University of Virginia Health System said UVa is resorting to new tactics to recruit the 600 nurses it will need this year, including higher signing bonuses, tuition reimbursement for the bachelor's program and more flexible schedules.
"There are never enough experienced registered nurses to meet our needs," said Steve Snyder, director of recruiting for UVa Health System. "Now we're seeing tremendous competition and incentives even for new grads, and that's something we haven't seen before."
Increasingly, UVa is also using travel nurse agencies to bolster new or expanding operations while the hospital recruits permanent nurses, Snyder said.
Workforce development centers and staffing agencies in the area can barely keep up with employers' demand.
"We're definitely getting contacted by employers we haven't heard from before," said Cory Demchak, who manages the city's Downtown Job Center. "Most area employers are trying to expand their networks in any way possible."
The Downtown Job Center opened in August 2014, as part of the City of Charlottesville's Office of Economic Development.
In addition, there are five state-sponsored workforce development centers throughout this region, including a "comprehensive center" to help job-seekers update and polish their resumes, identify hidden skills and improve interview skills. Occasionally, workforce centers are able to introduce promising candidates to employers with job openings.
The comprehensive center relocated from Hydraulic Road to 944 Glenwood Station Ln. in February, downsizing from 20,000-square-feet of space to just 4,000.
That center still offers the full slate of services — and the same number of staff — but its work now tends to be more focused on how to help employers fill empty jobs, according to Richard Sindy, the center's manager.
"If we see 'Now Hiring' signs, we go in and tell them what's available," Sindy said. "We're even trying to go to high schools to let them know what employers are looking for, and to get students into our computer system."
The centers have hosted or helped with a bevy of job fairs this spring, including a few that have been targeted to specific industries or age groups, such as government contracting, health care, youth and seniors.
The city, county and state are combining efforts to host the largest job fair of the year, on May 9, at John Paul Jones Arena. Approximately 100 employers will hold court there, with 1,000 job openings.
The fairs provide job-seekers an opportunity to learn more about a particular opening before investing the time to apply. They're also an opportunity to use a strong first impression to earn a formal interview, Demchak said.
Employers, too, aim to impress at job fairs. "They're bringing balloons, banners, doing giveaways, trying to one-up the competition," Demchak said. "But they're all pretty much doing the same thing."
At the end of last year, just 848 people across all industries were collecting unemployment checks in this workforce region, which covers 10 counties, including Albemarle, Fluvanna, Greene, Madison, Nelson and Orange, and the city of Charlottesville. 
Yet, despite the tight competition for employees, Demchak noted, most employers still haven't figured out how to distinguish themselves in meaningful ways — whether that's offering a dollar or two more per hour, a tiny bit more vacation or flexibility, or even doing a better job of describing the company and the open position.
"Somebody needs to come up with something different, but nobody's done it yet," Demchak said. "Whoever does it will attract the best candidates and hopefully retain them."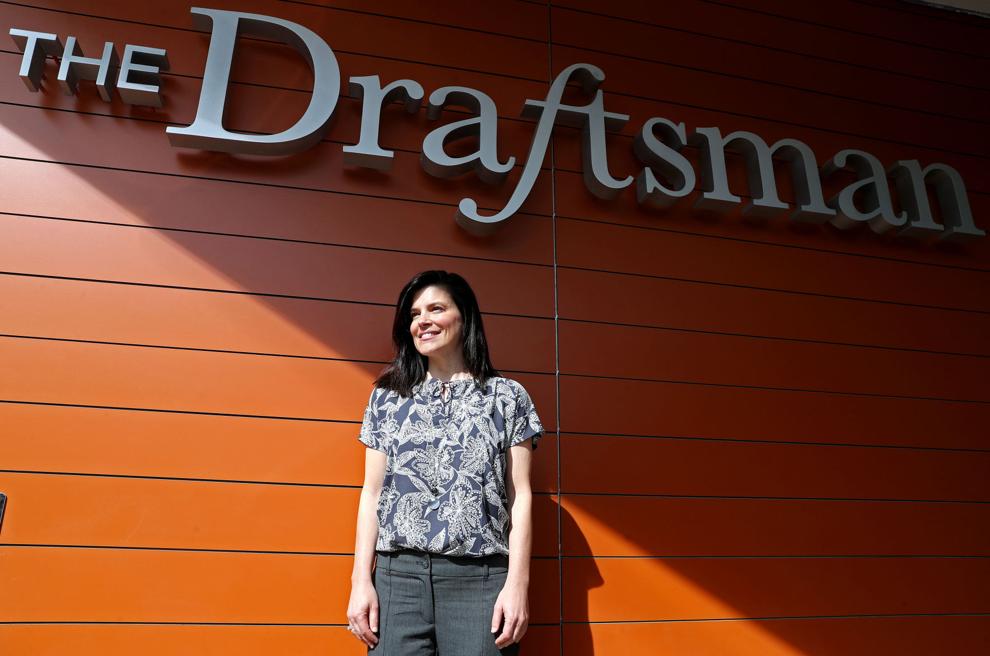 As The Draftsman prepares to open its doors on May 17, Hamilton, who worked at a frenzied pace to build the new 40-person hotel staff, will be able to skip the upcoming job fairs. She already held her own company job fair, in addition to manning booths at several others. Then there were the weekly open houses, the online ads — including Craigslist — the flyers posted in neighborhoods and at Latino grocery stores.
And, of course, the bus stops.
"I did spend some time hanging out at the bus stop outside the hotel, handing out my card," Hamilton said. "You don't hear a lot about recruiters going out and pounding the pavement, but that's where we are these days."