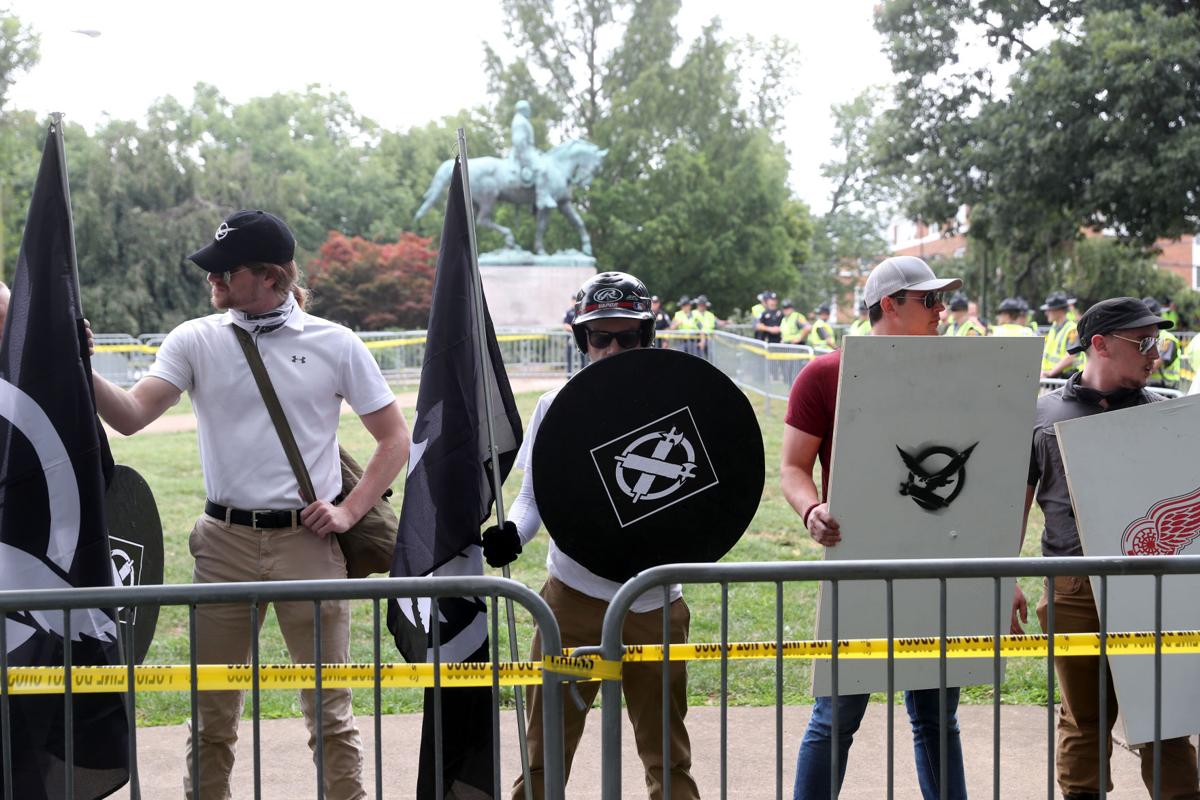 Judges in a federal rally lawsuit denied several motions from defendants and will allow a jury to draw adverse inferences against several others.
The Sines v. Kessler lawsuit was filed on behalf of various Charlottesville-area residents in the wake of the Unite the Right rally and targets key organizers and participants. The sprawling suit has slowly worked its way through the U.S. District Court for the Western District of Virginia since fall 2017, consistently running into issues with defendant participation.
Several of those defendants have been sanctioned in the intervening years, with the neo-Nazi group Vanguard America now joining their ranks. Members of the group, which is now largely defunct, were photographed alongside rally car attack murderer and fellow defendant James Alex Fields Jr. on the day of the rally.
In a recent memorandum opinion, U.S. Magistrate Judge Joel C. Hoppe wrote that he would allow a jury to be instructed that it can make adverse inferences based on Vanguard America's lack of proper participation in discovery, thus limiting evidence available to the plaintiffs.
"A permissive adverse-inference instruction helps 'level the evidentiary playing field' at trial by allowing the jury to presume missing evidence was unfavorable to a party who, knowing it was relevant to some issue in the case, intentionally lost, destroyed, or otherwise failed to produce the evidence," Hoppe wrote.
Vanguard America's discovery misconduct in this case is well documented, Hoppe wrote, spotlighting a lack of cooperation from two key leaders: Dillon Hopper and Thomas Rousseau.
Hopper, acting in his capacity as Vanguard's officer or managing agent, disobeyed numerous court orders to provide or permit discovery of relevant materials within Vanguard's control "while the litigation slowed and everyone else's costs piled up," Hoppe wrote.
His "consistent 'practice from the very beginning'" of this litigation was "to ignore outright the court's orders or submit chaotically and defectively to them," Hoppe wrote.
Both Hopper and Rousseau, despite being in charge of and establishing/managing some of the social media accounts the plaintiffs were asking for, testified in depositions that they did not have access to this "basic information," Hoppe wrote.
After delaying the imposition of sanctions until the plaintiffs' counsel could depose Vanguard's officers about which steps, if any, they took to preserve potentially relevant evidence, Hoppe wrote that he now found sanctions appropriate.
"The officers' statements, as well as their 'continued disregard for th[is] Court and its orders' to provide or permit discovery of relevant materials within their control leaves no doubt that a permissive adverse-inference instruction against Vanguard is warranted," he wrote.
Vanguard America is the second defendant to receive this type of sanction in the last month, following Robert "Azzmador" Ray, who is currently wanted for contempt of court and an outstanding criminal warrant in Albemarle County.
In separate orders, U.S. District Judge Norman K. Moon denied a motion for summary judgment from defendant the League of the South, a neo-Confederate group, and its leaders, Michael Hill and Michael Tubbs, as well as a motion from other defendants to exclude certain expert testimony.
After considering the "voluminous materials presented to the court," Moon wrote that the parties had not shown they are entitled to summary judgment.
Defendants Jason Kessler, Nathan Damigo, Matthew Parrott, Identity Evropa and Traditionalist Workers Party filed a motion last year to exclude expert testimony that "various white supremacist groups often utilize strategies of deniability, including 'double-speak,' and that such strategies were employed at times by certain Defendants in this case."
They also sought to exclude testimony that describes a "white supremacist movement," arguing that presenting such a term and testimony to a jury would serve "as a shortcut to their burden of proving an actual conspiracy among defendants."
Moon found that the plaintiffs' proposed expert testimony fell within the types of testimony courts routinely find admissible and that such testimony would be relevant and helpful to a jury.
"Defendants responsible for these hateful, bigoted and violent conspiracies perpetrated against Black, Jewish, and other communities in Charlottesville will now face a powerful reckoning as the trial moves forward," wrote Alan Levine, an attorney for the plaintiffs, in a news release following the opinions. "We intend to present overwhelming evidence to the jury and the court proving the defendants at Charlottesville, spurred by hate, planned and promoted the violence that tragically took the life of one person and injured dozens of others, including our plaintiffs."
Sines v. Kessler is set for a multi-week trial in October.