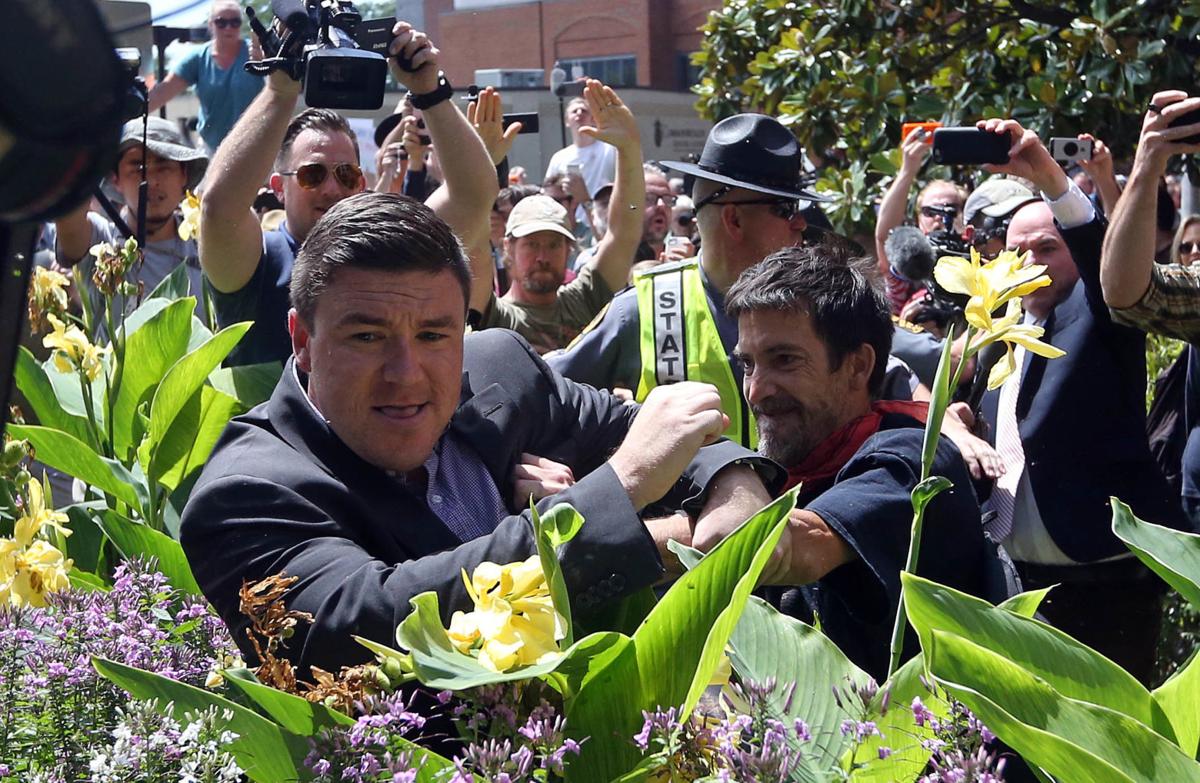 Unite the Right organizer Jason Kessler was denied a concealed handgun permit following a filing from the Albemarle County Commonwealth's Attorney.
According to court documents, Kessler filed to obtain a concealed carry permit in September in Albemarle County Circuit Court.
In October, Albemarle County Commonwealth's Attorney Jim Hingeley filed an affidavit in opposition to Kessler's application, citing Kessler's criminal history and in particular an October 2017 indictment on a felony perjury charge for falsely swearing that he was assaulted.
Though Kessler's sworn statement resulted in an assault and battery charge being filed against then-53-year-old James Justin Taylor, the charge was later dismissed with prejudice after video evidence came to light showing Kessler's account was inaccurate.
Kessler later pleaded guilty to assault and battery against Taylor in Charlottesville General District Court and received a 30-day suspended jail sentence and 50 hours of community service.
He was later charged with felony perjury for lying to an Albemarle County magistrate about the incident but the charge was dismissed after former Albemarle County Commonwealth's Attorney Robert Tracci failed to properly establish venue.
Hingeley's affidavit also cited Kessler's involvement with the deadly Unite the Right rally, which Hingeley wrote resulted in numerous violent acts, including the murder of anti-racist protester Heather Heyer.
As further evidence, Hingeley cited a 2017 article about the assault on Taylor from CBS19 in which Kessler is quoted as saying "Man to man, yell in a man's face and expect to get punched in the face."
Also cited is a claim made by Kessler in his own motion to change venue that he is "solely responsible for the August 12th rally," as well as two other convictions for obstructing justice and failing to appear.
"It has been shown by his public statements that [Kessler] believes a person's political views justify the use of violence against them," Hingeley wrote. "It has been shown by his own statements, publicly filed in a court proceeding, that [Kessler] believes [Heyer] contributed to her own killing by a white supremacist because 'she was engaged in an unlawful assembly, blocking a roadway, and jaywalking'."
Given the "preponderance of the evidence," the court should conclude that Kessler is likely to use a weapon unlawfully or negligently to harm others, Hingeley wrote.
"It would be intolerable to the citizens of the Commonwealth for [Kessler] to be granted a concealed handgun permit," he wrote.
In an order dated Nov. 5, Albemarle County Circuit Court Judge Cheryl Higgins denied Kessler's permit, citing Hingeley's affidavit as well as sworn statements made by Nina-Alice Antony, senior assistant commonwealth's attorney for Charlottesville, during an earlier case in Charlottesville.
"The Court finds it has been proven by a preponderance of the evidence, based on specific acts established by the sworn affidavit, that Mr. Kessler is likely to use a weapon unlawfully or negligently to endanger others," Higgins wrote.
Per state code, only a circuit court judge may deny a concealed handgun permit. However, any person denied a permit circuit court may file a petition for review to the Court of Appeals within 60 days.
"I'm glad the process gives the prosecutor an opportunity to speak on behalf of the community in this matter," Hingeley said in response to Higgins' order. "I believe I clearly demonstrated why [Kessler] should be denied a concealed carry permit and I am grateful Judge Higgins was persuaded to deny Kessler's permit application."
"Every infringement of civil liberties that the Left wants to implement on Conservatives they test on hated political dissidents like me first," Kessler said in response to the order.