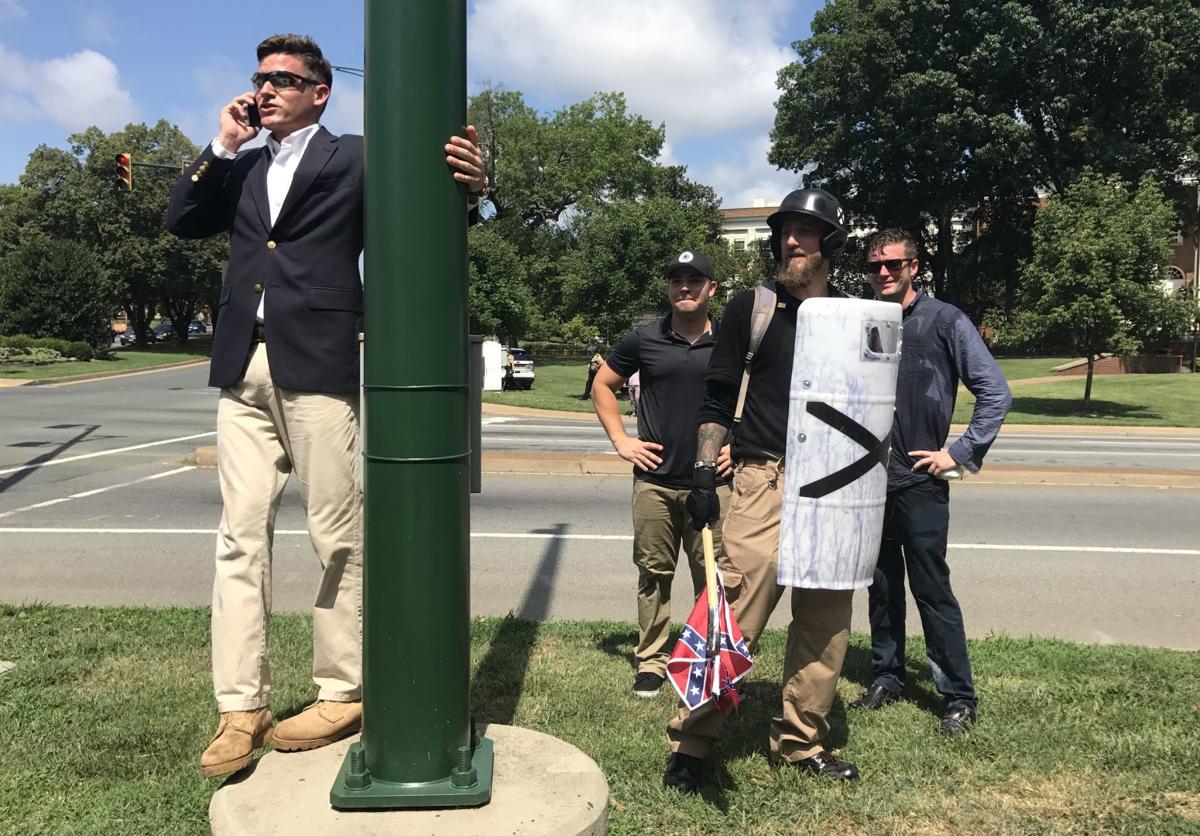 Two Unite the Right rally participants have filed a lawsuit against state entities, alleging that their constitutional rights were violated.
Gregory Conte, a former member of the white supremacist National Policy Institute, and Pennsylvania resident Warren Balogh filed a lawsuit Monday in the Eastern District of Virginia's U.S. District Court, alleging that their First and 14th Amendment rights were violated.
The two men, who are representing themselves, name a bevy of defendants, including: the Commonwealth of Virginia, the Virginia State Police, the Charlottesville Police Department, former Gov. Terry McAuliffe, VSP Lt. Becky Crannis-Curl, former CPD Chief of Police Al Thomas, Charlottesville City Councilors Mike Signer and Wes Bellamy, as well as several "Antifa leaders."
According to the complaint, the defendants "intentionally encouraged and facilitated mob violence by counter-protesters" against UTR ralliers in an effort to create a civil disturbance and declare an unlawful assembly.
"This action concerns Defendants' responsibility for their intentional violations of Plaintiffs' civil and constitutional rights to free speech and assembly, due process, and equal protection of the law," the complaint reads.
The complainants go on to argue that the defendants may have been pressured by "special interest groups, political ambition, or personal interest," to prevent the UTR demonstrators from expressing their views.
"In the leadup to and throughout August 12, 2017, Defendants engaged in a series of acts designed to restrict UTR demonstrators from expressing specific viewpoints while at the same time permitting counter-protesters to engage in violent and lawless behavior," the complaint reads. "Defendants undertook these acts under color of state law and with deliberate hostility and indifference to the rights of Plaintiffs and other UTR demonstrators."
The plaintiffs claim police and other government officials intentionally did not properly train police or separate protesters from counter-protesters, effectively allowing a "heckler's veto," according to the lawsuit.
Due to the inaction from some defendants, Balogh said, he was pepper-sprayed in the face and hit by someone wearing a mask, which the complaint claims caused a "tingling sensation" in his hand, preventing him from closing it for several days.
The suit asks the court to find that the plaintiffs' First and 14th Amendment rights were violated, that the police defendants have supervisory liability and that police and local and state government defendants were grossly negligent for failing to train or prepare for the rally.
In addition to undisclosed damages, the plaintiffs seek declarations that the defendants violated their freedom of speech, equal protection and due process rights and ask the court to declare they have a right to protest in Charlottesville and Virginia.
This suit is one of several filed this week, just ahead of the two-year statute of limitations, that allege a violation of constitutional rights by some party involved in the rally. This particular suit bears the most resemblance to one filed Monday by UTR lead organizer Jason Kessler.
None of the suits filed this week has a set hearing date yet.