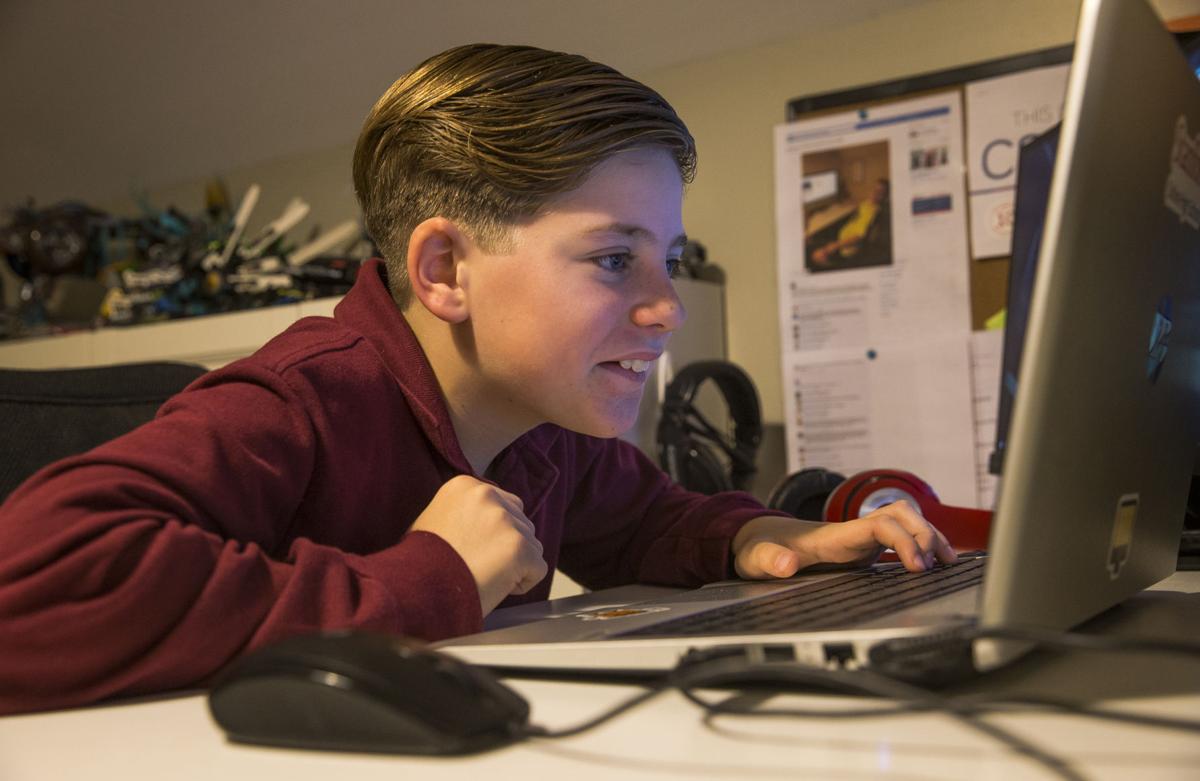 LOCUST GROVE — On a rainy Tuesday afternoon, Ronan Boyarski, 12, sat outside his upstairs bedroom in Locust Grove. He leaned back in his office chair, brown fluffy bear slippers on his feet, and explained how coding first caught his attention.
Like many 7-year-olds, Ronan was an avid player of Minecraft, a computer game where people can build three-dimensional worlds. As he played, Ronan wondered what made the animations that allowed him to build this virtual world work.
This pursuit recently made the seventh-grader the winner of the 2016 National STEM Video Game Challenge, in the Middle School Open Platform category.
His game, "Hungry Black Hole," uses the W, A, S and D keys on a keyboard to move two stars simultaneously to a black hole in space. Each level (10 levels total) holds new obstacles: walls, quasars and astronomical objects that surround black holes.
Ronan created "Hungry Black Hole" using Java and Clickteam Fusion 2.5, a software-creation program.
His knack for advanced coding has put his work on mobile devices in addition to computers. Over the summer, Ronan created a reference app for taekwondo students called "iKwonDo."
The app lists each belt ranking, from white belt to black belt, and the forms, basics and self-defense steps students need to know in each rank before mastering the techniques and graduating to the next belt. The app is in Apple's iTunes and app store and is compatible with iPhone, iPad and iPod touch. Ronan, a senior brown belt at Hurricane Martial Arts in Locust Grove, was inspired to make the app by his lessons there.
In addition to taking martial arts classes and being a student at Grymes Memorial School, Ronan also takes an online class on Monday and Wednesday evenings in inquiry-based physics at Stanford University Online High School, a private internet-based school for gifted students within Stanford University. The class teaches physics principles through experimentation.
Ronan enjoys the class. He learns about kinematics; built an accelerometer using a container of water, a cork and string; and has discussion times. He said he can take the class wearing pajama bottoms and slippers.
In applying for a slot at Stanford earlier this year, his entrance test scores placed him among fewer than 30 percent who had reached the High Honors level. More than 30,000 total students had taken the above-grade-level test, according to an earlier article in The Free Lance–Star.
He attended an awards ceremony earlier this year sponsored by Johns Hopkins Center for Talented Youth. The award was never his aim, he and his mother, Kimberly, said. He took the test to be accepted into Stanford Online High School.
This is also not the first conference Ronan has attended that earned him academic recognition. In April 2015, Ronan and Justin Richards, CEO and founder of Youth Digital, were keynote speakers at the Scaling STEM conference.
Richards put Ronan in the spotlight and asked Ronan how he would encourage people to follow their dreams.
The video and his response popped up on Twitter, Kimberly Boyarski recalled recently, and now the same answer he gave is painted on one of the walls of his room:
"Work hard and be determined. Be unique and use your imagination. Invent something that has never been invented before."
"I made it up," Ronan said about his impromptu answer, "but it was true."
In his spare time, Ronan is a huge fan of the show "Gravity Falls" and has an autographed poster from "The Piano Guys" in his room.
Ronan's father is named John, and he has a younger brother, Jack, 9, who is a fourth-grader at Grymes Memorial School. The family has an English bulldog named Roxy.
His mother described Ronan's process in developing "Hungry Black Hole," and the role she and other members of the family played in testing the game. She joked that they had been "free beta testers."
"He has a true passion," Kimberly Boyarski said of Ronan's coding prowess.
She noted that kids and parents often feel too much pressure to find their passions. She said her family's aim is to provide Ronan with what he needs to thrive without overwhelming him.
"I feel like now there is so much of a push to have kids find their passion, which I don't necessarily agree with," Boyarski said, "but Ronan has a very rare talent, and using time, support and money, we feel it is our duty to foster this."
Before entering the 2016 National STEM Video Game Challenge, Ronan had taken coding courses at Youth Digital Studio and Harvard Extension School. Ronan let his mother explain his graduation from the Harvard class, which he took on his own, and said explaining it felt too much like bragging.
Ronan and his family are considering having him go to school full time at Stanford Online High School once he graduates from Grymes Memorial. For now, Ronan is looking forward to the newest Youth Digital course — which lets students code 3-D game development — and creating an update to his "iKwonDo" app.
Ronan hopes his experience shows others that they can succeed in doing what they love.
"You can be rewarded for doing your favorite thing," he said. "It isn't difficult, because what you are doing is your absolute favorite."