Hod O'Brien passed away on Nov. 20, 2016. The following is a story related to his book from December 2015:
———————————————————————————————————————
On a winter night in 1957, a young jazz pianist was raising the temperature in a Greenwich Village club called The Pad by playing scorching-hot bebop music.
The 21-year-old musician, Hod O'Brien, was becoming known around the Big Apple as a person worth listening to. That evening, he had been invited to sit in with vibraphonist Teddy Charles and his quartet, which also was featuring alto saxophonist Hal Stein.
Jazz god Thelonious Monk happened to be in the audience that evening. After listening to O'Brien play a few tunes, the wildly creative pianist gave his nod of approval.
"I never spoke with Monk personally," O'Brien said recently. "But the girl I was with that night heard him say that he liked the way I played.
Each of the whispery words O'Brien spoke came with an effort. These days, the 79-year-old musician makes every word and musical note count.
This past April, O'Brien was diagnosed as having Stage 4 lung cancer. The march of the disease has affected his voice, but not his stellar playing.
O'Brien and his wife, jazz singer Stephanie Nakasian, have just returned to their Fluvanna County home after completing a successful tour of Europe and Japan. At every venue from the Far East to Denmark, enthusiastic fans turned out in droves to hear the master of bebop perform.
"In Japan and Europe, they get the bebop music Hod plays, and his records sell the best in Japan," Nakasian said. "In Japan, Hod's fans were coming up to him crying, because they were so happy they were able to see him perform in person.
"They brought stacks of his CDs that they wanted him to sign. One Japanese guy told us that he named his group the Hod O'Maura Band in Hod's honor. They love his music there, and we had great audiences.
"The tour was for a number of reasons. Not only to see old friends and say hellos and goodbyes, but also to just play good music for people who really want to hear the music.
"At times, Hod has gotten stuck with playing background music in dining rooms. But when he's playing in clubs for jazz fans, that's the best."
O'Brien will be doing that from 7 to 9 p.m. Saturday at Escafe, which is at 215 Water St. in Charlottesville. He also will be signing copies of his new book, "Have Piano … Will Swing! Stories about the Jazz Life."
The musician's new book is replete with fascinating inside stories about jazz greats he has known and played with, such as Joe Puma, Stan Getz, Barry Harris and Chet Baker.
"The upside of the jazz life for me has been playing music with my heroes, and to be accepted by them as one of them," O'Brien said. "The downside has been not getting recognition for it.
"I did get recognition from my fellow musicians, but not from the general jazz enthusiasts of the world."
People have long pondered why super talents like the Danny Gattons and Hod O'Briens of the world never manage to reach the apex of fame in their profession. Although there isn't a compete answer in O'Brien's case, his wife offered a few reasons.
"When Hod played gigs, the top guys would come and hear him, but he's kind of a quiet giant," Nakasian said. "He's not a marketing kind of hustling person who makes phone calls to get gigs.
"And he has never been one to hang out and shake hands with the fans, like so many musicians do. When he was selected in 2007 as one of the 10 pianists to perform in Japan on the Fujitsu 100 Gold Fingers Tour, that was a recognition of his stature in the jazz world."
O'Brien's book does more than bring readers into smoke-filled jazz clubs from the 1950s onward. He provides insights, often humorous, into the personalities of many of the greats of the genre, such as Baker.
"It's hard to say what kind of relationship I had with Chet," O'Brien said of the immensely talented and mercurial jazz vocalist and trumpeter. "He stayed in my house and would leave in the morning, and I wouldn't see him again until nighttime at the gig.
"I was always worrying about whether he would show up or not. But he never burned me, as he did other people.
"With me, he always did what he said he would, and he always paid me back when I lent him money."
With each word a struggle and every breath a gift, O'Brien is now garnering strength from the music he plays. He also is relying heavily on the reservoir of stamina he stockpiled during decades of long-distance running.
"This stage of lung cancer is pretty much considered a terminal illness," Nakasian said. "But what is happening is that a lot of people are living longer with it.
"Hod was on radiation and chemotherapy, and now he is on this brand-new drug, which is similar to the drug Jimmy Carter was on. It was recently announced that Carter's cancer is gone, so we're very optimistic.
"Hod will be 80 in January, and with the illness and everything, I asked the doctor if it would be OK for us to tour. He said yes, and for us to go on with our lives and continue to play music, because that was the best therapy we could have."
Among jazz insiders, O'Brien is widely considered to be one of the best bebop pianists ever to slide a bench up to the 88 keys. Although he never broke into the mainstream of popularity like Oscar Pettiford or Miles Davis, those who have dedicated their lives to jazz — such as John D'earth — speak of him in reverential terms.
D'earth is the director of jazz performance in the University of Virginia's McIntire Department of Music. The internationally acclaimed trumpeter has released a number of recordings of his own, and he has made appearances on recordings by top-tier entertainers such as Bruce Hornsby and the Dave Matthews Band.
"Hod is the kind of musician who has gone beyond skills to actually encapsulate an entire musical tradition every time he plays," D'earth said. "And he has something original, personal and authentic to say about that tradition and about himself.
"What jazz musicians are trying to do is tell their own story, and to be very authentic in doing it — and that's what he does. He's one of the greatest jazz piano players on the planet still playing that style of bebop jazz piano.
"He's the man, and a household name among the people who know and love this music. Somebody like Hod O'Brien lights the way for jazz musicians like myself. He is a shining example of what music has to show us about how we can live more fully, and be more fully who we are."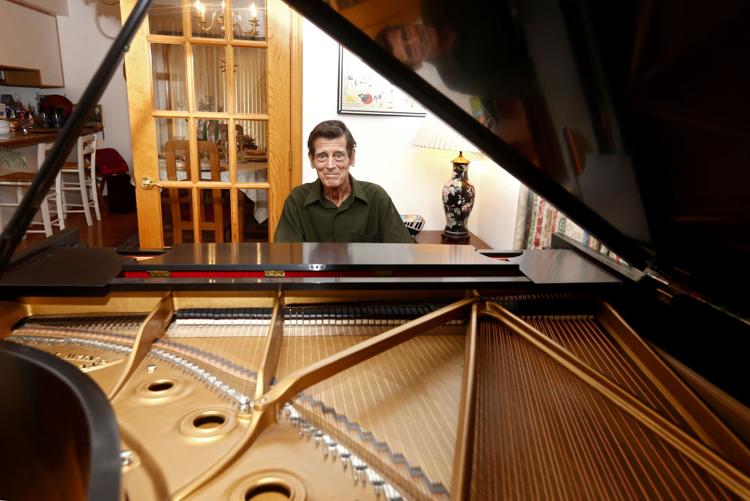 Bebop developed into a style of jazz in the early 1940s. Its beat, fast tempo and improvisations were refined and advanced by the likes of folks such as Sonny Rollins, Charlie Parker, John Coltrane, Dizzy Gillespie and pianist Barry Harris.
One of the highlights of O'Brien's career came in 1995, when he performed with Harris during a concert at UVa.
"Barry is considered one of the elder statesmen of jazz, especially in the bebop era," said Nakasian, who teaches voice at UVa and the College of William & Mary. "There's not too many of those guys left — Barry is one and Hod is another.
"Having the two of them meet for the first time and play piano together was a real love fest."
The first thing O'Brien ever played on the piano was "Frere Jacques," which he performed at the age of 4 during a church pageant in Mount Kisco, New York. A few years later, he discovered boogie-woogie, and his devotion to music was born.
By the time O'Brien moved to New York City in the autumn of 1956, he was an acolyte of bebop music. And he was good enough to be able to hold his own during late-night jam sessions held in the lofts of established jazz musicians.
This exposure led to recording dates, club gigs and an invitation from Pettiford to join his quintet. O'Brien accepted, and the first job he played was a two-week stay at the Blue Note in Chicago.
When the quintet returned to New York, the musicians were booked to play the 5 Spot club. This was in early 1958, and they were alternating month-long gigs with Monk and his band.
Shortly after Pettiford left the U.S. in August 1958 to live in Europe, O'Brien accepted an invitation to play in J.R. Monterose's group. After a hiatus from jazz in the 1960s to earn a degree in psychology at Columbia University, O'Brien re-engaged with the jazz world.
In 1974, O'Brien opened his own club in Greenwich Village, which he called St. James Infirmary. Baker helped fill the place with customers, and together they provided many magical nights for jazz fans.
The club foundered and went under, and as O'Brien explains in his book, it wasn't because of the music. After shutting down the club, O'Brien went on to play at such renowned jazz spots as Gregory's in New York City and venues as far away as Virginia and North Carolina.
It was during his stint playing at Gregory's from 1977 to 1982 that O'Brien met Nakasian. They married, and after their daughter, Veronica, was born in the spring of 1994, they moved to the area to be near Nakasian's parents.
Veronica Swift O'Brien recently won second place at the Thelonious Monk International Vocal Jazz Competition in Los Angeles. She was awarded a $15,000 scholarship and an option to record for Concord Records.
"On our way to Japan, we watched Veronica's performance at the competition," Nakasian said. "That was wonderful to see our daughter being recognized at such a high level and at such a young age.
"She joined us in Japan during the last week of the tour. She and I both sat in a little bit with Hod during his performances, so there were some very wonderful moments for us."
O'Brien has given countless people memorable moments via his music, which appears on dozens of records. But those who know, respect and cherish him do so not just because of his musical mastery.
"Hod is one of the most kind and supportive people on the planet," said D'earth. "He's the consummate hipster — as cool as a cucumber, but a kind, kind person.
"He came to my class once and played the blues without stopping for 45 minutes. That's Hod.
"I love and revere him, and so many people feel that way about him."
Those interesting in learning more about O'Brien or purchasing his recordings can do so at www.hodobrien.com.