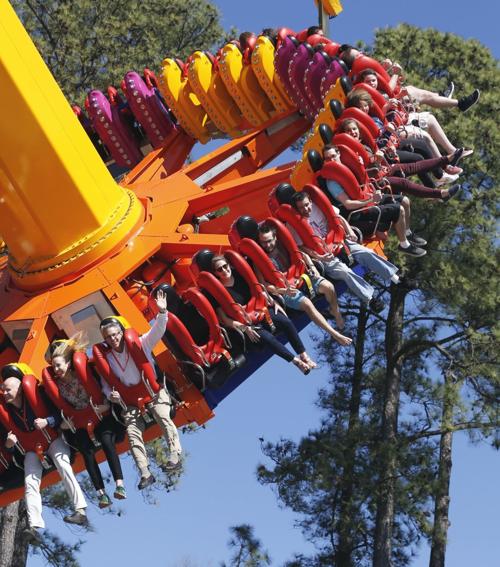 RICHMOND — Challenges hiring enough workers this summer are having an impact on Virginia's theme parks.
Kings Dominion is closed on select weekdays in June and the park's hours, when it's open, are shorter than in previous years.
The theme park in northern Hanover County isn't open this week until Saturday and Sunday. It is closed next Monday through Thursday and the following Monday through Thursday, according to its website. (In 2019, Kings Dominion wasn't open on weekdays during the first week of June.)
Kings Dominion is open from 11 a.m. to 7 p.m. on the days this month that it is open, opening later in the morning and closing earlier in the evenings than in previous years. Its Soak City water park is slated to open June 19.
"As we're seeing across a wide range of industries, the availability of labor has been a challenge," said Scott Clemons, the park's director of marketing and sales.
"In response, we have ramped up recruiting efforts and taken steps to ensure we are providing competitive wages and benefits," he said. "Our goal is to strike the appropriate balance between our operating calendar and the availability of seasonal labor and the anticipated demand from our guests."
Kings Dominion is taking the steps because it wants "to be sure we are delivering fun and memorable experiences to our park guests," he said.
The park said in March that it planned to hire about 2,100 seasonal workers this year. The park was closed last summer season because of the pandemic, but opened in December for a special holiday event.
It increased its starting pay for part-time seasonal workers this year to $13 per hour, with lifeguard jobs starting at $15 an hour. The previous starting salary was $9.25 an hour.
The park also plans to fill 80 new full-time positions, with benefits and wages starting at $16 per hour, for culinary and operations roles.
At Busch Gardens Williamsburg and Water Country USA, those parks are opened all days this month, but operating on shorter hours, according to its website. Busch Gardens is closings on some weekdays at 6 p.m. or 7 p.m. while Water Country USA is closing on certain weekdays at 5 p.m.
The theme parks near Williamsburg also are hiring for culinary jobs, ride operators and lifeguards, with positions now starting from $13 to $15.50 an hour. The parks also are offering a $200 sign-on bonus, according to its website.
The challenges of hiring enough workers is happening at other theme parks across the country, said Dennis Speigel, the founder and CEO of International Theme Park Services Inc., a Cincinnati-based consulting firm to the attractions and leisure industry.
At Kings Island and Cedar Point in Ohio, which are owned by the same company as Kings Dominion, labor shortages have forced those parks to close on certain weekdays in June.
Several factors are causing the labor shortage problem for theme parks, said Speigel, who served as the first general manager when Kings Dominion opened in 1975.
Most theme park employees are high school and college students, and many public school systems are getting out later this year. Besides, "mothers have been holding back allowing their kids go out and work in positions" because of the pandemic, Speigel said.
Another big factor, he said, is the lack of foreign students working at theme parks and elsewhere in the hospitality industry because of the slow return of the State Department's foreign worker program. Those foreign students "augment the young workforce," he said.
As a result of the labor shortages, some theme parks are increasing wages, providing signing bonuses or offering more perks to attract workers, he said.
Cedar Point recently increased its starting salary to $20 per hour, while Kings Island is offering $18 an hour.
The wage increases are unprecedented, Speigel said. "We have never been faced with these kinds of wage increases in the history of our industry."