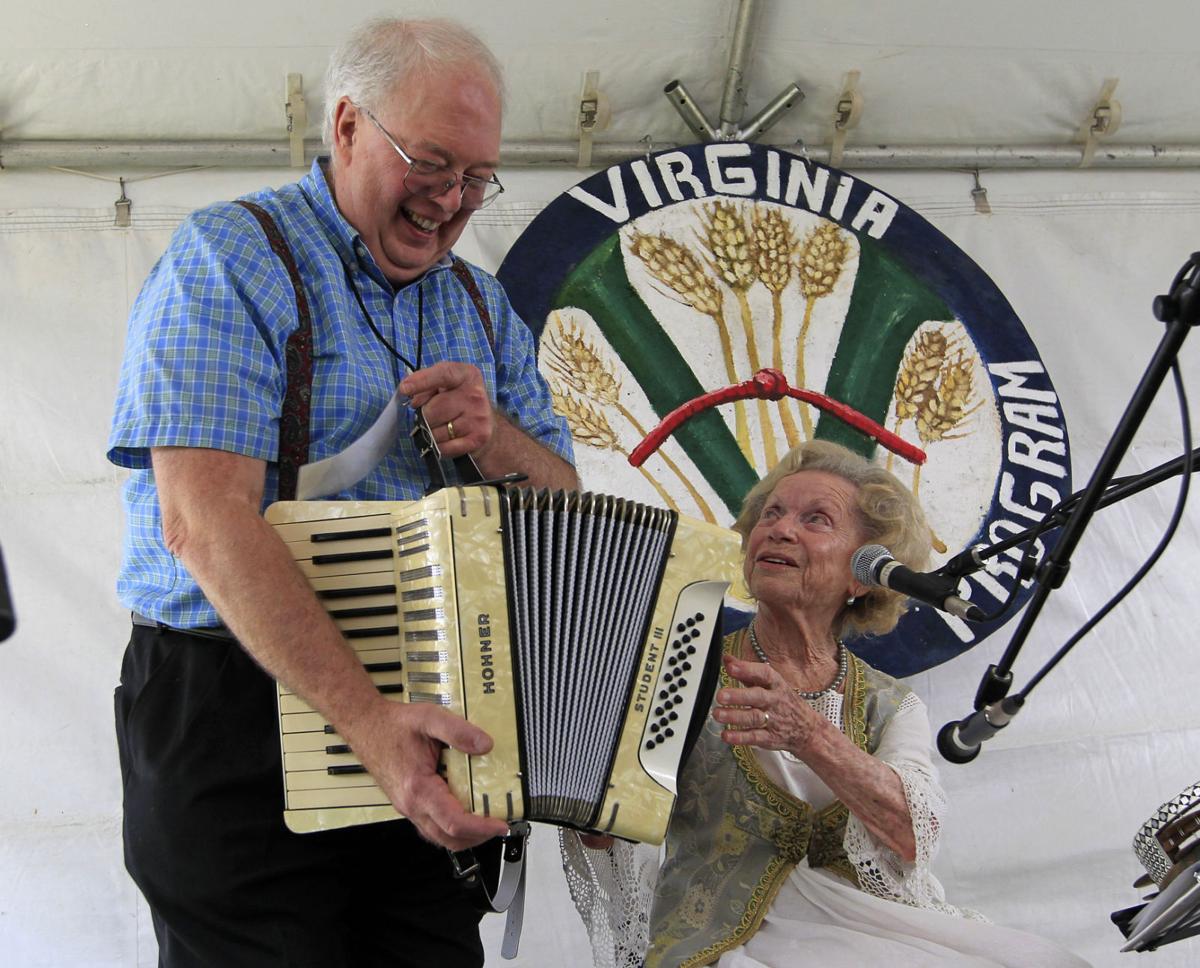 Silent seconds ticked by as Flory Jagoda stood speechless, her eyes fixed on the restored Hohner accordion that in all probability saved her life.
"I have no words," she finally managed to say to a beaming Dale E. Wise, who was holding the instrument after taking it from its travel case. "I can't talk, but I can cry.
"You made it so pretty. It looks new."
The 90-year-old musician was invited to sit down and reacquaint herself with the accordion her father had given her when she was a young girl growing up in the Sephardic Jewish community in Sarajevo, Bosnia. After adjusting the instrument's straps to her slender shoulders, she tentatively began to play a few notes.
"You don't forget," Jagoda said gleefully, obviously delighted as her fingers began to string the notes into music. She was referring to the skills she had acquired during long-ago music lessons, but could have been talking about her terrifying experiences during World War II.
In 1941, German armed forces overran Bosnia, and stormtroopers quickly started rounding up Jews. The seriousness of the situation became dramatically apparent when Jagoda's father rushed into the family's home and said they had to flee for their lives.
"My father came home all pale and scared to death," Jagoda recalled. "He said the Germans were gathering all the Jews and we had to run away.
"He said it would be too dangerous for all three of us to go together, and that I should go first. He took me to the train station, but he wasn't able to buy me a ticket to a town where his friend would meet me.
"He told me to get on the train, sit down in the compartment and play my accordion. So, for hours, I played all the songs I have ever played."
Passengers were attracted to the music, and soon the compartment was filled with people. When the conductor came in, instead of checking tickets, he sat down to listen.
"The conductor loved music and the accordion and never did ask me for my ticket," Jagoda said. "The accordion was my survival; otherwise, I would have gone in a very bad way.
"My memory of that train trip is fear, fear, fear. Just fear. The music saved my life, because this was a time when they were picking up Jews and sending them to concentration camps.
"Imagine — an accordion, of all things, saving one's life."
Jagoda, as well as her parents, eventually made it to Italy, but the Jewish communities in the area where they had lived were obliterated by the Nazis. It was in Italy where she met and fell in love with an American soldier named Harry Jagoda.
The soldier and the war refugee married. After coming to the United States, Jagoda dedicated much of her time to keeping the Sephardic music she had learned as a youngster and her native language, Ladino, alive.
In 2002, in recognition of this decades-long effort, Jagoda received the National Heritage Fellowship. This is the highest honor the nation bestows on traditional artists.
That same year, Jon Lohman, state folklorist and director of the Virginia Folklife Program of the Virginia Foundation for the Humanities, started the Virginia Folklife Apprenticeship Program. The program matches up masters of a traditional skill with apprentices for nine months of learning.
Jagoda was one of the first master artists to take on an apprentice. When her apprentice, Susan Gaeta, finished the program, Jagoda said the experience had been one of the most wonderful things to have happened to her.
Jagoda took on another apprentice, Aviva Chernick, last year and taught her Separdic Jewish ballads. They were at the recent Virginia Folklife Apprenticeship Showcase, which celebrated the graduating class as well as the masters and students in the 2014-15 class.
It was during the showcase that Jagoda was presented with her completely restored accordion. Lohman had been instrumental in the restoration project, which was paid for by the Flory Jagoda Fund started by Gaeta.
"I was visiting Flory in her home when I happened to notice this accordion on a shelf wrapped in plastic," Lohman recounted. "I knew the story about her escape, and asked if that was the accordion she had played on the train.
"When she said it was, I asked if I could unwrap it and take a look. That's when we started talking about restoring it.
"It's just magical how everything came together. Now, Dale is a master in the new apprentice class, and both he and his apprentice, Lori Sallade, worked on restoring the accordion."
Just as Jagoda has dedicated much of her life to the preservation of ancient Sephardic music and language, Wise has done the same for the accordion. The Orange County musician sells, repairs, designs and teaches the instrument he fell in love with as a youngster growing up in Ottawa, Illinois.
"Jon found me, but the irony is that I have known Flory for more than 30 years," said Wise, who runs his business, Accordion Plus, in Burr Hill. "I first met her when she purchased one of our instruments.
"Her old accordion was in great need of repair. When there's a restoration of an accordion, it means doing some major things, such as replacing all the beeswax mixture throughout.
"This mixture of violin resin and pure beeswax is only good for 35 to 50 years. It's very important, because it makes a very tenacious mixture that holds the metal reed plates on the wooden reed blocks."
Wise and Sallade started working together several months before the new class was scheduled to start in order to give her an opportunity to work on the restoration. Sallade had found Wise when she was looking for someone to repair a concertina she had inherited from her father.
"Accordion repair people like Dale are few and far between," Sallade said. "I finally found him after doing a lot of online searches.
"I was an activity director at an assisted living facility, and last year I had Dale come and play for the residents. I'm interested in learning to play various ethnic folk music, and hearing Dale play made me want to learn how to play the accordion.
"I had known Jon for quite a while and mentioned that I was interested in doing an apprenticeship to learn accordion playing and repair. Then, one day I got an email from him saying he remembered our conversation, and was looking for someone to repair Flory's accordion."
Sallade put Lohman in touch with Wise, who was unquestionably the man for the job. While growing up in the 1940s and '50s, he had learned how to play and repair the accordion from his mentor, Carlos Santucci.
"When I was growing up, the accordion was a very popular instrument," Wise said. "In the 1960s, it started to go down, and then kind of seemed to vanish.
"But around the world, it maintained its popularity, and that continues to this day. Here in America, we're very fad-oriented, whether it's food, clothing or music.
"We go through these cyclic patterns, and right now I'd say the accordion's popularity is very much on the upswing. At this point, we're hearing the accordion as almost a subliminal thing. We hear it in commercials and in the grocery store and don't realize it."
The accordion was first patented in Vienna, Austria, in 1829. It quickly grew in popularity and was brought to this country by emigrants.
In time, the squeeze box became a mainstay instrument in folk, Cajun and polka music. Although it's been the brunt of many jokes, it's a complex instrument that, in the right hands, can produce alluring music.
An indication of how intricate an instrument the accordion is can be found in the list of things Wise and his apprentice fixed on Jagoda's 75-year-old Hohner Student III model.
"We replaced the reed valves, which were leather," said Wise, who has performed for five presidents. "Through the years, the leathers tend to sag and make strange noises that aren't part of the music.
"The bellows also had to be worked on considerably. We ended up with nice compression, which is important.
"And we did a wealth of cosmetic work, and put on new straps and all new leather throughout. This is a student-quality instrument, but the fact that it saved Flory's life makes it real important."
Wise said when it comes to repair work, he strives to return an instrument to the customer in better condition than when it came from the factory. Jagoda certainly feels he has accomplished that goal with her beloved accordion.
"When I saw the accordion like new, I couldn't believe it," said Jagoda, whose primary instrument for many years has been the guitar. "It's something you can dream about, but ..."
For a moment Jagoda was again at a loss for words. Her eyes glistened as she looked at the accordion she once played with trembling fingers.
"This is something I will never forget," Jagoda said. "Such wonderful people to do this."