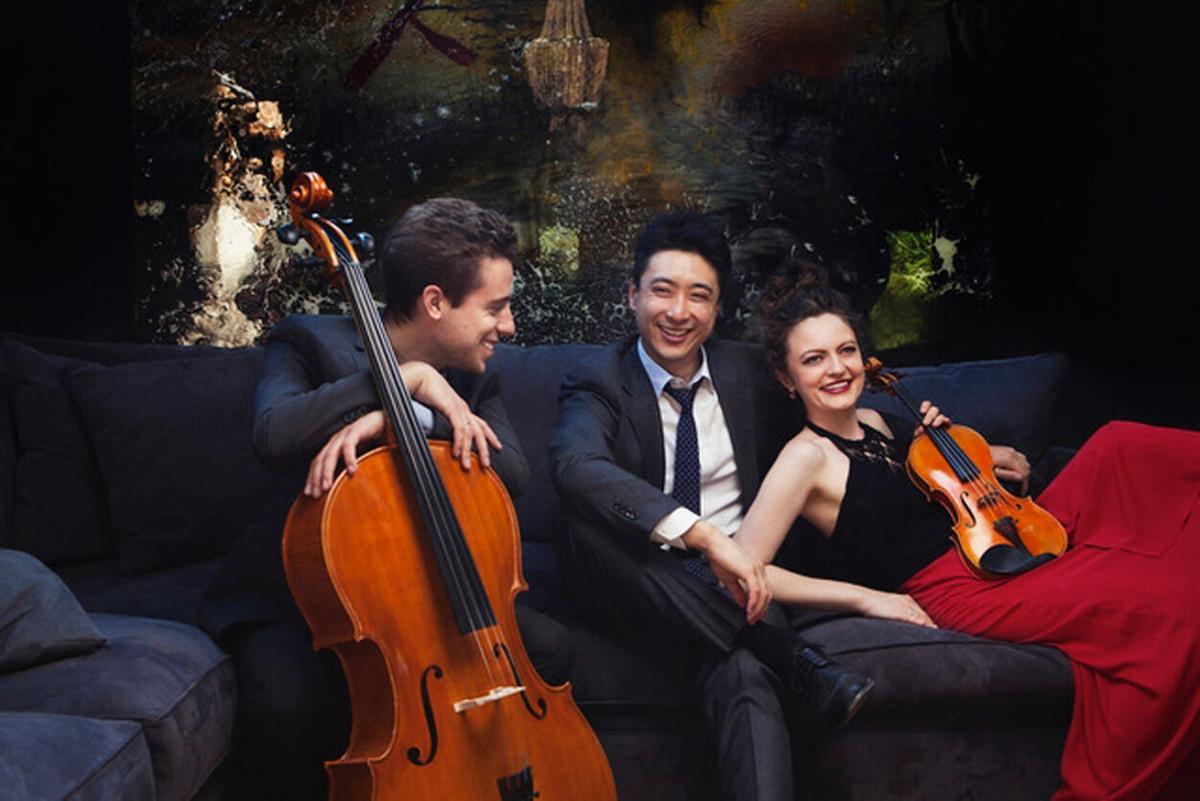 Trio Céleste aims to cut through pandemic weariness by bringing a program to the Cabell Hall Auditorium stage that focuses on the youthful verve of becoming.
"I think everyone is trying to get back to some sort of normalcy, and there's such a special energy with live music," pianist Kevin Kwan Loucks said. "Nothing replaces it."
Loucks will be joined by his wife, violinist Iryna Krechkovsky, and cellist Ross Gasworth to perform Ludwig van Beethoven's "Piano Trio in G Major, Op. 1, No. 2" and Felix Mendelssohn's "Piano Trio No. 2 in C minor, Op. 66" for the Tuesday Evening Concert Series.
Together, they'll offer listeners a glimpse of the promise a young Beethoven brought to his craft as an in-demand pianist and early-career composer. The Beethoven trio "has so much optimism," Loucks said. "He's not the tortured artist here. There's a youthful energy to it."
The Opus 1 trio "is one of the first pieces we recorded, and it means a lot to us," he said. After spending time recently with Beethoven's 1811 "Piano Trio, Op. 97," commonly known as the "Archduke Trio," Trio Céleste has relished the opportunity to return to an early love.
"There are moments in the Opus 1 trio that feel like a direct link to the 'Archduke' and the artist he will become," Loucks said. "Clearly, there's homage to [Franz Joseph] Haydn in these works. It's so advanced."
Beethoven had penned quite a few chamber works before the trio he chose to call Opus 1, but he chose to publish it and two other trios in 1795 at a moment when his career was beginning to take off.
"It's interesting that Beethoven thought of those as the first pieces he'd be publishing and sharing with the world," Loucks said. "There's a theme of hope in the Beethoven, and a hint of what Beethoven will become. There are masterful strokes in something as early as this. It's Haydnesque."
Audiences don't hear this trio as often as some later Beethoven trios, in part because it's difficult, Loucks said. That's a facet of the Mendelssohn trio that audiences embrace, too.
"The Mendelssohn's first movement is so stormy, it's like Beethoven in a way," Loucks said, adding that listeners will be intrigued by the melodies. "They're effortless, and they're memorable — and they're gorgeous."
The trio's vivid Scherzo movement has undeniable appeal.
"It's wildly virtuosic," Loucks said. "Audience gravitate toward this Scherzo movement. It's one of our favorite pieces in the repertoire to play."
Listeners also will be reminded of tantalizing elements of Mendelssohn's "A Midsummer Night's Dream" in there, he said.
The final movement has a chorale setting with cathartic energy and "an unbelievable explosion," Loucks said. It's a fitting choice after so many months of pandemic upheaval because "it feels like you've been through something together," he said.
"The Mendelssohn just has this moment at the end that's triple forte, and everyone's just playing their hearts out," Loucks said.
Loucks said the trio looks forward to returning to Cabell Hall Auditorium.
"Charlottesville is a special place for our ensemble," he said. "The hall is wonderful, the host is wonderful and the audience is so open."
"There's something about the way this audience embraced us. One of our professional highlights was performing in this hall," Loucks said. "There are so few really notable chamber music series in the country. You really have something special."
The Joseph & Robert Cornell Memorial Foundation is principal underwriter, as is Cecile Zinberg.
Free parking is available to patrons who park in the Central Grounds Parking Garage. For tickets, go to artsboxoffice.virginia.edu. To learn more about the series, go to tecs.org.