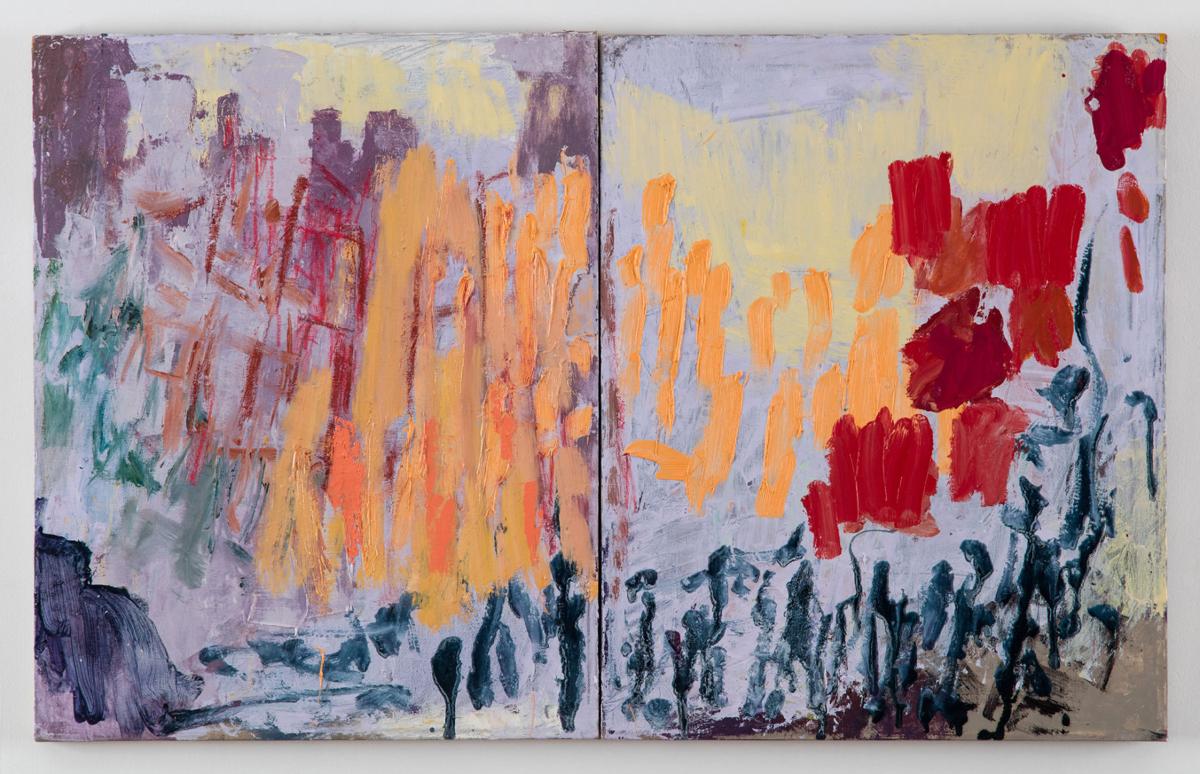 Marion Strobel Mitchell, a lyric poet and co-editor of Poetry magazine, was referred to as a "lady poet" by detractors who minimized a woman's place in her discipline. That's why her daughter, Joan Mitchell — an Abstract Expressionist painter who became a leading postwar American artist — jokingly referred to herself in kind as a "lady painter."
"It was a little joke she had," Kristen Chiacchia said. It was the origin of the title that author Patricia Albers chose for her 2011 biography of the respected America painter, and Chiacchia selected it for the new exhibition opening Friday at Second Street Gallery.
Visitors who attend "Lady Painters: Inspired by Joan Mitchell," which opens with a reception in the contemporary art space from 5:30 to 7:30 p.m. Friday, will see the lasting impact of Mitchell's assertive colors and abstract vision, and see how it inspired what Chiacchia calls "women just having fantastic careers." What they won't see are soft saturations of stereotypically ladylike pastels.
"It's interesting: in a lot of the works we have in the exhibition, the colors are what would be called 'masculine,'" said Chiacchia, Second Street Gallery's executive director and chief curator. "There are bold blues and reds, and bold brushstrokes. I think that kind of adds to the playfulness."
Works by artists Isabelle Abbot, Karen Blair, Janet Bruce, Molly Herman and Priscilla Long Whitlock fill the walls of Second Street's Main Gallery, along with examples of Mitchell's art.
"It was my goal to include at least one work by Joan Mitchell," Chiacchia said. She ended up securing not one work for the exhibition, but two — thanks to a local museum.
Mitchell's untitled works, both from 1957 — a 20- by 35-inch oil on canvas and a 26- by 20-inch watercolor and graphite work on paper — were loaned to the exhibition by The Fralin Museum of Art at the University of Virginia. The works, from the Alan Groh-Buzz Miller Collection, were bequests from Buzz Miller and are from the Fralin's permanent collection.
"To my knowledge, it's the first time The Fralin has loaned work to Second Street Gallery during its 45-year existence," Chiacchia said. She called the works "significant."
For Mitchell, 1957 was an important year. The first major article on her work, by Irving Sandler, appeared in ARTnews that autumn, and two of her paintings were included in "Artists of the New School: Second Generation," an important group show at New York's Jewish Museum.
Chiacchia came to Second Street Gallery from Edward Tyler Nahem Fine Art in New York, where she served as gallery director. She fondly remembers presenting a 2015 exhibition of Mitchell's work.
"Joan Mitchell is one of the most important abstractionists of the period, and one of the most important artists," she said.
Artists participating in "Lady Painters" will speak at 6:30 p.m. Friday, during the opening reception. The exhibition is made possible in part by The FUNd at CACF, Les Yeux du Monde Gallery and The Fralin Museum of Art at UVa. To learn more, visit secondstreetgallery.org or call (434) 977-7284.
Jane Dunlap Sathe is the features editor for The Daily Progress. Contact her at (434) 978-7249 or jsathe@dailyprogress.com