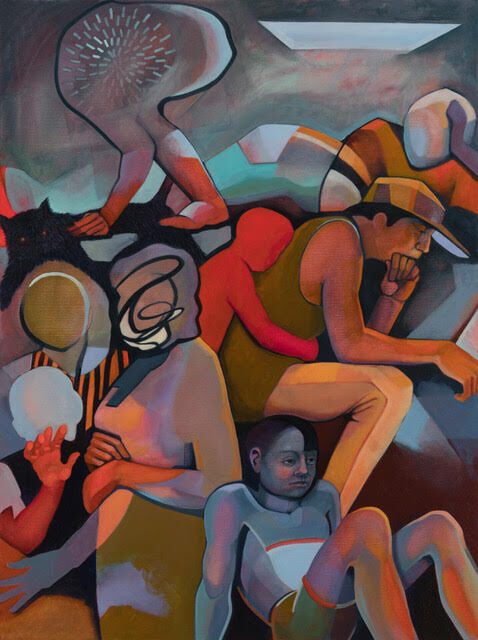 Editor's Note: Exhibits shares information about exhibitions presented on display or online in Charlottesville and Albemarle, Buckingham, Fluvanna, Greene, Louisa, Madison, Nelson and Orange counties. Items must be received by noon Friday for the next week's issue. Include the opening and closing dates of your exhibit and a telephone number the public may call with questions. Send your information to jsathe@dailyprogress.com.
The Arts Center in Orange: "Lepidoptera: Night Magic" by Deborah Davis and Anthony Childs remains on view through Sept. 25 in the Morin Gallery. artscenterinorange.com. (540) 672-7311.
The Barn Swallow: 796 Gillums Ridge Road. the barnswallow.com. (434) 979-4884.
The Bridge Progressive Arts Initiative: "Eyes on Sen Soley" can be seen by appointment and through the large windows of the community art gallery through Sept. 30. Look for oil and acrylic works on canvas by Mackenley Darius, Richard Nesly, Erivaux Prospère and Anthony Martial. The exhibition also will explore the curatorial journey of Jeanremi Verella, a collaborator and friend. Curatorial support comes from Hannah Cattarin, Lauren Dubois, Erin O'Hare, Alida Goffinski and Kristin Finn. To make an appointment, call (434) 218-2060 at least 24 hours in advance. thebridgepai.org.
C'ville Arts Cooperative Gallery: "Beyond the Garden," fairy-like figurines by ceramic artist Kim Clarke, is September's featured artist; a First Fridays reception is scheduled for 5 to 7 p.m. Friday. Open to the public from noon to 5 p.m. Sundays, 10 a.m. to 6 p.m. Mondays through Thursdays, and 10 a.m. to 7 p.m. Fridays and Saturdays. 118 E. Main St. (434) 972-9500.
Carver 4-County Museum: The seventh installment of the museum's virtual "When Women Use Their Power" exhibit will be on view in September. The museum is open by appointment from 11 a.m. to 4 p.m. Thursday, Friday and Saturday. 9432 James Madison Highway, Suite 102, in Rapidan. carver4cm.org.
The Center at Belvedere: Piedmont Pastelists will present "Awakening to the Beauty of Pastels," an exhibition of works by members Marilyn Comfort, Matalie Deane, Joan Dreicer, Anne Hopper, Lucy Kinsey, Mike McGurk, Lorraine Momper, Carolyn Ratcliffe and Shamim Sisson, through Sept. 30 in the first-floor Auditorium Exhibit Gallery. "Renewal: Finding Our Way Back Home," oil paintings by Randy Baskerville, also can be seen through Sept. 30. thecentercville.org. (434) 974-7756.
Chroma Projects: "Rosamond Casey: Working Below Sea Level" and "Bill Atwood: Some Abstractions" can be seen during Sept. 24 in Chroma Projects' Micro Gallery and Vault Virginia's Great Hall. Opening reception set for 5 to 7 p.m. Friday. Visiting hours are 10 a.m. to 5 p.m. Mondays through Fridays and by appointment; make appointments by emailing artlab@chromaprojects.com. chromaprojects.com. (434) 806-9667.
Crozet Artisan Depot: Phineas Rose Jewelry Studio's 2021 Collection by Ninika Gordon will be on display through Sept. 30; a Meet the Artist Exhibit event is set for 1 to 3 p.m. Sept. 11. 5791 Three Notch'd Road in Crozet. crozetartisandepot.com. (434) 205-4795.
Firnew Farm Artists' Circle: "We the Artists" group exhibition can be seen through Sept. 30 in The Grand Salon at James Madison's Montpelier. The general admission fee for Montpelier will be waived throughout the exhibition. Hours are 9 a.m. to 3 p.m. Thursdays through Mondays. FirnewFarmArtistsCircle.com.
The Fralin Museum of Art at the University of Virginia: "Skyscraper Gothic," "Everyone a Curator: The Langhorne Collection of 18th-Century Prints," "Delicate Trades: British Porcelain, Global Collections," "Solitude," "Structure" and "Focus On: Sally Mann and Pamela Pecchio" are on view through Dec. 31. In keeping with UVa guidelines, masks are required indoors, regardless of vaccination status. uvafralinartmuseum.virginia.edu.
The Gallery at Studio IX: The Prolyfyck Exhibition Series continues with works by Sri Kodakalla to honor Computers4Kids. "Sri Kodakalla: A Whisper in the Night" will be on view Friday through Sept. 26; Opening Reception is set for 5 to 7 p.m. Friday. studioix.co. (434) 242-0905.
Java Java Café: Art show by Christine Rich and Matalie Deane will be on view during September and October. mataliedeane.com.
Kluge-Ruhe Aboriginal Art Collection has opened the first part of the two-part exhibition "Irrititja Kuwarri Tjungu (Past & Present Together): 50 Years of Papunya Tula Artists," tracing the Papunya Tula Artists movement from 1971 through the mid-1990s. It can be seen through Feb. 27, 2022. The second part, celebrating the role of women artists and featuring paintings created during and since the 1990s, will be open from March 17, 2022, to Feb. 26, 2023. "Boomalli Prints and Paper: Making Space as an Art Collective" can be seen through June 19, 2022. "Breathe with Me: A Wandering Sculpture Trail" can be seen outdoors through Oct. 21. Make reservations to visit; a reservation allows up to 30 people to visit for a self-guided visit. Masks are required. Make reservations at kluge-ruhe.org. 400 Worrell Drive. (434) 244-0234.
Loving Cup Vineyard & Winery: "Transmutation," works in acrylic on paper and acrylic on canvas by Lea Calvani, can be seen through Sept. 26. 3340 Sutherland Road in North Garden. lovingcupwine.com. (434) 987-2252.
McGuffey Art Center: Reopening with First Fridays event from 5:30 to 7:30 p.m. Friday; masks are required. Look for "What I Sea," works in acrylic, graphite and colored pencil by Erica Lohan, in Sarah B. Smith Main Gallery, "Mysticism vs. Cynicism," paintings and sculptures by David Currier, in First Floor (North); and "Black and White" in First Floor (South) and Second Floor (North and South Hallway), featuring works by Ron Evans, Susan Patrick, Jill Jensen, Blake Hurt, Karen Eide, Carol Grant, Michael Brunelle, Deborah Davis, Lisa Philipps, Margot Hamilton, Lisa Macchi, Abigail Wilson, Jane Skafte, McCrea Kudravetz, Scott Smith and Frederic Crist. mcguffeartcenter.com.
Nichols Gallery: Gallery hours: 11 a.m. to 5 p.m. Thursdays through Sundays, and by appointment or by chance. 5420 Governor Barbour St. in Barboursville. (540) 832-3565.
Piedmont Virginia Community College: "smoke or shadow" by Jonah Tobias in the North Gallery and the Annual Faculty Exhibition in the South Gallery will be on view Sept. 10 through Nov. 6. An opening reception is set for 5 to 7 p.m. Sept. 10. pvcc.edu.
Quirk Gallery Charlottesville: "Ordinary Time," paintings by Kristen Peyton, will be on view through Oct. 24. An opening reception is set for 3 to 5 p.m. Saturday. quirkgallery.com.
Revalation Vineyard: Pop-up @ The Vineyard will present watercolor paintings and sketches by Rachana Ink on Sept. 18 and 19. 2710 Hebron Valley Road in Madison. revalationvineyard.com. (540) 407-1236.
Second Street Gallery: Closed until Friday. New season will begin with "Teeny Tiny Trifecta 4," which can be seen Friday through Sept. 24. The exhibition will be open Thursday for Early Access Presale Day; tickets are on sale. Free public appointments will begin Friday; the gallery will be open from 11 a.m. to 7:30 p.m. on opening day. All "Teeny Tiny Trifecta 4" works will be sold for $100. "On Belonging: The Space in Between," a solo exhibition by LaRissa Rogers, can be seen in the Dové Gallery from Friday through Sept. 24. Rogers will be in the gallery to speak with visitors from 5:30 to 7:30 p.m. Friday. Masks are required in the gallery, and social distancing will be observed. secondstreetgallery.org. (434) 977-7284.
The Stage at WTJU: "We Hope This Art Finds You Well," an exhibition and community arts time capsule created by WTJU 01.1 FM, The Bridge Progressive Arts Initiative and UVa Music, will open with a reception from 5 to 7 p.m. Sept. 11. New micro-museum is located inside a renovated antique camper parked behind the radio station at 2244 Ivy Road. In-person exhibit will be open from 10 a.m. to 7 p.m. Fridays and 10 a.m. to 2 p.m. Saturdays through mid-November. Digital exhibition goes live on Sept. 11 at ArtFindsYouWell.org. arts.virginia.edu.
Torosiete Museum of Contemporary Art: "Hearts' Lonely Hunters" (1995) by Daniel Kuttner and Beatrix Ost is streaming at the virtual contemporary art gallery. Streaming instructions: http://heartsmovie.torosiete.museum/.
Les Yeux du Monde: "The Printmakers Left: Catalog" is on view through Oct. 10. Artists include Anne Beck, Berenika Boberska, Joshua Dailey, Dean Dass, Kate Daughdrill, Lydia Diemer, Jenny Harp, Kirsten Hemrich, Emma Lappalainen, John Leahy, Rachel Livedalen, Jyrki Markkanen, Lydia Moyer, Akemi Ohira, Joh Schultz, Rache Singel, Christopher Thomas, Barbara Campbell Thomas, Marc Snyder, Randall Stoltzfus, Maggie Sullivan, Annu Vertanen and Adam Wolpa. Gallery hours are 1 to 5 p.m. Thursdays through Saturdays and by appointment. Staggered entry times will be scheduled to keep audience numbers small, so reserve a time at (434) 882-2620 or LYDMGallery@gmail.com. LYDM.co. (434) 882-2620.
Virginia Clay Festival: 10 a.m. to 5 p.m. Sept. 18 and 19 at William Monroe High School in Stanardsville. virginiaclayfestival.com. (434) 985-6500 or (434) 985-6663.
Visible Records: Inaugural exhibition, "Tiahue Tocha" by Colectivo Rasquache, will be on view through Sept. 14. The exhibition will include works by Ateri Miyawatl, Bryan Ortiz, Ana Quiroz, Ken Rinaldo, Amy Youngs, Yusuf Abdul Lateef, Lydia Moyer, Federico Cuatlacuatl, Karina Monroy and Jairo Banuelos. Hours will be 11 a.m. to 5 p.m. Tuesday through Friday. 1740 Broadway St. visible-records.com.