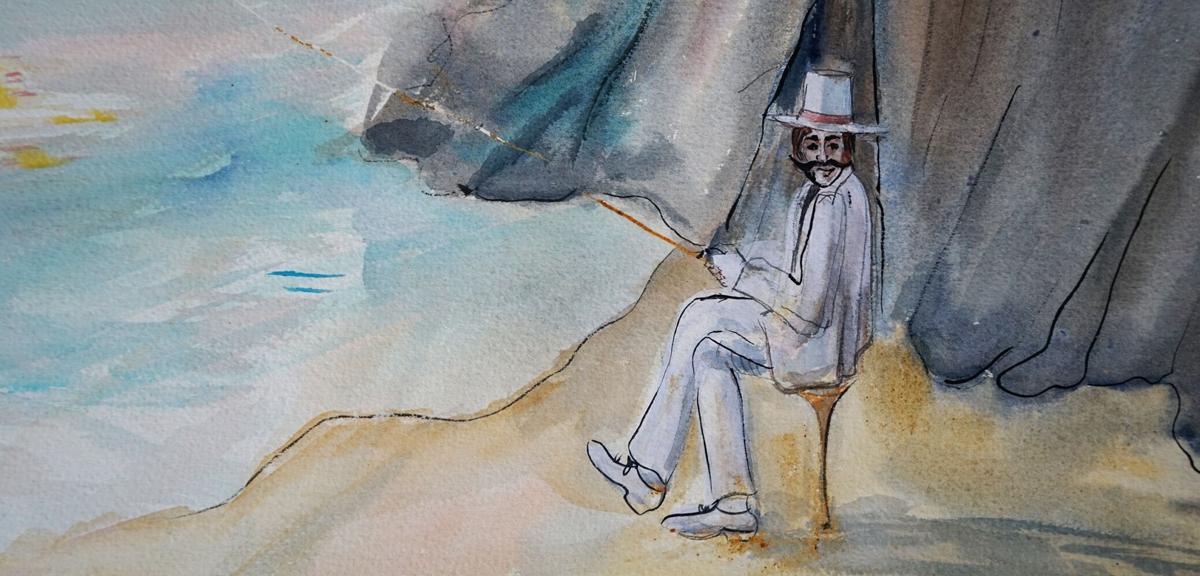 Editor's Note: Exhibits shares information about exhibitions presented on display or online in Charlottesville and Albemarle, Buckingham, Fluvanna, Greene, Louisa, Madison, Nelson and Orange counties. Items must be received by noon Friday for the next week's issue. Include the opening and closing dates of your exhibit and a telephone number the public may call with questions. Send your information to jsathe@dailyprogress.com.
The Bridge Progressive Arts Initiative: "Dispatches from the Outpost," Old World collections and contemporary pieces, by Jennifer Almanza can be seen in the Belmont Neighborhood Gallery during October. To make an appointment, call (434) 218-2060 at least 24 hours in advance. thebridgepai.org.
C'ville Arts Cooperative Gallery: "Music for the Eyes" by Felt Song Fiber felt-making artist Janice Stegall-Seibert will be featured in October. Open to the public from noon to 5 p.m. Sundays, 10 a.m. to 6 p.m. Mondays through Thursdays, and 10 a.m. to 7 p.m. Fridays and Saturdays. 118 E. Main St. (434) 972-9500.
Carver 4-County Museum: The next installment of the museum's virtual "When Women Use Their Power" exhibit will be on view in October. The museum is open by appointment from 11 a.m. to 4 p.m. Thursday, Friday and Saturday. 9432 James Madison Highway, Suite 102, in Rapidan. carver4cm.org.
The Center at Belvedere: "A New Rhythm," a multimedia group exhibit by members of BozART Fine Art Collective, remains on view through Dec. 31. An opening reception with live jazz will be from 4 to 6 p.m. Thursday. Masks strongly recommended. thecentercville.org. (434) 974-7756.
Chroma Projects: "Pandemonium: Postcards from the Edge" can be seen through Oct. 31 at Vault Virginia. Visiting hours are 10 a.m. to 5 p.m. Mondays through Fridays. Masks are required at all times. Use Third Street Southeast entrance. chromaprojects.com. (434) 806-9667.
Crozet Artisan Depot: "A Colorful Mountain Life," acrylic and oil paintings by Lori Leist, is on view. A Meet the Artist event is set for 1 to 3 p.m. Saturday. 5791 Three Notch'd Road in Crozet. crozetar tisandepot.com. (434) 205-4795.
Crozet Arts and Crafts Festival will offer more than 120 professional artists and makers, music food trucks and Virginia wines, ciders and beers from 10 a.m. to 5:30 p.m. Saturday and 10 a.m. to 5 p.m. Sunday at Claudius Crozet Park. $7; $6 seniors; free for ages 12 and younger. Weekend passes are $12, $10 seniors. Parking is free. crozetfestival.com.
The Fralin Museum of Art at the University of Virginia: "Skyscraper Gothic," "Everyone a Curator: The Langhorne Collection of 18th-Century Prints," "Delicate Trades: British Porcelain, Global Collections," "Solitude," "Structure" and "Focus On: Sally Mann and Pamela Pecchio" are on view through Dec. 31. In keeping with UVa guidelines, masks are required indoors, regardless of vaccination status. uvafralinartmuseum.virginia.edu.
The Gallery at Studio IX: "Asha Art Week: Celebrating the Work & Life of Asha Greer" will be on view Saturday through Oct. 14. Students of The Heartwood Tea School will present ceremonial Japanese tea from 3 to 7 p.m. daily. Closing reception is set for 1 to 7 p.m. Oct. 17. The Prolyfyck Exhibition Series continues in October with works by Mike Ryan, which will honor Music Resource Center. studioix.co. Face coverings must be worn when entering the building and at all times in the gallery. (434) 242-0905.
James Monroe's Highland: Interior spaces have reopened for the first time since March 2020. Look for newly interpreted interior spaces in Highland's standing house. Exhibit content creates an inclusive story of Monroe's life and career that includes enslaved people, Monroe's family and additional historical figures as important parts of the site's history. highland.org/plan-your-visit/tours-and-tickets/.
Java Java Café: Art show by Christine Rich and Matalie Deane will remain on view during October. mataliedeane.com.
Kluge-Ruhe Aboriginal Art Collection presents "The Art in Life: Textile Design" webinar at 7 p.m. Thursday with Diane Kappa, Kieren Karritpul and Mili Suleman; register in advance. Kluge-Ruhe has opened the first part of the two-part exhibition "Irrititja Kuwarri Tjungu (Past & Present Together): 50 Years of Papunya Tula Artists," tracing the Papunya Tula Artists movement from 1971 through the mid-1990s. It can be seen through Feb. 27, 2022. The second part, celebrating the role of women artists and featuring paintings created during and since the 1990s, will be open from March 17, 2022, to Feb. 26, 2023. "Boomalli Prints and Paper: Making Space as an Art Collective" can be seen through June 19, 2022. "Breathe with Me: A Wandering Sculpture Trail" can be seen outdoors through Oct. 17; a closing reception is set for 4 to 6 p.m. Friday. Make reservations to visit. Tours have resumed and will be led for free by volunteer guides at 10:30 a.m. and 1:30 p.m. each day the museum is open. Longer tour experiences for groups will be available for purchase. Masks are required. Make reservations at kluge-ruhe.org. 400 Worrell Drive. (434) 244-0234.
The Looking Glass: IX Art Park Foundation is opening a major expansion of its immersive art museum, which opened in January 2020, featuring works by 12 new and returning artists. Mixed-media creatures by Joe Vena, video projection art by Aaron Farrington and multicolored bar designed by River Hawkins. See new works by technology artist Jeff Dobrow and gnome house creator Katarzyna Borek. Caterpillar tunnel features mixed-media art by artist-in-residence Samantha Ashkani. Entrance features curio shop by Marc Boston and Adrienne Oliver and assembled by new curio coordinator Ella Caplin. Mad Traveler's Treehouse features art by John Snell and lead artist Kathryn Wingate. Hours are 4 to 8 p.m. Thursdays, noon to 8 p.m. Fridays, 10 a.m. to 8 p.m. Saturdays and 10 a.m. to 6 p.m. Sundays. Admission is $15, $12 ages 4 to 13 and free for ages 3 and younger. ixartpark.org.
McGuffey Art Center: "Makers Show" in the Smith Gallery, "Life Drawing" in the first-floor North and South galleries and "Abstracts" in the second-floor North and South galleries, all on view through Nov. 21. Masks are required. mcguffeyartcenter.com.
Nichols Gallery: Gallery hours: 11 a.m. to 5 p.m. Thursdays through Sundays, and by appointment or by chance. 5420 Governor Barbour St. in Barboursville. (540) 832-3565.
Piedmont Virginia Community College: "smoke or shadow" by Jonah Tobias in the North Gallery and the Annual Faculty Exhibition in the South Gallery will be on view through Nov. 6. pvcc.edu.
Piedmont Place: Works by BozART members Judith Ely, Juliette Swenson, Sara Gondwe, Betty Brubach and Terry Coffey can be seen through mid-October on the second floor at 2025 Library Ave. in Crozet.
Quirk Gallery Charlottesville: "Ordinary Time," paintings by Kristen Peyton, will be on view through Oct. 24. quirkgallery.com.
Revalation Vineyard: Art @ The Vineyard presents photography by Lynn Gaffey through Oct. 31. 2710 Hebron Valley Road in Madison. revalationvineyard.com. (540) 407-1236.
Second Street Gallery: "how strange it is to be anything at all" by Josh Dorman in the Main Gallery and "Dirty Mirror" by Dance Doyle and Caitlin McCormack in the Dové Gallery through Nov. 19. Masks are required in the gallery, and social distancing will be observed. secondstreetgallery.org. (434) 977-7284.
The Stage at WTJU: "We Hope This Art Finds You Well," an exhibition and community arts time capsule created by WTJU 01.1 FM, The Bridge Progressive Arts Initiative and UVa Music, is a micro-museum is located inside a renovated antique camper parked behind the radio station at 2244 Ivy Road. In-person exhibit will be open from 10 a.m. to 7 p.m. Fridays and 10 a.m. to 2 p.m. Saturdays through mid-November. Digital exhibition is at ArtFindsYouWell.org. arts.virginia.edu.
Torosiete Museum of Contemporary Art: "Hearts' Lonely Hunters" (1995) by Daniel Kuttner and Beatrix Ost is streaming at the virtual contemporary art gallery. Streaming instructions: http://heartsmovie.torosiete.museum/.
University of Virginia Health Arts Program: "Capturing the Stillness of Nature," watercolors by Jane Skafte, can be seen in the Main Hospital lobby through Oct. 28. Parking validated for 11th Street Parking Garage only. (434) 924-5527.
Woodberry Forest School: "Into the Light," ninth annual Group Art Exhibition by 38 members of Firnew Farm Artists' Circle, on view through Oct. 30 in the Baker Gallery in Walker Fine Arts Center. Featured artists are Mary Allen and Carole Pivarnik. Off-campus visitors may attend between 10 a.m. and 5 p.m. Saturdays and Sundays. All who attend the exhibit and/or reception must be vaccinated and wear masks. woodberry.org. (540) 672-3900.
Les Yeux du Monde: "The Printmakers Left: Catalog" is on view through Sunday. Artists include Anne Beck, Berenika Boberska, Joshua Dailey, Dean Dass, Kate Daughdrill, Lydia Diemer, Jenny Harp, Kirsten Hemrich, Emma Lappalainen, John Leahy, Rachel Livedalen, Jyrki Markkanen, Lydia Moyer, Akemi Ohira, Joh Schultz, Rache Singel, Christopher Thomas, Barbara Campbell Thomas, Marc Snyder, Randall Stoltzfus, Maggie Sullivan, Annu Vertanen and Adam Wolpa. Gallery hours are 1 to 5 p.m. Thursdays through Saturdays and by appointment. Staggered entry times will be scheduled to keep audience numbers small, so reserve a time at (434) 882-2620 or LYDMGallery@gmail.com. LYDM.co. (434) 882-2620.