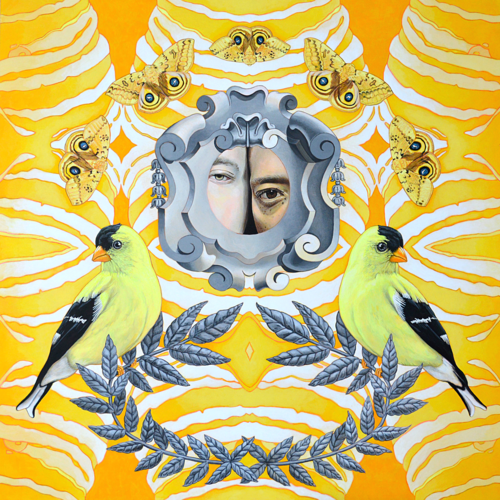 Editor's Note: Exhibits shares information about exhibitions presented on display or online in Charlottesville and Albemarle, Buckingham, Fluvanna, Greene, Louisa, Madison, Nelson and Orange counties. Items must be received by noon Friday for the next week's issue. Include the opening and closing dates of your exhibit and a telephone number the public may call with questions. Send your information to jsathe@dailyprogress.com.
The Barn Swallow: Open 1 to 5 p.m. Fridays through June with artist Laurie Gundersen on hand. Also open 11 a.m. to 5 p.m. Saturdays and 1 to 5 p.m. Sundays. 796 Gillums Ridge Road. thebarnswal low.com. (434) 979-4884.
The Bridge Progressive Arts Initiative: "Expression: New Works by Angelina Smith" is visible through the gallery windows. It is the latest exhibition in the Transfer Curation Series. thebridgepai.org.
C'ville Arts: "It's All in the Open Air," en plein air paintings by Meg West, will be on display throughout June. "Mythical, Magical, Lyrical Beasts," a menagerie by bead artist Steve Cunningham, can be seen throughout July. Open to the public from noon to 5 p.m. Sundays and 10 a.m. to 6 p.m. Mondays through Saturdays. 118 E. Main St. (434) 972-9500.
Carver 4-County Museum: The fourth installment of the museum's virtual "When Women Use Their Power" exhibit focuses on the late Ruth Dandridge Crenshaw Harris, a Madison resident who served as a foster mother to more than 50 children. The museum will reopen soon by appointment. 9432 James Madison Highway, Suite 102, in Rapidan. carver4cm.org.
Chroma Projects: "Susan Jamison: The Frequency of Roses" can be seen in the Vault Virginia gallery from Friday through July. chromaprojects.com.
Crozet Artisan Depot: "Results of a Challenge," jewelry by Robert Turner, and "Blossoming Brushstrokes," paintings by Trisha Thompson, can be seen through Wednesday. "Local Color," featuring oil and acrylic paintings by Susan Moskow, can be seen during July. 5791 Three Notch'd Road in Crozet. crozetartist depot.com. (434) 205-4795.
Kluge-Ruhe Aboriginal Art Collection is open to the public by reservation only. "Dub Leffler: Darkish" will be on display through Sunday and is available on the website as Kluge-Ruhe's first virtual exhibition. Gift shop has reopened; proceeds support Indigenous artists and Kluge-Ruhe. Reservations required for gift shop visits; if you want to visit the exhibitions as well, be sure to schedule back-to-back reservations. Make reservations at kluge-ruhe.org. 400 Worrell Drive. (434) 244-0234.
McGuffey Art Center: Three new summer exhibitions will run through Aug. 15. "Fairies Are Real" by Madeleine Rhondeau-Rhodes is in the Smith Gallery. "Summer Members' Show" is in the Hallway Galleries. "Incubators," featuring works by 2020-2021 Incubator artists Evan Leggett, Jiajun Yan, Kathryn Wingate and Michael Jones, is in the First-Floor/North Gallery. mcguffey artcenter.com.
Nichols Gallery: Gallery hours: 11 a.m. to 5 p.m. Thursdays through Sundays, and by appointment or by chance. 5420 Governor Barbour St. in Barboursville. (540) 832-3565.
Piedmont Place: Works by BozART Fine Arts Collective members Julia Kindred, Matalie Deane, Julia Lesnichy, Shirley Paul, Juliette Swenson and Joan Dreicer are on display through July 13. Second floor at 2025 Library Ave. in Crozet. bozartgallery@gmail.com.
Piedmont Virginia Community College: Annual Student Exhibition will be on display through Aug. 26. Look for paintings, drawings, ceramics, digital illustrations and other works by more than 40 student artists. pvcc.edu.
Revalation Vineyard: Art @ The Vineyard will present paintings by Anna Marie DeMio Dowen through Wednesday. 2710 Hebron Valley Road in Madison. revalationvineyard.com. (540) 407-1236.
Rockfish Valley Community Center: A photography exhibition by Charlottesville Camera Club members will be on display through the end of July. More than 90 images by 29 club members are featured, including abstracts, landscapes, still lifes and wildlife images. 190 Rockfish School Lane in Afton. cvil lecameraclub.org. rockfishcc.org. (434) 361-0100.
Second Street Gallery: "ROYGBIV," featuring works by Madeleine Rhondeau-Rhodes (red), MK Bailey (orange), Aaron Eichorst (yellow), Heather Owens (green), Sarah Kahle (blue), Katie Aki Holloway (indigo) and Sam Gray (violet), can be seen through July 23 in the Dové Gallery. "Sharon Shapiro: Social Fabric" can be seen Friday through July 23. Appointments recommended, but walk-ins will be welcomed if the gallery is not already at capacity. Be prepared to observe safe physical distancing. secondstreet gallery.org. (434) 977-7284.
Torosiete Museum of Contemporary Art: "Hearts' Lonely Hunters" (1995) by Daniel Kuttner and Beatrix Ost is streaming at the virtual contemporary art gallery. Streaming instructions: http://heartsmovie.torosiete.museum/.
Les Yeux du Monde: "Susan McAlister: Evergreen" will be on display through Aug. 15. Gallery hours are 1 to 5 p.m. Thursdays through Saturdays and by appointment. Staggered entry times will be scheduled to keep audience numbers small, so reserve a time at (434) 882-2620 or LYDMGallery@gmail.com. LYDM.co. (434) 882-2620.
University of Virginia Health System Arts Committee: Call for submissions is welcoming entries for rotating art exhibit in the UVa Hospital Lobby through July 30. Subject matter must be positive, uplifting or calming, and suitable for all ages in a healing environment. Nudity and religious symbols are not permitted. Wall art in oils, acrylic, pastels and mixed media will be considered; fiber and textile art will not. Send a brief bio and flash drive of six to 10 examples of work as digital images in jpeg format to Gloria Smith, Arts Program Liaison, Box 800544, UVa Health, Charlottesville, VA 22908. (434) 924-5527.
University of Virginia Hospital Main Lobby Exhibition Space: "Wanderlust," a photography exhibition by Laura Satkovich, can be seen Thursday through Aug. 267. (434) 924-5527.