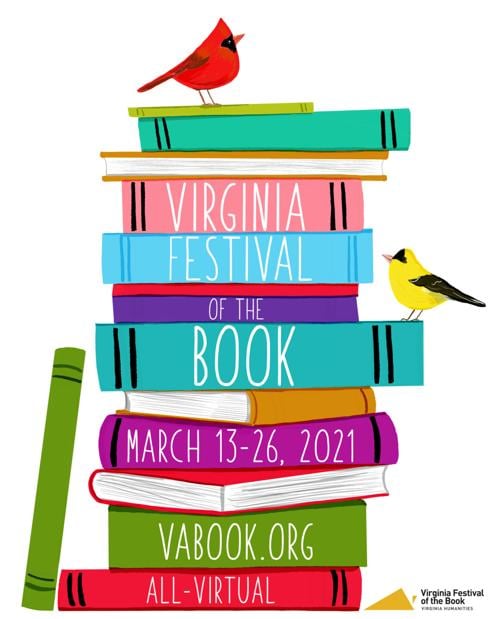 Mapping out your own personal schedule for the all-virtual Virginia Festival of the Book? If you're a fan of the arts, one approach is to dive into this week's events through the lenses of the genres you love best.
For poetry fansIf you've missed hearing poems read aloud during the pandemic, start with "Filled with Possibility: Poetry" at 4 p.m. Thursday.
Poets Erika Meitner ("Holy Moly Carry Me"), Kiki Petrosino ("White Blood: A Lyric of Virginia") and Brian Teare ("Doomstead Days") will read from their new collections. Life, loss, genealogy and the environment are just a few of the subjects these verses address. Captioning will be provided.
Poet Ross Gay will talk about his new book-length poem with Kaveh Akbar during "'Be Holding': With Ross Gay" at 2 p.m. Saturday. Basketball — specifically a shot taken by Julius Erving during the 1980 NBA Finals — is the starting point for an exploration of music, familial love, photography and much more.
"Celebration! A Tribute to the African American Literary Tradition" is planned for 11 a.m. Sunday. The virtual event, presented by The Charlottesville Chapter of The Links Incorporated, will include spoken-word and musical performances by community youths, and several festival authors will speak about their books and answer questions.
At 7 p.m. Sunday, "Indigenous Poetry: Language as a Map Home" begins at 7 p.m. Sunday. Virginia Poet Laureate Luisa A. Igloria and poet Benjamin Naka-Hasebe Kingsley will read from and talk about their work. Learn more about Igloria's early years in the Philippines and Kingsley's Onondaga, Japanese, Cuban and Appalachian heritage, as well as the pressures of intolerance in American society.
The Virginia Festival of the Book and the Virginia Film Festival are teaming up to present "Beyond the Screen: A Conversation with Mark Harris" at 4 p.m. Tuesday.
Harris will discuss his new book, "Mike Nichols: A Life" with moderator Joe Fab, a VAFF associate programmer. This event can be seen later as a video recording at VaBook.org/Watch.
"Double Draw Dare with Tom Angleberger & Dub Leffler," at 7 p.m. Thursday, is a participatory event for ages 5 and older that'll include a series of interactive challenges. Audience members can help the artists respond to drawing prompts as they happen. Fun for the whole family, the event will give young readers a chance to learn more about Angleberger's "DJ Funkyfoot! Butler for Hire" and Leffler's "Once There Was a Boy."
In "Little Dreamers with Vashti Harrison," set for noon Tuesday, author and illustrator Harrison will read from and talk about her work. She also will answer questions submitted by students ahead of time.
All offerings are free. The festival continues through March 26. To register for the events you choose, go to vabook.org.