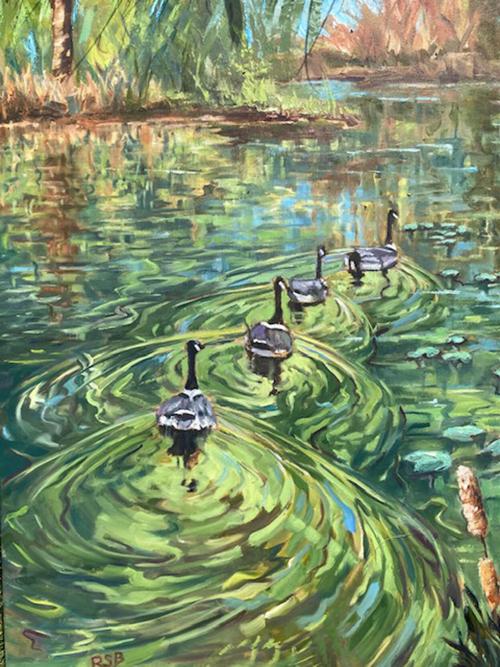 Jennifer Paxton's clay jewelry will be featured during August at C'ville Arts Cooperative Gallery. The exhibit, "Come Closer," will include her jewelry and her photography of the natural world.
A First Fridays event is set for 5 to 7 p.m. Aug. 6 to give guests a closer look at the jewelry Paxton has crafted by hand for more than 35 years. For information, go to cvillearts.org or dial (434) 972-9500.
McGuffey Art Center has announced Megan Hillary as its new Resident Artist. She is a visual artist, theater director and designer who specializes in site-specific installations, and she has a background in dance and violin.
During her residency, she is developing an immersive piece with Kelli Shermeyer through a grant with the Lab in Performance Cultures & Embodied Creative Practices, a working group funded by the University of Virginia's Institute for the Humanities and Global Culture.
McGuffey Art Center also has selected six artists for its 2021-2022 Incubator Studio Residency. Participants will be mixed-media and mail artist Diana Hale, figure painter Luke Atticus, printmaker and musician Sophie McDowell, collage and zine maker Mary Lamb, painter Emily Howe and painter Blake Baines.
Piedmont Pastelists will present an exhibition in the first-floor Auditorium Exhibit Gallery at The Center at Belvedere from Monday through Sept. 30. An opening reception is planned for 5:30 to 7 p.m. Tuesday. The participating artists in "Awakening to the Beauty of Pastels" will be Marilyn Comfort, Matalie Deane, Joan Dreicer, Anne Hopper, Lucy Kinsey, Mike McGurk, Lorraine Momper, Carolyn Ratcliffe and Shamim Sisson.
Randy Baskerville's oil paintings can be seen at The Center at Belvedere from Tuesday through Sept. 30. "Renewal: Finding Our Way Back Home" will open with a reception from 5:30 to 7 p.m. Tuesday on the second floor.
Crozet Artisan Depot will welcome guest artist Emily Wool during August. "New Work by Emily Ruth Prints," featuring the fiber artist's screen-printed and block-printed textiles, can be seen Sunday through Aug. 31. Look for her bags, home goods and other creations.
The Fralin Museum of Art at the University of Virginia has welcomed four new members to its Advisory Board — Alexander "Sandy" Graham, Handel C.H. Lee, Tamara Holmes Brothers and Natalie B. Wilensky. Each will serve a three-year term.