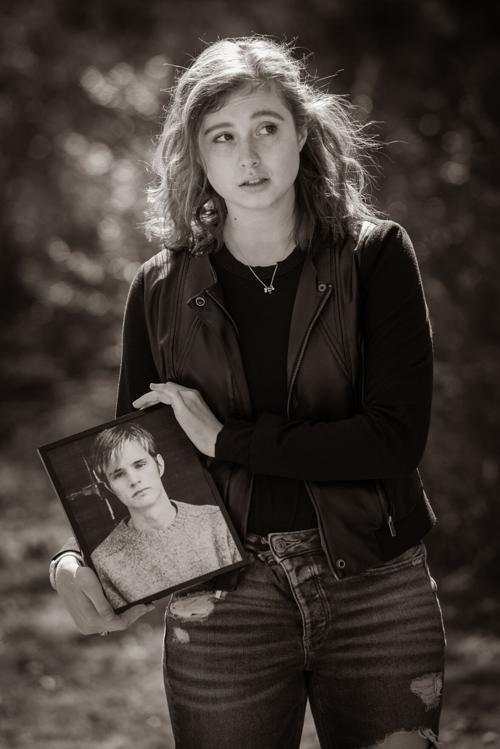 When Four County Players presents "The Laramie Project" this week, audience members can explore the impact of a violent death on an entire town of people who'd never met the victim, but suddenly found themselves tarred with the same brush as his assailants.
"It's still incredibly relevant. At its heart, 'The Laramie Project' is not just about Matthew Shepard; it's about the town of Laramie," director Perry Medlin said. "It's about the media shaping what your town is. Laramie really had to look at itself."
The production will be presented using Zoom Webinar at 8 p.m. Wednesday, Thursday, Friday and Saturday and 2 p.m. Sunday.
Discussing or reading about the play and the tragedy that inspired it can be uncomfortable for people with traumatic past experiences, so keep in mind that "The Laramie Project" comes with a content warning. The play contains explicit language and graphic descriptions of violence, sexual activity, homophobia and xenophobia. Parental discretion is advised.
Presenting the drama using Zoom means that audience members who discover that they need a moment to maintain composure don't have to worry about attracting attention as they excuse themselves from a theater setting. "I think the ability to step away and process is much easier," Medlin said.
The play was created after the kidnapping and killing of Matthew Shepard in October 1998. The 21-year-old University of Wyoming student spent a cold night tied to a fence on the prairie after a brutal beating, and he died from his injuries a few days later. To create the play, Moises Kaufman and six fellow members of Tectonic Theater Project made six trips to Laramie over the course of a year and a half to complete more than 200 interviews about the case with townspeople.
Four County's ensemble cast includes Tim Briggs, Paige Campbell Johns, Stephanie Finn, Meg Hoover, Michelle Majorin, Kirk Martini, Parker Nelson, Charif Soubra, Cate Wells and Linda C. Zuby. The townspeople they play have different comfort levels with issues of homosexuality and violence, and they differ widely on what responsibility, if any, they share in shaping a climate that is safe and honoring for everyone.
And for residents of the Charlottesville area in particular and Central Virginia in general, "The Laramie Project" can stir memories of the deadly aftermath of the Unite the Right rally in Charlottesville on Aug. 11-12, 2017, the director said.
For Charlottesville-area residents, "at some point, we have to look at it and say, 'It happened here for a reason,''' Medlin said. "We can't say, 'It's not us,' because it is. The rally was not a cause; it was a symptom. They were here because they knew they could be."
In addition to the subject matter, the structure of "The Laramie Project" made it a practical choice for a socially distanced pandemic climate.
"This particular play lends itself really well to a Zoom format because it's so personal and interview based," he said. "The vast majority of this show is one person speaking to an interviewer. Translating this story was particularly easy to do. Something narrative with lots of dialogue wouldn't work as well."
Medlin said he and his cast and crew gained confidence from seeing how successfully other community theater groups have used Zoom. A recent production of "In the Heights" at Live Arts was "a very brave undertaking," Medlin said.
"This one was appealing because it didn't take so much imagination to see it on Zoom," Medlin said.
Edward Warwick White is the play's producer, and Liz Howard and Rosalind Werner-Winslow are production stage managers. Medlin said Shannon Montague, who serves as director of technology, played a particularly important role in getting the play from script to small screens.
"I've really trusted her guidance and judgment," he said.
Like many people in lockdown during the pandemic, Medlin and his husband found themselves watching plenty of crime documentaries, and Medlin said those programs shaped the way he approached the drama.
"That's how my vision for the play took root," he said.
Medlin was a freshman in high school when Shepard's killing became, for better or worse, national news. For a young gay person living in a rural North Carolina town, the message of the crime seemed to be, "This is what will happen to you if you come out of the closet," he said. "I think it was a very real fear for a lot of people — and for a lot of parents. There was a sort of national idea of what it meant to live as a gay person in a rural area."
Last week, Virginia became the 12th state in the nation to ban a "gay/trans panic" defense, which allowed defendants accused of homicide to seek reduced sentences by claiming that they panicked after discovering the victim's sexual orientation or gender identity. Del. Danica Roem authored the bill, which was signed by Gov. Ralph Northam and goes into effect in July. The District of Columbia also has banned gay/trans panic defenses.
"I'd like to say things have changed, but there's still a lot of work to be done," Medlin said.
The suggested price for tickets for "The Laramie Project" is $20; a pay-what-you-can option makes the play available to everyone. Make reservations online at fourcp.org or (540) 832-5355, and a link to the performance you have selected will be emailed to you.
These performances are live, and royalty restrictions prohibit recordings, so the play will be offered only at the scheduled times.