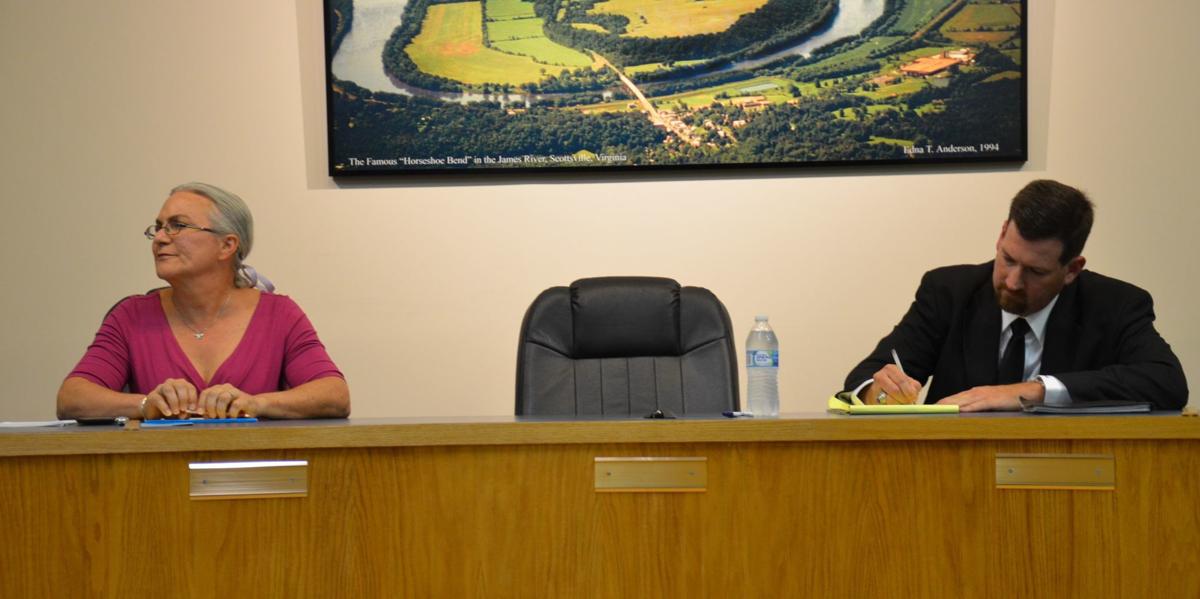 SCOTTSVILLE — The two candidates for the Scottsville District seat on the Albemarle County Board of Supervisors answered questions about emergency services, broadband and a variety of other issues at a forum Tuesday night.
More than 50 community members attended the forum, which was hosted by the Scottsville Community Chamber of Commerce in the Scottsville Town Council chambers.
Attorney and retired U.S. Navy Capt. Donna Price is running for the seat as a Democrat, while Mike Hallahan, a defense attorney, is running as a Republican. Current Scottsville District Supervisor Rick Randolph is not seeking re-election.
The candidates initially answered three questions that had been given to them ahead of time and that were written by the chamber's board of directors.
The first question was regarding the candidates' proposed approaches to improving police and fire/rescue response times.
According to the Albemarle County Police Department's 2018 Annual Report, the goal in responding to priority 1 calls — for issues such as murder, rape, aggravated assault, vehicle crash with injury, shots fired and calls involving a weapon — is five minutes or less in urban areas and 10 minutes or less in rural areas.
In 2018, Albemarle's rural areas had 41 priority 1 calls, and the first officer arrived in an average of 10 minutes 49 seconds. The report also says the response time goal in the rural area was reached 51% of the time. In the development areas, the response time goal was reached 82% of the time, according to the report.
Albemarle County Fire Rescue's response time standards recently changed. Instead of basing standards on the average time, ACFR has changed the response time standards to be based on the 90th percentile, which would be eight minutes in the development areas and 21 minutes in the rural areas.
According to a report to the Board of Supervisors, in 2017 overall ACFR response times were 12 minutes 48 seconds on average and 22 minutes at the 90th percentile.
Both Hallahan and Price said more police and fire rescue personnel need to be in southern Albemarle.
Hallahan said that when he was a police officer in Albemarle, he was regularly pulled from the rural area into the development areas to file reports, among other things.
"We need to keep the people down here where they're needed," he said.
Price said that while services are focused in the development areas, there isn't an excuse for the time it takes to get emergency services to the rural areas.
"If we don't have the resources here, we can't have the response times," she said.
Questions were asked about general EMS service, as well as the Scottsville Volunteer Rescue Squad, which was was dissolved earlier this year by the Board of Supervisors after 45 years of service. Currently, the county is suing to try to stop SVRS from transferring its assets to another nonprofit.
Price said the dissolution by the board was handled "in the worst possible taste."
"If there is a case study on doing something wrong, it's how they handled the rescue squad," she said.
Price said she would like to have a local rescue squad with volunteers.
"But what I really want is to make sure that the residents are getting the emergency services that they need, when they need them," she said.
Hallahan said the donations SVRS has received is local money meant for local solutions in the Scottsville area. He called the lawsuit a disgrace.
"If I have anything to do with it, I will instruct the Albemarle County attorneys to nonsuit that case immediately and leave the Scottsville Rescue Squad alone and let their trustees disperse that money as they see fit," he said.
The candidates also were asked if they had any plans to increase job opportunities in the district.
Price said they need to support the businesses that exist now; put money toward infrastructure improvements, such as roads; and increase housing availability.
Hallahan said there are a lot of empty storefronts in downtown Scottsville, and that it "looks like a ghost town, it looks depressing, it looks bad."
"The problem is that it's not the government's job to fix everything; people need to fix it themselves," he said.
He also agreed that more housing is needed.
"If you don't want to do housing and you don't want new people coming here, quit complaining about your empty storefronts. You can't have it both ways," Hallahan said.
Both said they support redevelopment of the former tire plant property.
Another question was regarding what the candidates would do about broadband and cellphone service in the area.
Albemarle's policy for cell towers and wireless facilities is about 19 years old. At a recent Board of Supervisors meeting, board members supported a request for funding in the fiscal year 2021 budget for a consultant. County staff said if funding is ultimately approved, work could begin in summer 2020.
Hallahan said he does not support roadblocks and wants to welcome people to put up cell towers.
"This county needs to roll out the red carpet and let the people put enough cell towers up so you have 4Gs anywhere you stand in the south side of the county," he said.
Price said she wants to look at getting more state money and other grants for broadband.
"We do need to get rid of the fact that people don't want to have towers around the county," she said, while discussing ways to possibly help shield them from public view.
The Albemarle Broadband Authority was formed by the Board of Supervisors in August 2017, and the county and authority have received three Virginia Telecommunication Initiative grants from the state. The authority is focused on projects in areas that currently do not have broadband access.
The board has appropriated approximately $1,200,000 toward a broadband project budget.
Another VATI grant application recently was submitted to the state for a project with Century Link that would pass by 837 homes, including more than 150 in the southern portion of the Scottsville District.
Be the first to know
Get local news delivered to your inbox!