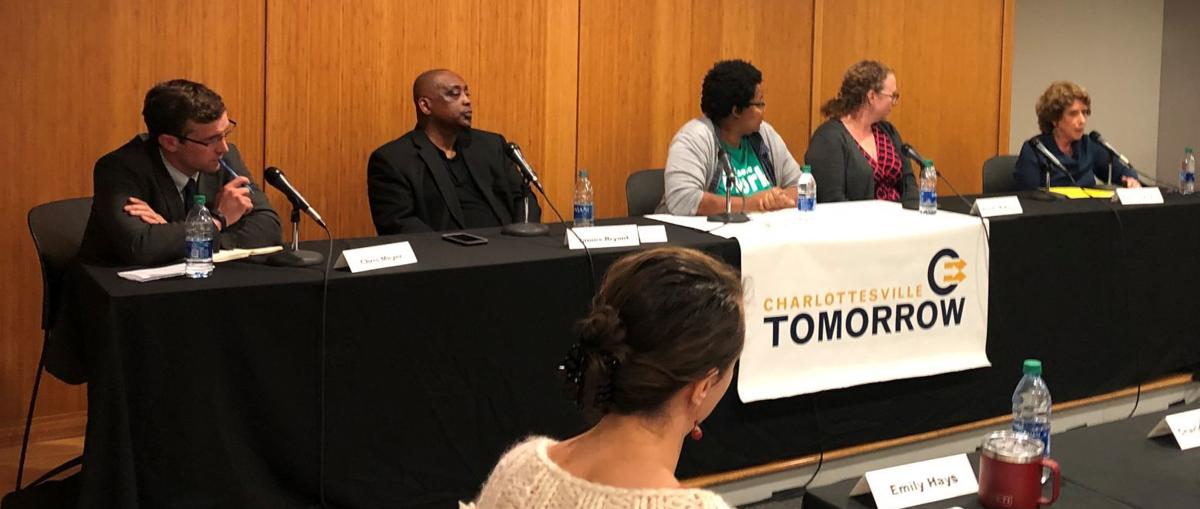 The Charlottesville school division is in the middle of making or planning for several transformative changes, and the direction of those projects will be determined by the next School Board — four seats on which are on the ballot Tuesday.
Five candidates are seeking a spot on the board, the first time a city School Board race has been contested since 2011. It's also the fourth time the race has been contested since the board switched from being appointed to elected in 2006.
Incumbents Jennifer McKeever, James Bryant and Sherry Kraft are running along with newcomers Chris Meyer and Lashundra Bryson Morsberger.
The seven seats on the board are at-large and are for four-year terms. All school board elections in Virginia are non-partisan.
The fourth seat is open after Amy Laufer stepped down in January when her family moved out of Charlottesville. Laufer is running for state Senate. Longtime board member Ned Michie was appointed in February to fill her seat for the rest of this calendar year; he chose not to run this cycle.
"I think without this New York Times article, we are not where we are," said McKeever, chairwoman of the board. "I think we are in a really strong place, and I'm excited that we are here. I'm not sure that we are here without The New York Times article."
On the horizon is a multi-faceted reconfiguration of Buford Middle School and Walker Upper Elementary. The division wants to put sixth grade at Buford and send fifth grade back to the elementary schools. Walker would then be turned into an early childhood center.
All candidates are supportive of the project but differ on how exactly to see it through. The school system received $3 million from the City Council for planning the reconfiguration, but a request for proposals — a key first step — has not yet been released. The planning phase is expected to last a year, with an actual project proposal going before the School Board in December 2020.
James Bryant
Bryant, a former Charlottesville teacher and guidance counselor, is seeking his first full term on the board.
He was appointed in 2018 after Adam Hastings stepped down to become principal at Walker and was elected to finish that term in November.
"I want to continue the work we started with equity," Bryant said.
Bryant said he's also running because he wants to develop the reconfiguration plan.
He said he's passionate about the potential early childhood center, adding that as a former teacher, he knows the importance of preschool.
He was a teacher at Walker when the middle schools were combined to form the current set-up.
"Fifth grade should be in the elementary schools," he said. "There's too many transitions."
He said the board is in the starting phases of that project, and the timeline depends on funding.
Moving forward, Bryant said he wants to see parents more engaged in the school system.
"It's very difficult," he said. "We need to create more opportunities to get [parents] into the schools."
He also wants to make sure that all Charlottesville students graduate with a marketable skill, whether they are going straight into the workforce, joining the military or attending college.
Bryant often points to his story as an example of the power of education, and he wants to make sure other students have that opportunity.
"I moved from public housing to the School Board," he said.
For Bryant, serving on the School Board is another way to give back to the community after spending decades in the schools.
"Education is my passion," he said.
Sherry Kraft
Kraft, a retired clinical psychologist, is seeking a second term on the board.
"We are at the brink of a lot of big changes," she said. "I want to be there to see these through and make sure that they are done right. I feel like I've learned a tremendous amount in the first term."
With regard to the reconfiguration, Kraft wants to see a 21st-century middle school that takes into account research on adolescents and includes a variety of spaces to promote student achievement, building relationships with adults, social-emotional learning and mental well-being. She has been working with a group at the University of Virginia's Curry School of Education that is focused on middle school.
"I'm very passionate about doing it right and really making sure we don't scrimp and we create the kind of environment that really fosters engagement, choice and relevance," she said.
On the other side, Kraft envisions an early childhood center that could serve a community center with services for families. Those services could include a health clinic, counseling and social workers.
"It's just amazing," she said. "... We've done something right, and we need to continue to do those things."
However, Kraft wants to make sure students who graduate are prepared for the next step.
"I think we need to do better there," she said.
To that end, she wants to see the division develop career and technical pathways for students.
"I'm excited about some of the things that CATEC is doing, and I think we need to make it easier for groups of kids to focus on that and have that be their career pathway," she said.
Jennifer McKeever
McKeever is grateful for the School Board's and division's recent focus on equity.
"I want to continue to be part of ensuring that equity continues to be discussed," said McKeever, who is running for a third term and has four children. "Under that is reconfiguration, and I feel like reconfiguration more and more is an equity issue."
Overall, McKeever said she has built on the work of past board members and led the effort to make structural change in the division.
McKeever said her institutional knowledge will be important to the ongoing projects.
"You can't really underestimate how much that helps a board to understand the historical significance and things that we have done in the past so that you don't continue to make the same mistakes moving forward."
She credited division staff members for leading the way in equity efforts.
Similar to Kraft, McKeever said the city's graduation rate is a point of pride.
She said the board focused on the graduation rate about four years ago when Laufer was chairwoman and initiated programs to make sure students want to be in school and have the services they need.
"And really taking it personally to make sure that our students graduate," McKeever said.
From that effort, she said the School Board learned the importance of staying focused on a goal and having measures to gauge progress.
The proposed equity policy, she said, will help the division stay focused on the goal and ensure regular reporting on metrics that the board will pick in conjunction with the superintendent.
Chris Meyer
He wants to see it completed by fall 2023 and says his relationships with city councilors would help ensure the project is funded.
Meyer, executive director of the Local Energy Alliance Program, said he wants to see a plan that not only looks at the middle school but also how the division would put fifth grade back at the elementary schools. He has a child attending Jackson-Via Elementary School.
"Let's make sure planning details are well-represented to parents so that there's no surprises," he said.
Meyer and his family moved to Charlottesville from the Washington, D.C., area about two years ago.
Meyer said another priority would be expanding afterschool programs for elementary students. He also is concerned about lockdown drills for younger children.
"I want to interrogate the question of whether lockdown drills for elementary school students have an impact on their psyche. Are we making them more anxious?" he said.
He is supportive of the gifted education redesign but has criticized the rollout of the changes. He also wants the division to look at older elementary students not identified under the old model and reassess them under the new criteria.
"The School Board needs some new blood to go on and look at the challenges the public school system is facing from different perspectives, so we don't have a repeat of the New York Times article in a year or two from now," he said.
Lashundra Bryson Morsberger
Morsberger started attended School Board meetings to voice security concerns in fall 2017 but continued to show up as she learned more about the division.
"It snow-balled into something else, and I got frustrated at the pace and feeling like after a certain point, going and speaking wasn't enough to move the needle on things," she said.
She has a daughter at Venable Elementary and a preschool-age child.
Morsberger said that amounts to 700 black students who are not reading at grade level.
"That's a number we can work on," she said.
Morsberger works in human resources and said she's responsible for holding people accountable and getting answers. She said she'll take that mentality with her to the School Board.
She wants to see more questioning and dissent from board members. "There has to be some accountability and some checks and balances," she said.
Morsberger said that when she thinks about equity, she's looking at the outcomes.
She also wants to make sure students are ready to succeed after they graduate.
"We've succeeded in getting you out the door but have we prepared you for the next thing?" she said.
Overall, Morsberger said she wants the community to pay attention to the School Board and the results.
"We have to keep a focus on it. Otherwise, we'll end up back here in another how many years."
Be the first to know
Get local news delivered to your inbox!