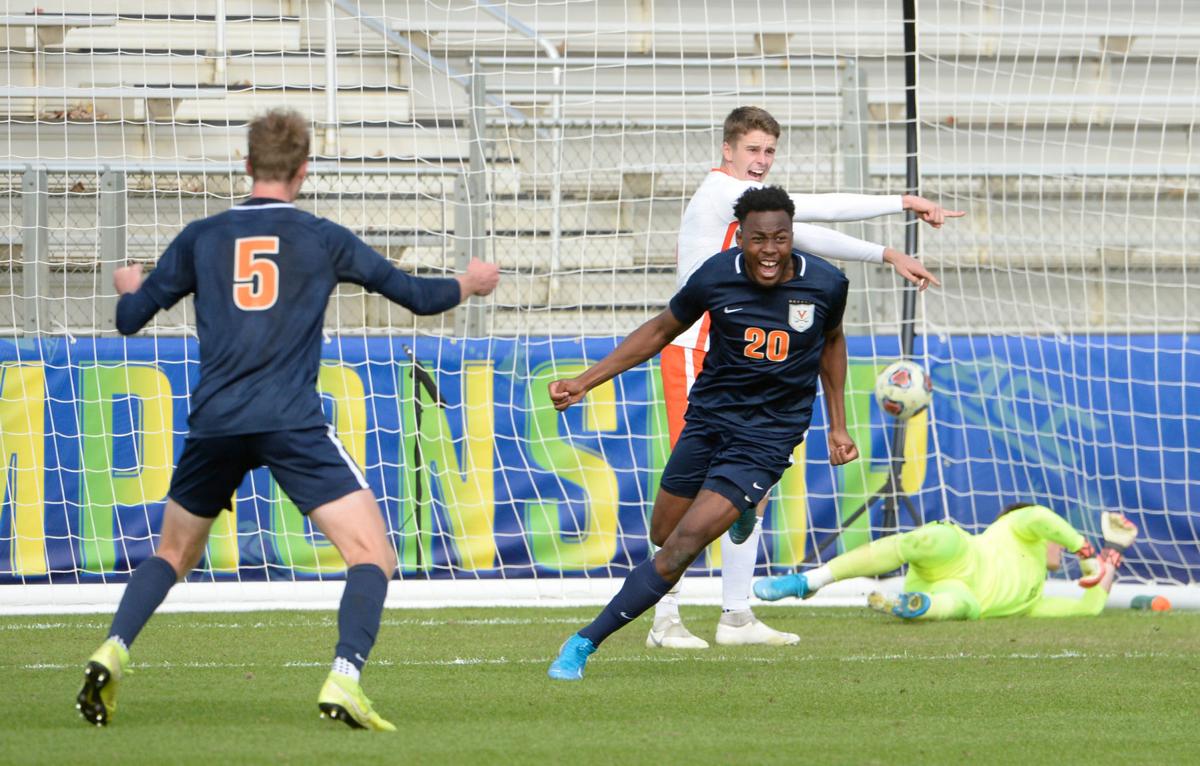 The Virginia men's soccer team is the No. 1 overall seed in the NCAA Tournament, which revealed its 48-team bracket on Monday afternoon.
The Cavaliers (17-1-1), who won the ACC Tournament championship on Sunday in Cary, North Carolina, will have a first-round bye and host either James Madison or Campbell in the second round of the tournament on Sunday at 1 p.m. at Klöckner Stadium. The Dukes (11-6-3) and Camels (16-2-2) will square off in a first-round matchup on Thursday at 7 p.m. in Harrisonburg. UVa beat JMU 1-0 during the regular season.
UVa earned the No. 1 overall seed in the NCAA Tournament for the second time in program history and the first time under head coach George Gelnovatch. The Cavaliers will be playing in the NCAA Tournament for the 39th consecutive season, the longest streak in the history of college soccer.
The Cavaliers earned the tournament's top seed thanks in large part to its stout back line. Virginia has given up just seven goals this season, the fewest of any team in the country. The Wahoos have the lowest goals against average (0.37), the highest save percentage (.873) and the most shutouts (13) in the country.
Virginia was one of 10 ACC teams to make the NCAA Tournament. The 10 teams are the most by any conference to ever make the NCAA Tournament in one season. The ACC also will have four national seeds in the tournament: No. 1 Virginia, No. 2 Clemson, No. 4 Wake Forest and No. 10 Virginia Tech.
The Tigers, who lost to Virginia in the ACC Championship Game, will face the winner of Charlotte and Mercer in its second-round matchup. Wake Forest will take on either Maryland or Iona in its NCAA opener, while Virginia Tech will host the Fairleigh Dickinson/New Hampshire winner in Blacksburg.
Other ACC teams making the NCAA Tournament field were Syracuse, N.C. State, Notre Dame, Pittsburgh, Louisville and Boston College.
They will all be trying to reach the College Cup, which will be held Dec. 13 and 15 at WakeMed Soccer Park in Cary, North Carolina. Virginia's last two national championships (2009 and 2014) were won in Cary.
An ACC team has won the national championship 17 times, including in seven of the past 14 years. At least one ACC squad has reached the College Cup in 17 of the past 18 seasons.
Be the first to know
Get local news delivered to your inbox!