In the New Jersey Pine Barrens in early summer, no fire meant no dinner for Steve Pullinger and the rest of his team.
The materials available for this particular advanced wilderness survival class were so sparse and damp, it took two men – one on each end of a handmade bow — to even create an ember.
Classmates huddled around, intently watching as the pine branch strung into a bow and the smooth, straight spindle were set aside and a single plume of smoke rose from a notch in a hastily carved fire board full of the charred remnants of previous attempts.
The sun was dangerously close to disappearing behind a canopy of gangly pine trees as Pullinger tenderly tipped the ember into a squirrels nest he'd discovered earlier in the day. He slowly, cautiously blew it to life, and as the first flame appeared, the hungry survivalists let out a howl.
"There's nothing like the feeling of the first time you start a fire with no matches or lighter," Pullinger said. "You just let out a wild-man yell."
The only better feeling for Pullinger is watching his students breathe a handmade tinder bundle into flame.
The 65-year-old Fluvanna County resident has taught primitive skills to amateur survivalists for the past 25 years — working in conjunction with the Rivanna Conservation Alliance. In May, he'll share those skills with local students at Tandem Friends School in Charlottesville and at Wildrock, a nonprofit organization in Crozet dedicated to getting children and adults active and fostering an appreciation of nature.
"I just hate the thought of these skills going to waste," Pullinger said. "They're like money in a savings account. You don't want to use them if you don't have to, but you're glad to have them if you do."
Pullinger's infatuation with wilderness skills began long before his training. He followed his grandfather's legacy as a homesteader, growing and raising about 80 percent of his food for about 20 years.
His interest in the skills required to thrive in nature — fire making, shelter building, gathering food and finding clean water to name a few — was growing in his 20s, but really took off after a chance discovery in a grocery store magazine rack.
There was a copy of Mother Earth News with a cover story on famed wilderness instructor Tom Brown Jr. — an author of more than 18 books on outdoors skills, tracking and wilderness survival, who found the Tracker School in 1978.
Pullinger was fully immersed in what Brown calls "dirt time" during his experience in the Pine Barrens. It was his second experience with the Tracker School, but this one came with a twist.
Brown showed up one night, dropped the tailgate on his truck and instructed everyone in the class to give up their knives. It was time to put what they learned to the test without the aid of modern tools.
"Everyone's first thought was, 'Oh crap, we're not having dinner tonight,'" Pullinger said. "But it's a mental thing. You know it's not going to be comfortable and it's going to be hard, but you just make the most of it."
It took a collective effort, but Pullinger and his teammates did have dinner that night. One specialized in creating cordage from native plants. Another had experience flint knapping stones into cutting tools. Pullinger took care of the tinder.
Pullinger has dedicated himself to perfecting and teaching those skills ever since. For him, it's about being prepared for whatever life or nature throws his way.
"There are times in today's society when these skills can save your life," Pullinger said.
In March, 24-year-old Amber VanHecke was stranded for five days after her car ran out of gas in a remote section of the Grand Canyon. In 2009, more than 20 inches of snow stranded motorists for days between Charlottesville and Fluvanna.
"You can die of hypothermia in between 30 and 45 minutes," Pullinger said. "If you aren't prepared with the necessary equipment or skills, you're stuck relying on luck or for someone to come to your rescue."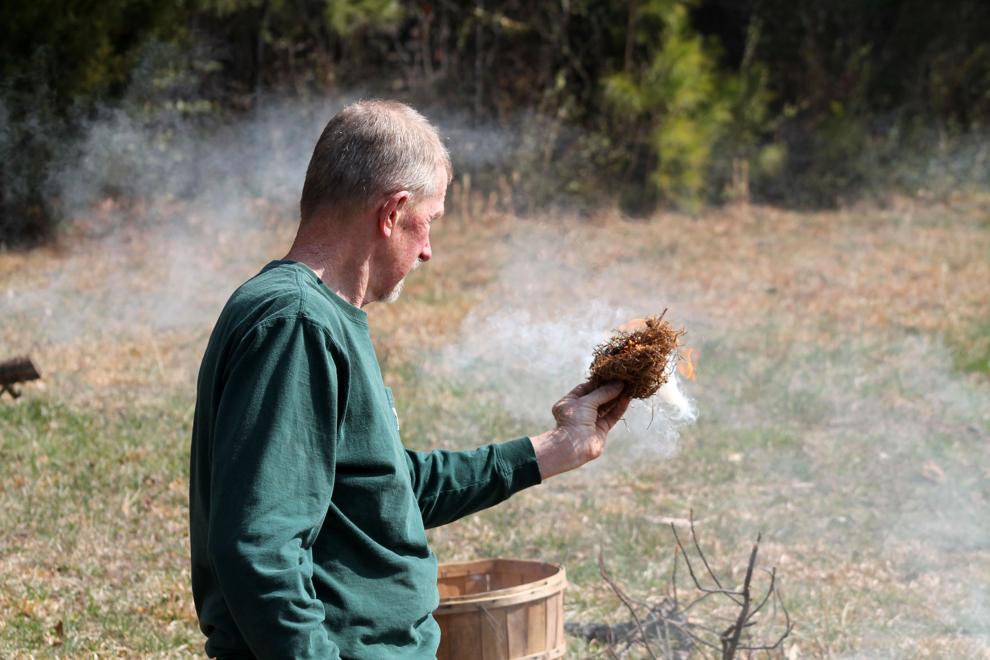 A basic primitive skills course Pullinger hosted in March at the 100-acre Scheier Natural Area in Fluvanna covered everything from creating fire with nothing but native plants to finding and purifying water and how to pack emergency supplies for the forest or the highway.
"We regularly hike and camp so we wanted to expand our skill set, and you never know what the future holds," Fluvanna resident Katie VanSciver said. "I'm not particularly fearful of something happening, but it can't hurt to be prepared."
The course covered a simple debris shelter, insulated with nothing but dried leaves — three feet of which will fend off hypothermia down to 10 degrees. Four feet will keep inhabitants alive at 10 below.
Pullinger demonstrated how to take advantage of Cedar trees for shelter, fire making and food and the endless uses for other plants such as the Yucca. Its flowers are edible, the stalk is ideal for a friction fire spindle, its long, pointy leaves can be braided into rope with surprising tensile strength and the roots contain properties that can be converted into soap.
Kneeling in a roadside ditch, he picked a variable smorgasbord of edible plants, including wild onions, Henbit, Purple Deadnettle and Chickweed.
"I just felt like these skills are something you would feel silly not knowing if something did happen," said Earlysville resident Nick Sauer, a 2009 Albemarle High School graduate.
Pullinger is hosting another basic primitive skills class on Saturday at Scheier from 9 a.m. to noon.
For Sauer, an added bonus is passing these skills down to his sons — ages 4 and 5.
Pullinger isn't putting himself in dangerous situations for the sake of a TV contract and he isn't preparing for the end of the world. He's simply passing down the knowledge most of our ancestors relied on simply to survive.
"It's a lot to keep in mind, but also something you have to practice," Sauer said. "It's not something you're just going to walk out into the wilderness and do."
Ron Counts covers Central Virginia high school and prep sports for The Daily Progress and C'ville Varsity.​ Contact him at rcounts@dailyprogress.com, (434) 978-7245, or on Twitter @Ron_CDPsports.