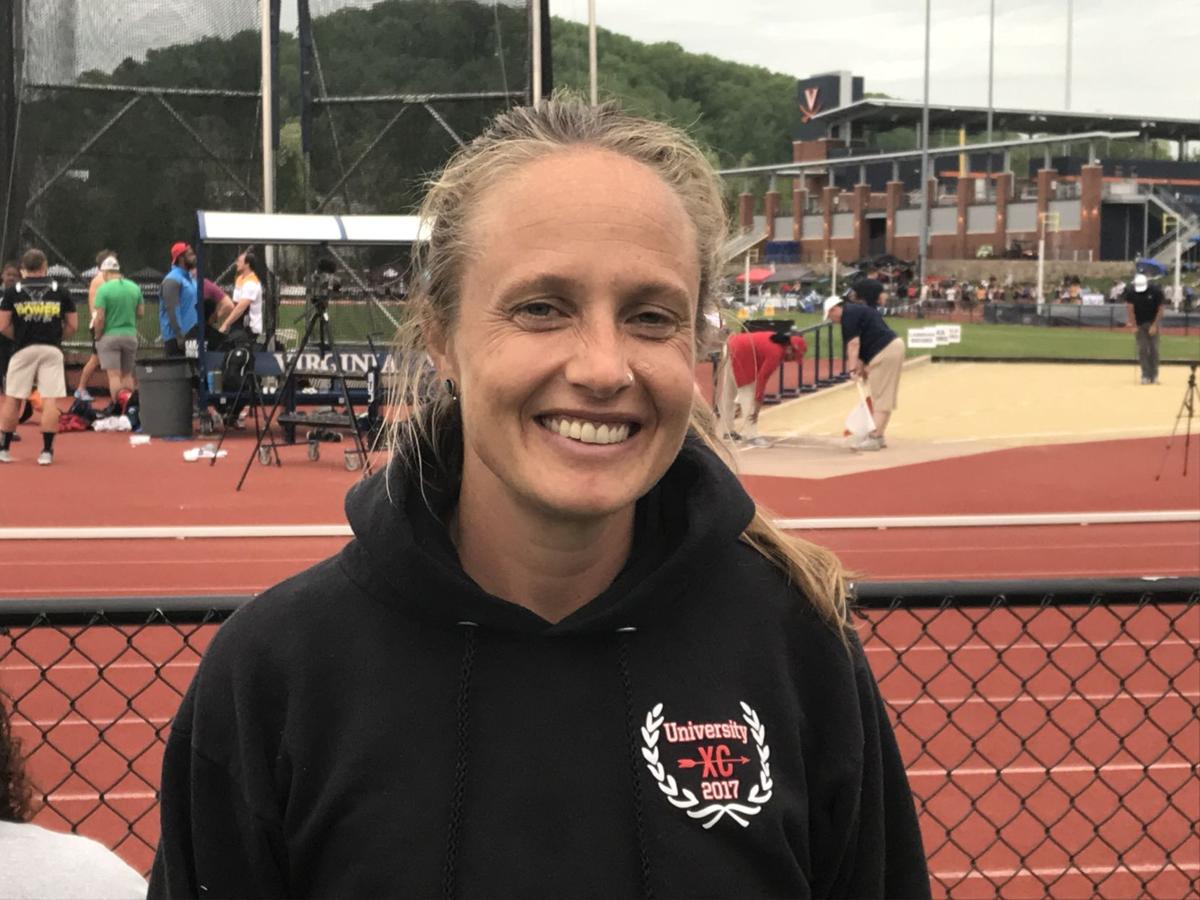 Saturday's 54th annual Dogwood Track Classic at the University of Virginia's Lanigan Field was a homecoming for former Western Albemarle runner Carin Marrs.
Marrs recently got permission to take her San Francisco University High School track & field team on an overnight trip. They could have boarded a bus and made the easy trek to Southern California.
Instead, Marrs and her team hopped a plane and made the trip across the country to take part in a meet she competed in as a distance runner and directed as a coach.
"For the past five years, I've been asking to come to this meet because I thought it would be such a great experience for my kids to experience a track community on the other side of the country," said Marrs, who called Central Virginia home until she was 25. Her maiden name was Ward.
Marrs, a 1997 Western Albemarle graduate, said the Dogwood Classic offers perks her team doesn't often see in California.
"There are some really special relays, it's a two-day affair and the Saturday events are super competitive," Marrs said. "It's a great opportunity for these kids to experience high-end competition on a large level."
This year's Dogwood attracted 136 teams and 2,002 athletes, many of whom came from outside the state.
"For Carin to share this opportunity with us is such a blessing," San Francisco sophomore Charlie Kennedy said. "She brought us all the way across the country, but she has brought us so much farther as runners as people."
With an enrollment of 410 students, San Francisco University High is one of California's smaller Division 5 programs. The Red Devils didn't shy away from the enormity of the Dogwood field, though.
The girls 4x400-meter relay team finished first in 4:03.50. They finished second in the 4x800-meter relay (9:58.94), and as a team, the Red Devils' girls finished second with 40 points.
Kennedy posted a time of 1:56 during the anchor leg of Friday's 4x800-meter relay, and the Devils finished second with a time of 7:56.98. According to Marrs, that's fast enough to rank them as the fastest Division 5 team in California.
Many of the 4x800 members also helped the Red Devils win a cross country state title in the fall, and running in the fourth heat, Kennedy posted a 1:58.35 in the 800-meter run.
"Just to see so many great runners is inspiring, but when you see a guy go out before you and blast out a 1:51, it just gets you that much more pumped up," Kennedy said. "To see this kind of consistency through six or seven heats out of maybe nine is something I've never seen, but also something I'd like to experience more and more in my running career."
Marrs' running career began in Crozet, where Western's cross country team won a state title and was ranked in the top 10 in the country during three of her four high school seasons.
As a senior, she won an individual cross country state title. Marrs also is a two-time outdoor track state champion in the 3,200.
"Carin was very special as a student and an athlete, and this was a very special opportunity for our runners to meet her," Western Albemarle girls coach Maria Whitten said.
Whitten has been with the program for decades, and she said current runner Alyssa Santoro-Adajian reminders her of Marrs.
"The way they run and train is so similar, and it was really cool for those two to meet," Whitten said. "Carin is a special person, and after watching her athletes cheer everyone else on, I see a lot of her in them."
Marrs' parents, who still live in Central Virginia, and a neighbor helped house the San Francisco University High athletes, who will head back to California a more seasoned team that when they arrived.
"This is going to be huge for us, and we owe it all to Carin," Kennedy said.
A host of Dogwood Classic records were re-written on Saturday.
One of the most impressive marks to fall was the girls shot put record, which stood since 1975. James Monroe's Alexis Clark broke it with her first throw of 45 feet, 8 inches, which was already good enough for first place. Her third cleared 45-11.5.
Western Albemarle's Leah Ackerman finished ninth with a throw of 39-00. On April 25, she broke the Warriors' shot put record with a toss that cleared 39-4.7
State's fastest 300 hurdles times
The 800-meter race is usually an instant classic at the Dogwood, and the 1,600-meter run has nabbed plenty of headlines the past two years.
This year, the top heat in the 300-meter hurdles stole the show.
E.C. Glass junior Emmanuel Waller won it and recorded the state of Virginia's fastest time this season after crossing the finish line in 37.41 seconds, which was less than a second off the meet record.
According to Milestat.com, the race produced four times that ranked in the top five in the state. Nansemond River's Daiqwaun Faircloth finished second in 37.77, Patriot's Matthew Wilson took third in 38.15 and Bishop Sullivan's Eamon Cooney finished fourth in 38.16.
There wasn't much drop-off following the "fast heats" in Saturday's boys 1,600- and- 800-meter events.
In the mile (1,600), an eye-popping 42 runners clocked in at less than 4:30. Knoxville Catholic's Jake Renfree won it in 4:08.11. He was one of three runners who crossed the finished line in less than 4:10.
Tuscarora's Sammy Fellah finished 42nd in 4:29.95. Albemarle's Ryann Helmers finished second in the girls 1,600 in 4:57.82.
In the 800, 37 runners spanning six heats crossed the finish line in less than 2:00. E.C. Glass junior Theo Woods won it in 1:52.29. Western Albemarle's Will Koester finished 17th in 1:58 and Freedom (South Riding's) Kenny Bolton III came in 37th in 1:59.82.
Ron Counts covers Central Virginia high school and prep sports for The Daily Progress and C'ville Varsity.​ Contact him at rcounts@dailyprogress.com, (434) 978-7245, or on Twitter @Ron_CDPsports.
Be the first to know
Get local news delivered to your inbox!