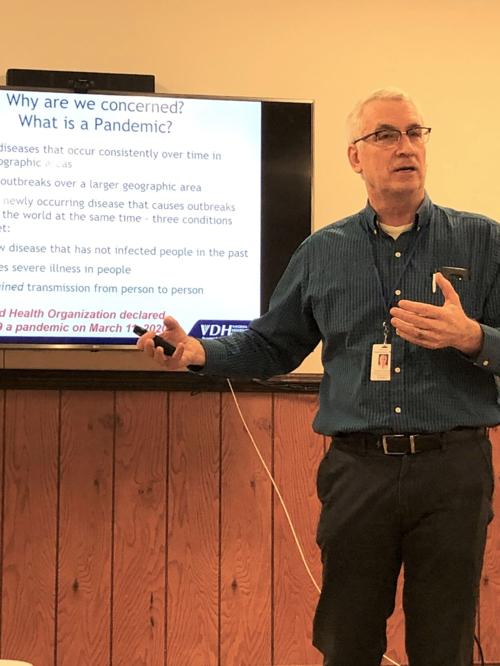 A fourth person from Orange County has died of COVID-19, according to the Virginia Department of Health (VDH).
The victim was a 70-year-old man who had pre-existing medical conditions. He was not a resident of a long-term care facility, said Dr. Wade Kartchner, health director of the Rappahannock-Rapidan Health District (RRHD).
Kartchner said the man was identified as a positive case by the VDH's tracing staff in late April. He died in early June, and COVID-19 was listed as his cause of death on his death certificate.
As of Sept. 3, the VDH reported 267 cases of the new coronavirus in Orange County and 18 hospitalizations. A look back at the early weeks of the pandemic provides context for the latest figures. On April 20, for instance—about five weeks after Gov. Ralph Northam declared a state of emergency in Virginia—the VDH reported 21 cases of the virus in Orange County and three hospitalizations.
The regional health district includes Culpeper, Fauquier, Madison, Orange and Rappahannock counties. On Sept. 3, a total of 2,323 cases were reported across the district. There were 154 hospitalizations and 31 deaths.
Going back to April 20, the RRHD reported 148 cases, 18 hospitalizations and two deaths.
At the state level, the VDH reported 123,668 cases (including 5,478 probable cases) on Sept. 3. That figure includes 9,741 Virginians hospitalized for the virus (including 68 probable) and 2,652 who died from it (including 133 probable).
On April 20, there were 9,630 cases reported in Virginia, 1,581 hospitalizations and 324 deaths, according to the VDH figures available at that time. 
According to VDH stats, no one under age 30 has died from the virus in the RRHD as of Sept. 3. The current tally in the other age brackets is as follows: 40-49 (three deaths), 50-59 (two), 60-69 (five), 70-79 (10) and 80 and older (10).
Hospitalizations are a key metric, since they point to dire cases, sometimes requiring patients to go on ventilators. In the RRHD, one child under age 10 has been hospitalized for the virus to date, as have four persons in the 10-19 age range, six in the 20-29 range and 20 in the 30-39 range. For the other age groups, the numbers are: 40-49 (24 hospitalizations), 50-59 (37), 60-69 (25), 70-79 (17) and 80 and older (20).
As for positive cases, current figures for the RRHD indicate that more people in their 20s through their 40s have tested positive than those in other age groups. There are 113 regional cases among children under age 10 and 214 cases among those from age 10 through 19. In the 20-29 range, the number doubles to 428. For the 30-39 age range, there are 440 cases, and for ages 40-49, there are 409 cases. Then the number drops to 352 for people age 50 through 59. For those in the 60-69 age range, there are 196 cases, 78 in the 70-79 age range and 80 among people age 80 and above.
Among the district's current total number of cases, 1,197 are female and 1,114 are male. Sex was not reported for 12 cases.
Across Virginia, there are 63,478 known cases among women, and 59,396 among men. Sex was not reported for 794 cases.
Breaking down the numbers by race and ethnicity among both confirmed and probable cases, VDH data shows that 765 of the RRHD cases are Latino, 672 are White, 196 are Black and 35 are identified as "other race."
There are 27 regional cases identified as two or more races, eight that are Asian or Pacific Islander and one that is Native American. Race and ethnicity for a large number—619—is not reported.
State stats show that White people currently represent 32,173 cases in Virginia, closely followed by Latinos with 31,163 cases. The numbers for other racial and ethnic groups are: Black (24,518), Asian or Pacific Islander (3,636), "other race" (3,020), two or more races (733) and Native American (147). Race and ethnicity were not reported for a large number of cases—28,278.
Be the first to know
Get local news delivered to your inbox!