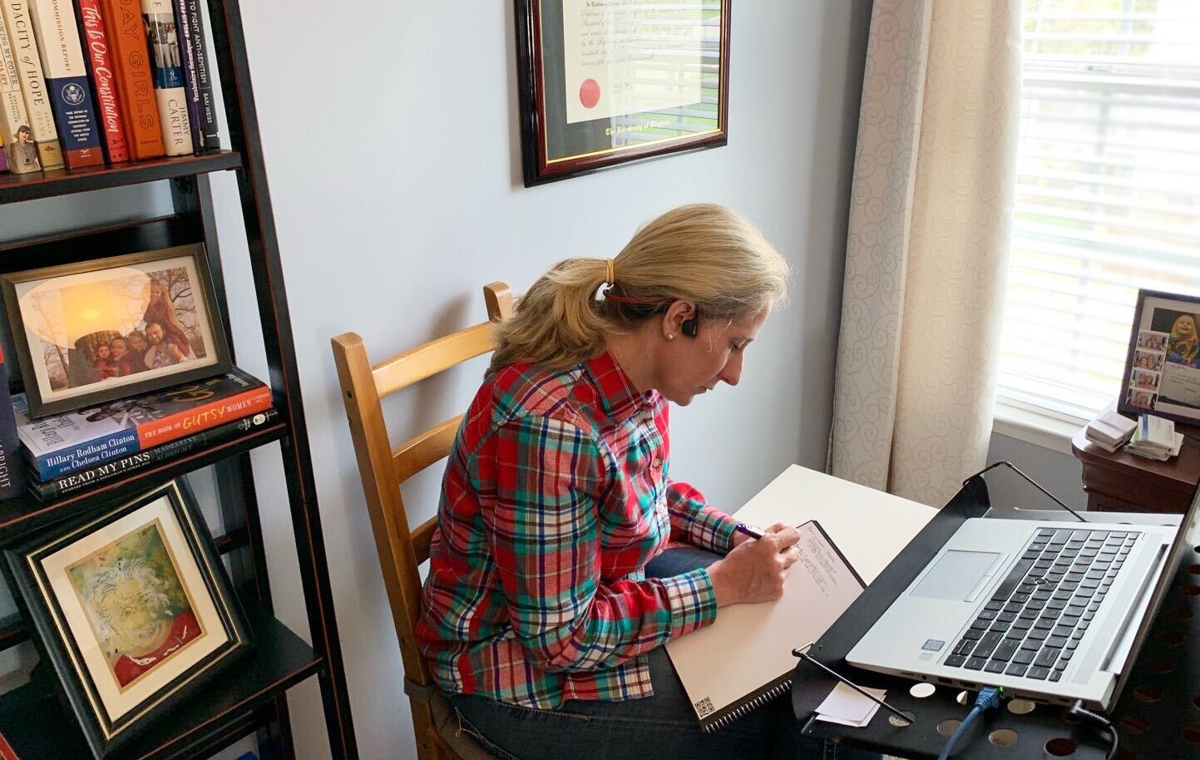 If there's one issue that unites Democrats and Republicans in the rural counties of central Virginia, it's the need for fast, affordable broadband service, especially during the COVID-19 pandemic. Seventh District Rep. Abigail Spanberger has been pushing hard for just that, as her leadership in a bipartisan appeal to congressional leaders indicates.
Spanberger, a Democrat, recently joined Republican Congressman Rodney Davis of Illinois and Democratic Congresswoman Stacey E. Plaskett of the U.S. Virgin Islands in calling for Congress to fund high-speed internet infrastructure in in response to the COVID-19 crisis. Seventy-three of their colleagues in the House, from both sides of the aisle, signed their letter to congressional leaders.
The first-term congresswoman voted in favor of the Paycheck Protection Program and Health Care Enhancement Act, which President Trump passed on April 24.
In a phone interview with the Review, Rep. Spanberger underscored the importance of rising above partisan politics in the fight against the deadly virus.
Speaking from her home in Henrico County, she said, "The coronavirus does not differentiate between Republicans and Democrats. The economic challenges we are facing do not differentiate between Democrats and Republicans. The impact on school kids who are not in school does not differentiate between Democrats and Republicans.
"We should all be united in our desire to contain and beat this virus and to return to whatever level of normalcy we can achieve after a pandemic as quickly, as safely possible."
Spanberger said that "politicizing any aspect of [the pandemic] hurts all of us, and it is harmful to our frontline workers who are out there every day. It's harmful to our medical professionals who are putting themselves in harm's way. We're seeing tremendous levels of stress and anxiety among our medical professionals, particularly those working in overwhelmed medical systems like in New York and in Michigan."
Like many Americans, Spanberger now conducts much of her business online. As a member of both the agriculture and foreign affairs committees of the U.S. House of Representatives, she spent much of her time on Capitol Hill until the pandemic struck.
"My day has gone from running around from meeting and briefing and hearing to having all of those either on teleconference meetings or Zoom meetings or Skype meetings, kind of all of the above," she said.
She has not eliminated all appearances on Capitol Hill, however. While testifying during a recent hearing, she wore a mask—evidence she is following the recommendations of the Centers for Disease Control and Prevention (CDC) and delighting her mother-in-law, who had made the quilted mask for her.
The congresswoman has convened a number of telephone town halls for her constituents concerned about the novel coronavirus and its impact on their lives. The first of these, addressing health information related to the virus, took place on March 13, the day Gov. Ralph Northam closed all K-12 schools across the commonwealth for two weeks. His announcement laid the groundwork for his subsequent decision to close schools for the remainder of the academic year.
She said she is in frequent contact with the governor's office, including a weekly virtual meeting with the governor and his team attended by all members of Virginia's delegation to Congress.
Although careful not to criticize President Trump by name, Spanberger spoke candidly about the problems she saw in the administration's early handling of the pandemic.
Last year, the administration eliminated Predict, a 10-year-old program run by USAID (United States Agency for International Development), that "deployed scientists to predict future outbreaks of diseases," she said. She pointed to the administration's recall of the American scientist from Wuhan, China, where health experts say the virus originated, as another mistake.
Drawing on her experience as a CIA officer, she said all potential threats to the nation's safety must be taken seriously.
"Every threat needs to be taken as: 'This is the one; this is the real threat.' That's how we focus on things in counterterrorism. You never know which terrorist threat is the real one. And you treat every one as though this could be it; this could be the big attack," she said.
Speaking specifically about the coronavirus, she continued, "I think the administration missed the chance to be very aggressive in our efforts to deter."
Since the crisis got underway, Spanberger said her office has been fielding questions from constituents about the Paycheck Protection Program, direct payments of the IRS stimulus checks and unemployment.
Asked if she had a message to share directly with her constituents, she replied, "I am here to serve the people of the district. There is no one singular, direct path forward. We are all spending every day adapting to this crisis, and I want people to know that I'm here to support them. I'm here to represent them and I will be taking all possible actions within the halls of Congress to deliver support as I have with my past votes and to work to ensure that we avoid this sort of catastrophe in the future."