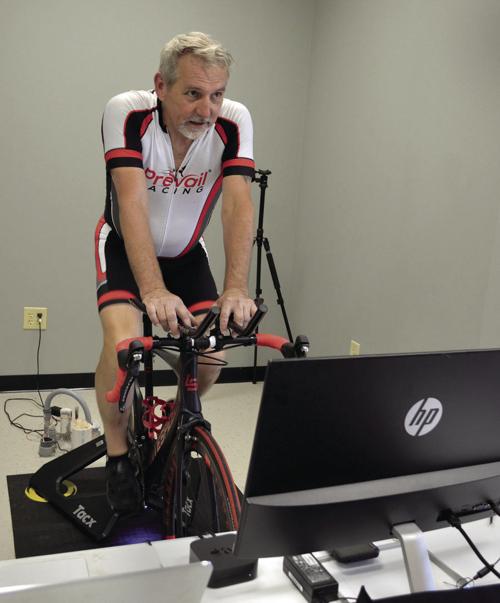 Pedaling a bicycle from Oceanside, Calif., to Durango, Colo.—a distance of 925 miles over mountainous terrain and scorching hot desert—would be a challenge under any circumstances. Mike Phillips intends to do it without ever leaving Locust Grove.
Phillips will compete in the Race Across the West, an annual international endurance race for ultra-cyclists, in an effort to encourage donations to Living Water Community Clinic and other ministries sponsored by The Lake of the Woods Church.
Like many other sporting events, the actual road race has been cancelled because of the COVID-19 pandemic, but sophisticated technology involving computer apps and the internet will simulate every grueling aspect of the route on a video screen, and race officials will be able to monitor every revolution of the wheels on Phillips' bike.
The competition will take place over four days beginning June 16. Phillips expects to ride in 20-hour shifts alternated with four-hour rest periods. He'll eat and drink while pedaling, just as he would in an actual race.
"It will be a different kind of mental challenge," Phillips said. "It can get up to 120 degrees in the Mojave Desert, but I'm going to be sitting in an air-conditioned room." Summoning the will to keep pedaling when he's exhausted, sleep-deprived and alone will be his greatest challenge, he said.
A device attached to the rear wheel of his racing bike and linked to a computer app will simulate every twist and turn, every uphill and downhill stretch of the actual route. As the elevation rises, resistance on the pedals will increase, and Phillips will have to use his gears just as he would on the ground. The route of the race includes nearly 60,000 feet of elevation.
"This is a tough thing," he said. "You're not just going to get on a bike and do this. It's a matter of conditioning."
Phillips, who is 58, said he has been in training for the race for two years. He routinely rides 500-600 miles a week to prepare.
Phillips has served on the crews of other competitors in the Race Across the West, so he is familiar with the actual ground that will be simulated on his computer screen.
As a vegan, Phillips eats no animal products. Hammer Nutrition, one of his corporate sponsors, has a line of nutrients and supplements to keep his body fueled and hydrated during the punishing ordeal.
Phillips will be situated in a storefront space in Locust Grove Town Center on Route 20. Visitors will be encouraged to visit during the race to encourage him and keep him company. His racing crew will be on hand much of the time to support his needs.
Phillips, a member of The Lake of the Woods Church in Locust Grove, conceived of the event, which is being called "Race for Restoration," as a way to repay the church for help he received when he was experiencing serious personal and medical problems.
Sponsorships and donations are being solicited to support the Living Water Community Clinic, which offers free medical to qualifying residents of the region who have no insurance. A dental clinic will open in an adjacent space in the fall. In addition, donated funds will benefit the RISE ministry for developmentally challenged adults, the church's recovery ministries, the "Outside the Box" feeding program for children without adequate food, Thanksgiving food baskets, foster family programs and school supplies programs.
Information on how to contribute to the fund-raising campaign can be found at the church's website at lowchurch.org or on Facebook at "Prevail Racing."
Be the first to know
Get local news delivered to your inbox!