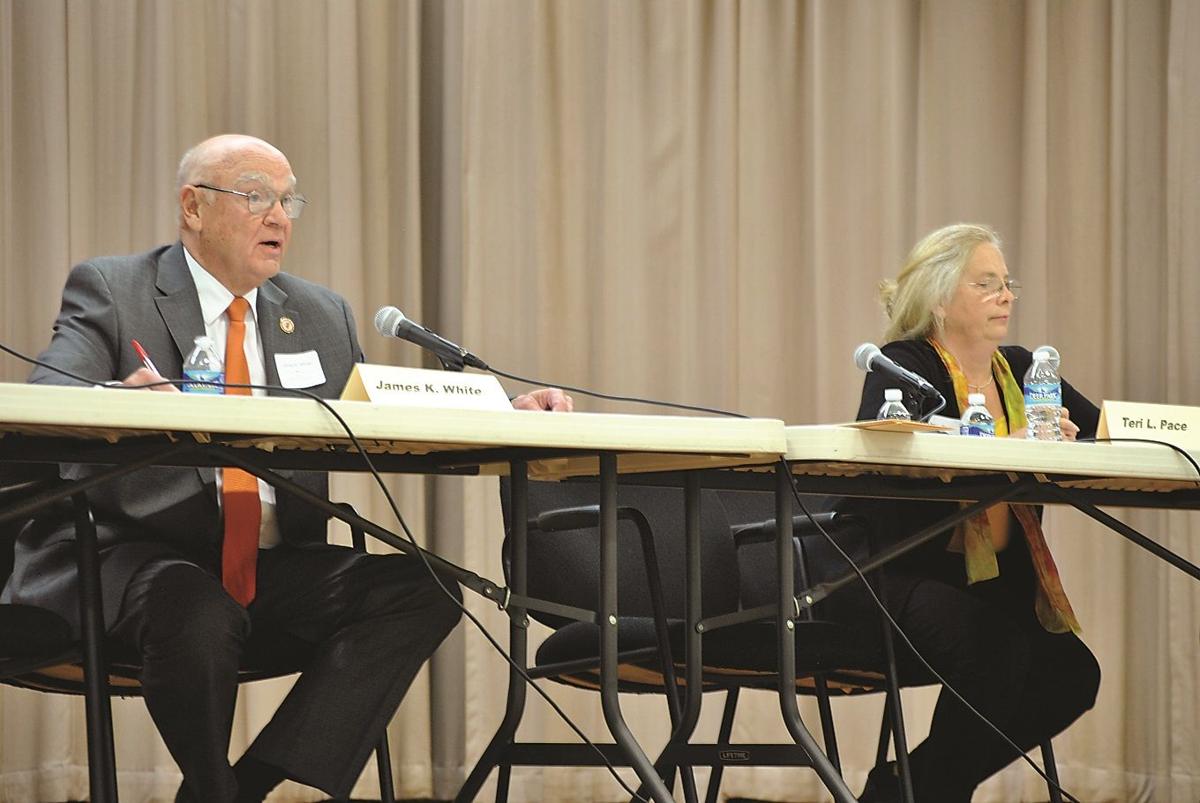 More than 100 people gathered last week to hear from 17 local candidates at an Orange County Chamber of Commerce candidate forum held at Unionville Elementary School Tuesday evening. 
Opposed and unopposed candidates from the local and state level presented information about themselves and campaigns during the event. Attendees were also invited to ask questions of the candidates for District 2 Supervisor and Orange County Sheriff, the only two contested races.
The two candidates for District 2 Supervisor articulated specific differences between themselves.
"I'm running for supervisor because I don't like the plan that the current board is proposing for our county," said Teri Pace, who is facing incumbent Jim White. "I feel like the board is going after failed economic policies."
Pace said the supervisors claim they are trying to diversify the tax base by planning for the expansion of the Route 3 corridor but that it won't help with the county's unemployment or taxes. Prince William County, which Pace claimed her opponent is from, has an unemployment rate of 3.9 percent and tax rate of $1.12, she said. Orange County has an unemployment rate of 4.2 percent and tax rate of $0.80.
"So, no thank you to the progressive view and planning of our county," Pace said.
Orange County is home to many startup businesses and entrepreneurs making their American dreams come true, she said. Orange County is thriving, has a lot to offer and if she wanted to live elsewhere, she would, Pace said to conclude her opening statements.
"I decided to run for re-election essentially for one reason—to continue to work with you to develop the future of this county," White said.
An effective representative analyzes the issues facing the county through research and reading, White said. A supervisor should also be trustworthy, White added.
"To that point, I have never lived in Prince William a day in my life," he said, noting why people are losing trust in national leaders and it shouldn't be tolerated at a local level.
White said during his last few years as a supervisor, significant progress has been made including balanced budgets, accredited schools and policies that reflect fact and consensus rather than an agenda.
"Because there are two records out there for you to look at, the question in this election I think is a very basic one and that is this: do we continue to work together and build on our recent accomplishments or do we take another chance on an old agenda?" White asked.
The distinction of the two candidates was emphasized when questions were asked about everything from their ideas for the Route 3 corridor to how to improve schools.
Pace said she doesn't believe the government comes up with the best business plans and she doesn't believe in the $80,000 the supervisors agreed to spend on studies for the Germanna-Wilderness Area Plan (GWAP).
"I don't believe in the crony capitalism that I see going on for the Route 3 corridor," Pace said, saying in a transparent government what rules apply to one should apply to all. Pace was asked to explain her definition of crony capitalism and to give examples.
"I think crony capitalism is when the government chooses the winners and losers," she said. "I don't think any government has the right to take the money out of taxpayers' pockets and put it where they want to put it for individual gain."
And when asked directly about the GWAP the supervisors approved in July, Pace stated her opposition.
"It doesn't have anything that I want," she said. "Why do we want to destroy all the assets and the things we have going on here?"
White, who has been serving on the steering committee for the GWAP with Frame, county staff and representatives from the planning commission and Economic Development Authority, said the approach the county has taken for the Route 3 corridor was well-developed. He noted countless meetings, public forums and discussions the committee has had to discuss citizen's aspirations, needs and wants.
"It's not a perfect document by any means," White said, but through all the work that has gone into it, "it's a good place to start."
When asked whether or not they'd be supportive of a tax increase to raise the salaries of teachers and those employed at the sheriff's office, Pace mentioned her concern with the county's taxes already, saying she thinks Orange County needs a tax rollback.
"When I was on the board, I could never vote in favor of a budget or a real estate tax levy because there was so much waste in the budget," Pace said, adding pay raises should be a matter of figuring out priorities rather than raising taxes.
The supervisors provided the sheriff's office with more money for raises this year, White said. "This is not a topic that justifies a tax increase in my mind," he said.
Pace said a dress code of collared shirts and khakis would help the county's schools improve their rating of 117th out of 132, by allowing children to focus more on their academics. She applauded the county's eighth-place state ranking in agriculture production and noted her history of being the one in many 4-1 votes during her time as a supervisor.
"But history has shown that I was right more than I was wrong," she said. "The fact that there is discourse on a board, I think is important because that means there's discussion."
White said he believes the supervisors are on a course to take the county where it wants to go, noting his role in the county having a balanced budget, setting money aside for future projects and a comprehensive plan that has a clear vision for the future.
"I believe you saw some very clear differences," he said. "Differences in where we need to go and differences in how to get there."
Come election day, he said, people will face the decision to continue to work together on a shared set of values or to take a chance on a high-risk agenda.
Clear distinctions on policies are less distinctive within the campaign for a sheriff. Tim Murphy, who has 32 years of law enforcement experience, is challenging incumbent Mark Amos, who has 28 years at the sheriff's office including the last eight years as sheriff.
Murphy has stated his priorities include school safety, stopping the heroin epidemic and reopening cold cases. Amos also stresses the importance of school safety, highway safety, as well as his goals to combat heroin and other illegal drugs.
While taking questions from the audience, the candidates were asked to discuss their stance on illegal drugs, the deputy screening process, school safety, community involvement and officer attrition.
Murphy said he would want candidates for deputy to take both a written and psychological test.
"This is a person you're putting out into the community that's going to be in high-stress and high-risk situations and they're going to be well-armed," Murphy said. "We need to know that they can handle it and that they can act accordingly and just."
He said he also would have counseling provided to officers after responding to tragic incidents.
Murphy said to combat the heroin epidemic he would rescind the two deputies currently assigned to the Blue Ridge Narcotics and Gang Task Force, allowing them to focus their efforts within Orange County.
Murphy also mentioned his strong support of on-going training, saying on-going training and monitoring deputy sheriff's social media would be tools to prevent an incident like Ferguson.
He said training school staff to look for suspicious behavior or people would also prevent unnecessary incidents from occurring.
"A sheriff's duty is to protect life, limb and property," Murphy said, calling the position the "primary defender of the U.S. Constitution. "
Amos stated since his tenure as sheriff began in 2007, Orange County has had the lowest crime rate of surrounding counties. He said a sheriff's duty is to lead the people who work for him, as well as communicate with the public to determine their needs and concerns. He noted multiple programs he has begun at the sheriff's office to educate citizens and keep them involved and connected, including the Citizens Police Academy, the Youth Police Academy and TRIAD. The Sheriff's Office has also partnered with Orange County Fire and EMS to educate the public on opiate awareness, producing a public service announcement and developing a program for Orange County High School students and staff on illegal drugs.
There were 11 deaths related to opiates in Orange County in 2014, Amos said. So far this year there have been three.
"Any death is too many but we've made significant progress in our enforcement," he said.
The two drug enforcement investigators the Orange County Sheriff's Office has assigned to the Blue Ridge Narcotics and Gang Task Force initiated over 100 drug cases in 2014, including one that was adopted by the DEA.
When asked about the attrition rate since his tenure as sheriff, Amos said the office has lost some good people but it was due to better salaries and benefits in other localities, noting each deputy that has left has said they enjoyed working there.
Murphy said he would fight harder to get deputies better benefits and to show it is cheaper to pay the deputies more than to constantly train new ones.
"I want to and I will create an environment where the predators realize they will be hunted in Orange County and the people will be kept safe," Murphy said in closing.
Before voters heard from candidates in the county contested races, they heard from uncontested candidates and state senate candidates.
Unopposed candidates include: Nick Freitas (30th District House of Delegates), Teel Goodwin (District 3 Supervisor), Lee Frame (District 5 Supervisor), Sherri Page (District 2 School Board), Judy Carter (District 3 School Board), Jim Hopkins (District 5 School Board), Diana Wheeler (Commonwealth's Attorney), Teresa Carroll (Clerk of Court), Renee L. Pope (Commissioner of Revenue), Dawn Watson (Treasurer), and Robert Bradford and Bob Brame (Soil and Water Conservation Directors).
Both candidates running for the Virginia State Senate 17th District were given five minutes to speak. Jordan Marshall spoke on behalf of Sen. Bryce Reeves who was unable to attend because he was the guest speaker at an American Legion dinner.
In a letter read by Marshall, Reeves noted his pride in receiving an A-rating from the Virginia Chamber of Commerce and other awards during his first term as senator including a friend of business award and an advocate of business award.
"I promise to continue protecting the interests of business owners by continuing to fight for a more efficient government that's less intrusive and eliminates regulation that impedes business," Marshall read. "As a small business owner myself, I understand that independent and small businesses are where real growth and prosperity occur in our economy."
Running on a pro-job/pro-business campaign, Reeves said he makes sure each piece of legislation he votes for has the best interests of his constituents in mind.
Also running for State Senate is Albemarle County School Board Chairman Ned Gallaway who stressed the importance of strengthening public education.
He said currently the state is underfunding education by more than $600 per pupil. "We spent more 10 years ago on our kids than we are today," Gallaway said. "That's unacceptable."
Education would be his number one priority if elected, he continued, saying reforming standardized testing is essential. Gallaway said putting a child through a four to five-hour test is "borderline child abuse."
He also noted his ideas on job creation, education beyond K-12 and gerrymandering, saying he supports an independent, non-partisan commission to redraw our current legislative district boundaries, as the courts have directed.
"It is far past time to return the power back to the voters to pick who represents them, not the other way around," he said.
Elections will be held Nov. 3.