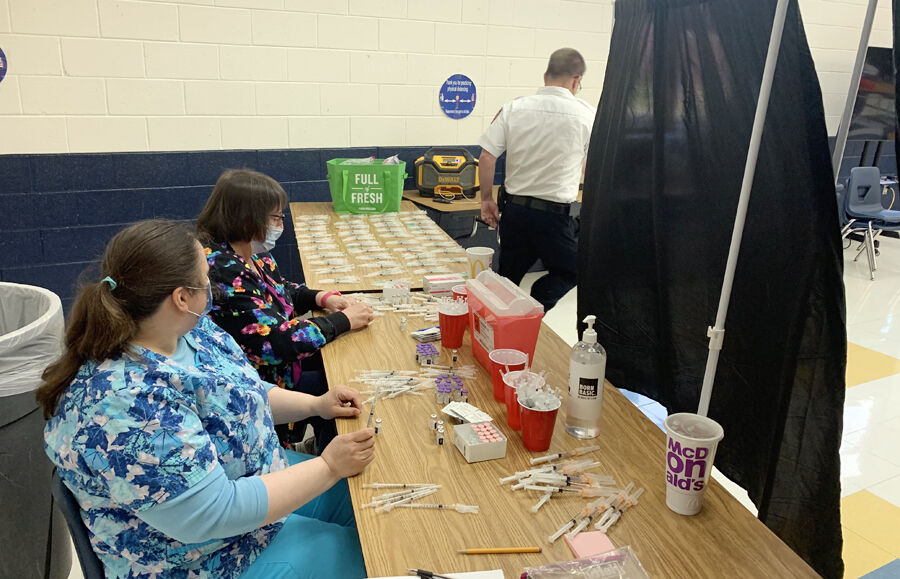 As Virginia has moved to Phase 2 for COVID-19 vaccinations, all residents age 16 and older (Pfizer) and 18 and older (Moderna) are now eligible to receive a COVID-19 vaccine.
"This is an important step in our effort to vaccinate more and more people and put this pandemic behind us," said Dr. Colin Greene, acting Rappahannock Rapidan Health District Director.
In an effort to vaccinate more district residents, local health officials scheduled two clinics earlier this week at Germanna Community College Tuesday and Wednesday.
To facilitate the effort, the health district offered walk-in availability at the clinics for those 18 years of age and older.
"We hope this added flexibility allows more of our residents the chance to get vaccinated," Greene said. Others who wished to make appointments could still do so through the traditional format.
Unlike the previous three-step Phase 1 which focused on specific job industries and age requirements, Phase 2 opens vaccination up to everyone 16 and older for the Pfizer vaccine and 18 and older for the Moderna vaccines.
However, that doesn't mean the previous phases have been finished.
"We're still actively seeking the elderly and underserved communities," Greene said. "It's time we stop splitting hairs over where someone works."
Greene said once the more willing and enthusiastic vaccine-seekers are vaccinated in a phase, there's a lull which means it's time to open up the next phase, or in this case Phase 2. He also said it's particularly important to vaccinate college students before entering summer break, since they're more likely to act freely and could cause the virus to spread.
"There's a bigger public health purpose there," Greene said.
According to Virginia Department of Health data reported Monday, 23,331 Orange County residents have received at least one vaccine, with 9,934 fully vaccinated. That represents approximately 26% of Orange County's nearly 38,000 citizens. Across the commonwealth, 29% of Virginians have been fully vaccinated and 43% have received at least one shot. In Orange County, 37% have received at least one shot.
Orange County's 39th COVID-related death was reported Monday, along with seven new cases of the virus. There have been 38 new cases reported in the last seven days and 117 through the month of April.
Health officials asked district residents to continue masking and social distancing outside their households.
"We will reach a point later this year when enough people are vaccinated where these actions are no longer necessary, but we're not there yet," Greene said. "We ask all residents to continue to watch your 4Ws: Wear your mask, Watch your distance, Wash your hands, and Wait to return to work or school if you're sick."