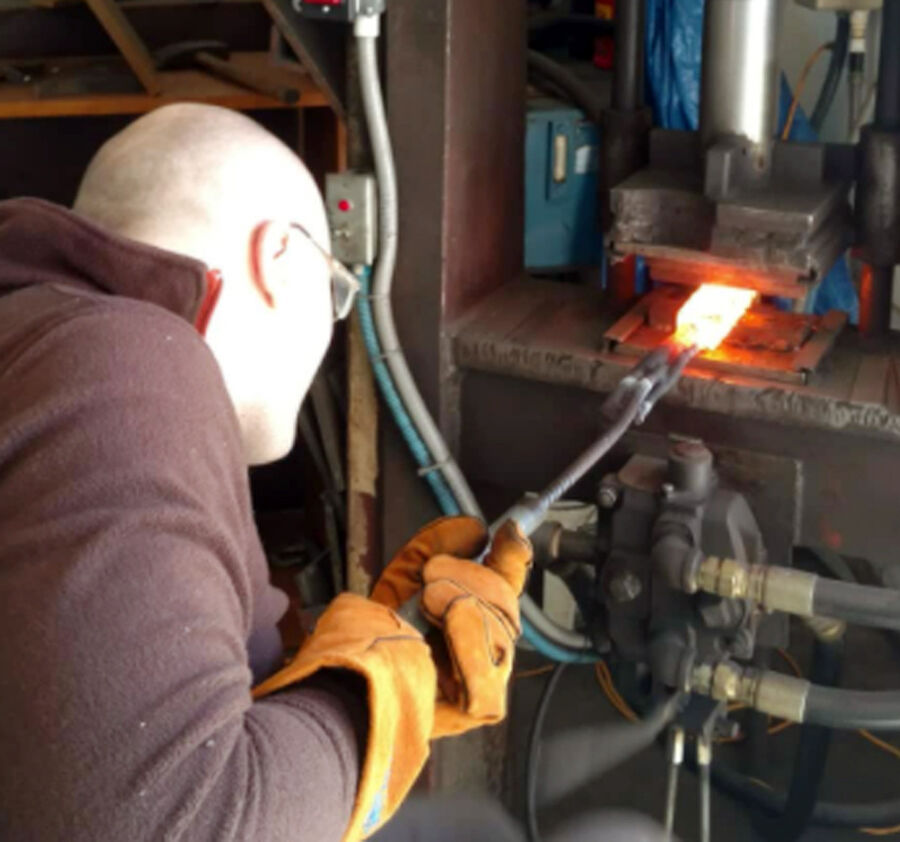 Bob Earhart's fascination with the craft of knifemaking began early. As a child, the second generation bladesmith started working alongside his father, helping hand-forge blades for hunting, fighting or the kitchen. The Stafford native took a break from bladesmithing as a teen and young adult but rekindled his interest in the craft in 2009. After getting married and moving to Missouri, Earhart, now a resident of Unionville, joined the American Bladesmith Society as an apprentice and began the process of becoming an accredited craftsman. 
The American Bladesmith Society (ABS) was formed in the early 1970s as a way to preserve the art and craft of hand-forging knives. At the time, there were only a handful of practicing bladesmiths in the United States. The ABS is a non-profit formed to educate and promote the art and science of forging metals, particularly tools and weapons and provides testing for journeyman and master craftsman. Bladesmiths join as apprentices and through mentorship and testing, advance to journeyman and master.
"As a kid I was always helping my father with his bladesmithing," he said. "It was his passion and I followed along. As I got older I still had an interest in bladesmithing, but it took a backseat to school and sports. It wasn't until I was in Missouri that I started back up. I've always wanted to continue learning more about the craft that my father first taught me."
Earhart became a journeyman in 2018 after working with a Missouri bladesmith for several years. Along the way, Earhart learned forging techniques and practiced creating different styles and designs of knives so when he took his journeyman test he was primed to succeed. Apprentice members of the ABS are allowed to take the journeyman test after three years of membership. The test is a two-part process with the applicant having to pass a verbal quiz and forge a blade then the forged blade is subjected to a four-part test. The knife is subjected to a rope cutting test to test the edge geometry and sharpness, a wood chopping test to demonstrate edge toughness, a shaving hair test to show edge retention and a bending test showing the applicant's ability to heat-treat a knife. The master's test is the same process but requires the candidate to exhibit a higher level of finish and design and applicants must have held their journeyman rating for two years before attempting the master rating.
"When I was in Missouri, I found a mentor, a master craftsman who helped me improve my skills," said Earhart. "Each knife I presented had to undergo a four-part testing, the rope cutting, wood chopping, shaving and bending tests all show important qualities of a knife."
Earhart took his journeyman test alongside five others. Four of the six passed and Earhart's performance was noteworthy in that all five of the knives he presented passed and one was voted the best of all knives presented.
Earhart generally makes his knives in batches and estimates each knife takes about 30 hours of work from beginning to end. Each knife is unique and Earhart makes the handles out of a variety of materials from synthetics to the antlers of sambar deer, an Asian deer known for dark and large antlers.
"I really like the traditional flavor," said Earhart. "My favorites are the natural ones. I'm like a cowboy at heart and prefer the old style. I also do the leatherwork for the sheaths too and like those to be traditional as well."
Most of Earhart's knives are custom orders. They vary from hunting and fishing knives to tactical knives for self-defense. Examples of his work are shown on his Instagram page @bobearhartknives and interested customers can contact him on the page or on Facebook.
Earhart is now eligible to take his master rating and thinking about attempting the rating in the near future.
"I'm hoping to start working toward the master level," said Earhart. "It may not be this year but sometime in the future meanwhile I'll just keep on making knives."