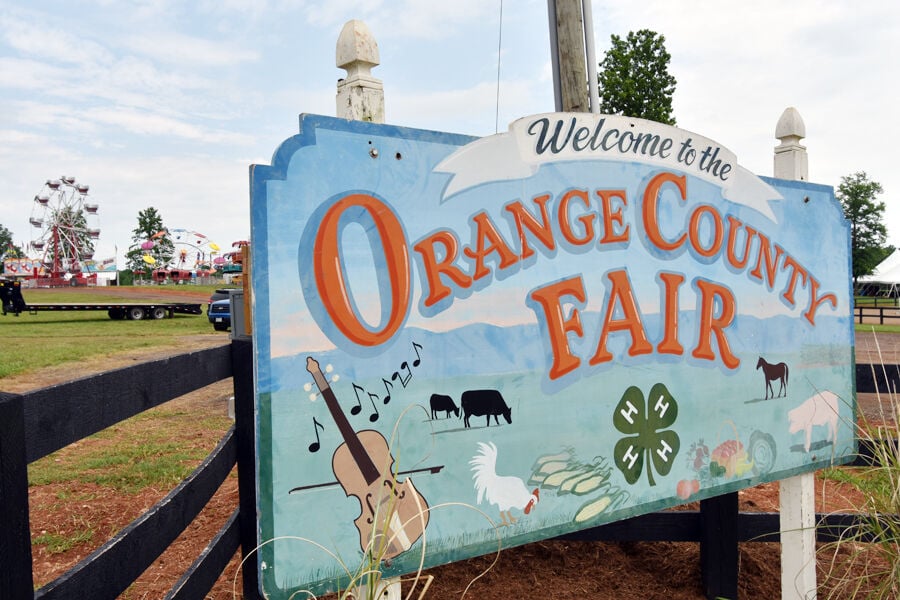 The Orange County Fair is returning after a public health hiatus in 2020. The event will begin Wednesday, June 23 and end Saturday, June 26 and will be held at 14500 Old Gordonsville Road on the organization's fairgrounds.
All who attend Wednesday night will be admitted for free and tickets on Thursday, Friday and Saturday will cost $10 per person. Tickets for children 12 and under are free and fairgoers can purchase $20 wristbands (good for all three days) to save time waiting in line. Tickets will go on sale about a week before the fair begins and can be purchased at the fairgrounds gate or at the Virginia Cooperative Extension office in the Sedwick Building in Orange.
The fair will open with a horse show on Wednesday evening and each day will feature food trucks, vendors, demonstrations and other activities.
"On Thursday night of the fair, we're trying to work with other county fairs from Rockingham, Page and Augusta to start a street truck dirt drag race," said Tony Rogers, vice president of the Orange County Fair Association board. "So, we're hoping that brings in a bigger draw for that evening. There will also be a motorcycle stunt show. We've had something similar in the past, but this one's going to be a little different. On other days an illusionist/escape artist/hypnotist is performing. Additionally, there will be an agricultural magic show called Agri Cadabra."
According to Rogers, the fair's entertainment offerings won't be oriented around music but will include smaller performances instead.
"Live music won't be one of the main features, however we will have music playing on Thursday night and throughout the day on Friday and Saturday," Rogers said. "Mostly local bands, just to get them out there and let people see them."
Rogers said it wouldn't be a "real" fair without animals and exhibits to enjoy. 4-H youth will be showing livestock and other critters each day. Contests like a beauty pageant and photography competition will be held in the exhibition building on the grounds.
4-H has had a major presence with the Orange County Fair since its inception and will have a packed schedule of smaller events running during this year's fair. Kaci Daniel, 4-H Extension Agent for the county, laid out the schedule:
"On Wednesday the kids will be showing dairy goats; meat goats and hogs on Thursday; sheep, dairy and beef cattle are set for Friday and Cloverbuds (4-H's youth ages 5-8) will be displaying their projects on Saturday," Daniel said. "There will also a be a 'pretty animal contest' and the annual auction on Saturday evening."
"All clubs are eligible to sell an item in the auction to benefit their club treasury," she said. "That funds field trips, contest entry fees, educational supplies and scholarships to 4-H events."
Daniel said that 4-H considers the fair to be a crucial part of demonstrating what the organization's clubs have been working on and letting the youth express themselves and display their knowledge.
"A number of kids have taken advantage in recent weeks of regional clinics and spring shows in order to keep progressing," she said. "They're hungry for knowledge and doing so well in their journey. I've always said we want blue ribbon kids before blue ribbon projects. It's wonderful to see our older youth help the newer members and I love those connections we see. The fair is something our kids look forward to every year and it's so much more than just an event. It's an opportunity to learn and grow, build relationships, win and lose with grace, help others, problem solve, and be a part of the community."
On the public health and safety fronts, fair board member Sarah Altman explained that the organizers will be taking every precaution to keep attendees safe and comfortable.
Rogers mentioned that organizers were able to perfect their COVID-19 mitigation tactics during smaller events they held last year.
"Bathrooms will be spaced out for social distancing purposes," he said. "There will be extra handwashing stations and sanitizer. Fairgoers will be encouraged to wear masks, but it won't be mandatory."
Altman said that attendees can expect some surprises and a fresh take on what's become an Orange County tradition.
"It's not going to be the same old fair that you've seen before," she said. "Entertainment is going in a different area, some of the tents will be moved around. We've shaken things up a bit. I think it's good every few years to change. We're really looking forward to it."
To learn more, volunteer, enter exhibitions or view updated schedules for the fair, visit www.orangecountyfairva.com or @orangecountyfairassociation on Facebook.