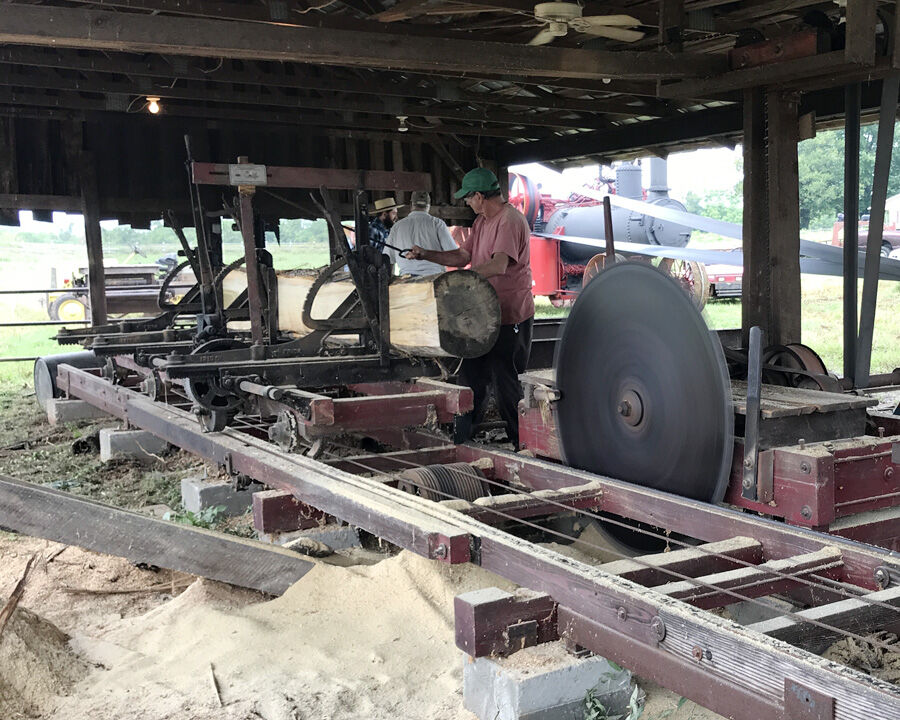 When visitors return to the 45th annual Somerset Steam & Gas Engine Association Pasture Party next weekend, they'll notice a number of things that are different than the last time the show was staged.
Like most events, the popular agricultural exposition was canceled last year amid public health precautions associated with the COVID-19 pandemic.
But this year's pasture party is set to return Friday, Sept. 10 through Sunday, Sept. 12 at Fairfield View Dairy Farm on Route 231 in "downtown" Somerset with hundreds of antique agricultural implements, ongoing demonstrations, live music, vendors and the ever-popular steam-cooked beans.
In preparation for this year's show, association members and volunteers have been busy working to an even better 2021 edition for the thousands of visitors expected to attend.
"If an organization wants to improve, it's got to set goals and that's why we try to create a new project each year," organizer and host Gill Roberts said.
This year's project—which motorists on Route 231 have watched take shape over the last six weeks—is a new "Mac Shack" information center in the middle of the showgrounds. It will replace the existing structure that soon will be relocated to the entrance gate.
According to Robin Roberts, the new structure also will contain an office, storage and the steam-cooked beans.
Gill Roberts and nearly a dozen volunteers were busy Sunday morning sawing lumber on site and constructing the new building they're jokingly calling "the new Somerset Center Store."
"Since we lost our Center Store [following the 2020 leveling of the structure in a tractor-trailer accident], we figured we'd build our own," Gill Roberts said. A banner on the rough-hewn agricultural building's front porch announces this year's upcoming show.
But the new "Mac Shack" isn't the only change happening at this year's show.
Robin Roberts said the entire showgrounds will be reorganized—moving vendors and the flea markets to the entrance, while adding military re-enactors toward the property's rear. And, with the show occurring on the 20th anniversary of the Sept. 11, 2001, terrorist attacks, a 9/11 salute will be held midday Saturday, she added.
Other, more subtle changes include just one band per day (Dark Hollow Bluegrass Band Saturday, from noon to 4 p.m. and Page County Ramblers Sunday from noon to 3 p.m.) as well as a firm commitment to the announced demonstration schedule.
Gill Roberts said the demonstrations help distinguish the Somerset show from much larger ones, but visitors should be able to enjoy those demonstrations at the prescribed times.
"As a working show, we need to stick to that schedule of events," he said. "Since we're here on the farm, we can do demonstrations that some of the larger shows can't do." He relayed a story of a visitor from the Midwest who had attended a number of similarly styled shows, who called Somerset "The biggest little show," noting, "He was here four or five hours and said he couldn't even see it all."
Gill Roberts took some pride in that assessment and said his father and founder Bill Roberts' philosophy was the show should have something for everyone.
With this year's line-up and events, they're hoping they do.
Gill Roberts said everyone is looking forward to getting back together and hosting this year's show after taking a year off, and, judging from the attendance at other events staged this spring and summer, are optimistic about a good turn-out.
"With the street festival going on at the same time, once people are out, we feel like they'll come on over here too," he said.
A $10 gate donation is suggested and children 12 and under are admitted for free. Funds collected help support local volunteer fire and rescue organizations, scholarships and other community service organizations in the area.