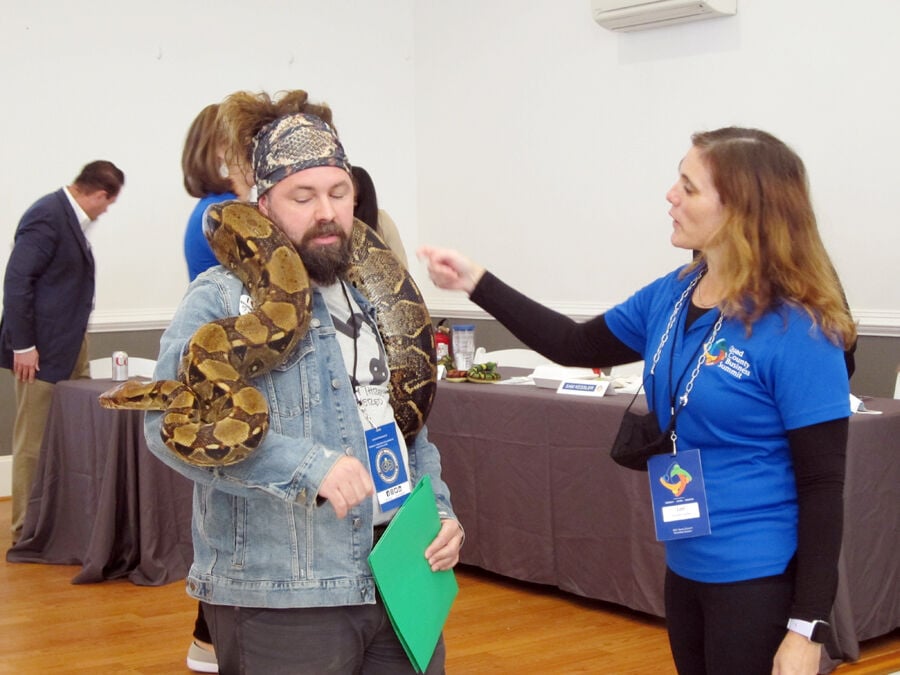 Jake Pugh and Boidae ("bow-uh-day") stole the show at the sixth annual Quad-County Business Summit and Pitch Competition Wednesday, Oct. 20, at the Pavilion on Lakeland Farm in Orange. Pugh, whose Louisa County business is named My Three-Chambered Heart, was one of four finalists to present their pitch in a winner-takes-all Shark Tank-style competition.
The Quad-County event began in 2016 with businesses and entrepreneurs from the counties of Orange, Greene, Louisa and Fluvanna coming together for a half-day of networking and educational programs. Economic development offices and chambers of commerce from the four counties (all members of the Central Virginia Partnership for Economic Development) collaborated to bring in speakers and share ideas.
The event grew each year as member counties took turns hosting the summit. In 2020, due to the COVID-19 pandemic, the summit pivoted to a virtual format; because of the ease of online access, neighboring Madison County was also invited to participate.
"The very first year QuadTank came up, I had actually started the process of opening a brick-and-mortar bakery and bistro," said 2019 winner Jennifer Bryington of JB Cakes in Rhoadesville (Orange County). "This was a great opportunity to help with purchasing equipment—that was my main goal—so I applied, I competed and I won. The coolest part was taking that big check home and showing my family … but I made lots of connections … things like this are great for networking. I'm super excited that I won and I'm blessed to still be here. We opened in December before COVID and all I can tell you is: pivot, pivot, pivot."
"I didn't get the big check because it was virtual, but the little check was fine—trust me," said Fluvanna County entrepreneur Scott Harris, who last year took top prize for Reliable Rides. "I just saw a need to start a transportation company that you can trust. If you've got your mom or dad going to the doctor or you want to go to the winery and have somebody to keep you safe, I'm the guy to do that. … The QuadTank helped me last year to survive COVID, so I'm really thankful for that."
This year's summit included keynote speaker Kiley Doll of KileyCo in Culpeper; a panel discussion with Peter Rice of BoxInBoxOut LLC in Madison, Andrew R. Mavraganis of Spire Collective in Fluvanna and Shannon Horton of Horton Vineyard in Orange; and, of course, the QuadTank pitch competition.
With 16 QuadTank entries (including three or more from each of the participating counties), participants honed their plans with representatives from the Central Virginia Small Business Development Center (CVSBDC) and held a pre-qualifying event Oct. 13-14 to narrow down to the top four to present at the summit. At last week's event, each finalist had 10 minutes to pitch their business needs to the judges and a brief question and answer segment before a winner was selected.
"We serve every one of these counties as well as a number of others," said CVSBDC executive director Rebecca Haydock. "We're kind of like a business service concierge for Central Virginia, so we do one-on-one advising, education and connection to resources—and it's all free of charge."
"Across the 16 applicants there were really all kinds of industries; all the different counties were represented, businesses at different points in their growth cycle, and so it was really just great to see so many businesses excited about this local opportunity," said Greg Dorazio, assistant director of CVSBDC.
Madison County's Jason Summers gave his pitch for ARiA (Applied Research in Acoustics LLC)—a global company providing technical and scientific endeavors with the U.S. Navy.
"Our Navy customers want AI (artificial intelligence) for these tactical applications regarding SONAR, but they prefer to buy from small businesses—which is great for us," Summers told the judges. "But we need dedicated hardware to work with the specialized data that the Navy has. … We need dedicated supercomputers that are approved to operate at the secret level."
Greene County's Andrea Johnson of The Intentional Optimist next outlined her plan for utilizing training in the Maxwell DISC personality profile assessment to help school-age children in Greene overcome social obstacles exacerbated by the COVID-19 pandemic.
"When COVID hit, I decided to pivot because I couldn't go into local businesses," Johnson said. "What our leaders need are the soft skills of communication, personal growth and development, emotional awareness and really good leadership skills. I bring in my 20 years of leadership experience, the suite of products I have through the John Maxwell team … and now I can go into schools and train educators and staff on how to teach students these soft skills that we're talking about. It gives them the leadership skills to both graduate from high school and then be able to either enter college or the workforce already ahead of the game."
Christopher Grime, founder and executive chef of Christopher's Food Service, described how he hopes to expand his food truck business—based out of Southern Revere Vineyard & Farm in Louisa—to bring quality farm-to-table catering services to area residents.
"Our main goal is to provide our customers with a fresh, farm-to-table experience by sourcing our meats and produce from local farmers in the Louisa area," Grime said. "Not only will this allow us to attract customers looking for a well-prepared meal made with local ingredients, it will also help to boost the local economy as we plan to advertise our suppliers in hopes to generate more business for them as well."
Pugh of My Three-Chambered Heart stole the show when he walked up on stage wearing Boidae—a 45-pound boa constrictor—around his neck during his pitch presentation. The business name comes from the fact that reptile hearts (with the exception of crocodilians) have three chambers, in contrast to the four-chambered hearts of humans. Established in 2011, the business is an educational nonprofit that promotes reptile education through classes, presentations and community outreach.
"Test scores in middle and high school students show a lack of fundamentals in science year after year, and we believe that the problem is the lack of engagement," Pugh said. "Science is meant to come alive, and that is hard to do if it's flat on a page. … If you like something, you can list a number of reasons as to why you like it; but when you love something—when you truly carry a passion for it—there are no reasons to list. It just is. … There has been a willingness to keep the reptile world hidden in the dark. The ignorance that comes from fear evaporates in the light, but it is that darkness that hurts us all. … Our museum is a loving display of reptile science aimed at illuminating the room, and in some cases, igniting an undiscovered passion."
After a brief deliberation, the judges presented the oversized $8,000 check to Pugh and his family. This award will allow My Three-Chambered Heart to become a reality in the near future, according to Pugh.
"We were going to do it regardless, but once we started getting pricing quotes on all of the different specialized caging, all of the different museum buildouts—because what we do does not exist, so we're having to create these ideas out of nowhere," Pugh said. "It's not just about looking at a snake; it's about understanding so much more about the animals. There's been a lot of trial and error, and now that we've gotten some of these things nailed down to a small scale, this (check) is going to help us bring it to you guys on a larger scale right away."
"The passion within the story came through in his presentation, and that was compelling," Dorazio said.