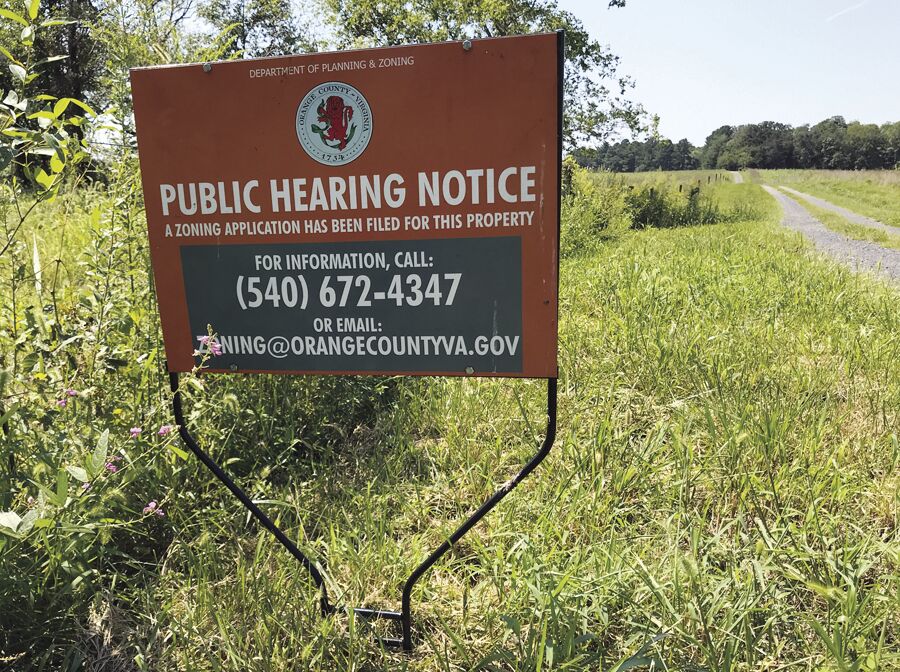 The controversial special use permit that would allow for the construction, testing and display of fireworks on property zoned agricultural heads to the Orange County Board of Supervisors with a recommendation for denial.
At its meeting last Thursday, the Orange County Planning Commission concluded a lengthy virtual public hearing process for the Mid-Atlantic Pyrotechnic Arts Guild (MAPAG) special use permit application with a 3-1 vote recommending denial. (Commission chair Donald Brooks was unable to attend because of a workplace commitment.)
The commission first considered the application in May when the applicants—a hobbyist club formed in 2012—requested to test and discharge fireworks during a series of long weekends on a 127-acre property on Woolfolk Lane in the south-central part of the county. Pyrotechnics testing and manufacturing on parcels 50 acres or larger are permitted with a special use permit.
In its application, MAPAG identified itself as a nonprofit club with approximately 80 members who are interested in the artistry, chemistry and engineering of fireworks. The application said the group generally meets one weekend a month from April through October and those gatherings include teaching safety, sharing ideas, building, testing and shooting fireworks. Events typically begin on Thursday and conclude Sunday.
Local outcry over the application prompted the commission to postpone the initial hearing which was later deferred at the request of the applicants, Texas residents Carolyn and Eddie Hostetter, who own the subject property in District 2.
The application generated a significant amount of response with approximately 150 submitted comments—most in opposition. Those in favor included several adjoining or adjacent land owners and many of the club's members.
The comments cited excessive noise and the adverse impact fireworks testing and display, as well as unlimited club members and visitors, would have on a quiet, rural property in the south-central part of the county.
In late July, MAPAG revised its initial application in response to public opposition, proposing to reduce the number of days of permits and limit the windows for testing and displaying fireworks.
In its amended application, the group proposes to limit its activities to no more than five weekends (Thursday through Sunday) scheduled for fireworks activities with no more than one per month. (There will be no fireworks activities in August, per the application.) The initial application called for up to seven weekends of activities.
Testing of fireworks—originally up to 280 hours' worth in the seven-month window—is reduced to 30 hours in the amended application and would be limited to Fridays and Saturdays from 1 to 4 p.m.
Fireworks displays—also originally scheduled for up to 280 hours—have been reduced to 40 hours in the revised application. Fireworks displays in the amended application would be limited to Fridays and Saturdays from 7 to 11 p.m.
In the amended application, the group notes its events would be capped at 100 people in attendance and there would be no public access to their events. Initially, there was no cap and the public would be invited to an open-house event at one of the scheduled events.
The revised application also clarifies camping on the subject property as "on-site overnight stays solely by members of the guilds and specifically excludes the general public."
In its revised application, the guild also said it would limit fireworks salutes to four inches or less in any dimension rather than the five-inch salutes permitted under National Fire Protection Association code.
In a memo to the commission in advance of the Aug. 6 meeting, Orange County Planning Services Manager Sandra Thornton noted, "It does appear that, given citizen concerns that have been raised, it would be difficult to locate property on which the proposed activities would be minimally impactful, especially areas in which livestock is kept. Nevertheless, good planning practice involves balancing the uses to which owners of private property may put their land against the goals of promoting the health, safety and general welfare of the public and creating a convenient, attractive and harmonious community."
She also noted, "As presented, the proposed activity is not compatible with the intent and purpose of the Agriculture 1 Future Land Use Category in the county comprehensive plan, although it must be recognized that the predominant use of the land (open space and agriculture) is in fact compatible."
Futher in her report, she outlined a number of proposed conditions on the SUP, related to parking, fireworks display permits, notification prior to events, removal of debris, storage of explosives, testing and display time frames, fireworks size, attendance caps and restricting public access.
During the commission's online discussion last Thursday, members both commended and admonished the applicants before ultimately recommending denial of their application.
"I believe applicants have been more than gracious in changing submission to be responsive to their concerns," District 5 commissioner Jim Hutchison said. "They've been doing fireworks since 2012, and to my knowledge, there have been no complaints, no damage to wildlife or complaints from residents as a result and I appreciate their philanthropic efforts in response to our first-responders. We all enjoy fireworks, or I assume we all do. I also support the conditions the planning director has laid out."
District 2 commissioner George Yancey, who represents the district where the subject property is located, also commended the applicants on their efforts to amend their proposal. But he also expressed a number of concerns, most notably that MAPAG was directed by county staff to pursue a special use permit for their purpose.
"One major issue that influences me greatly, is this is an ag district, and these folks have been with us a long time in an ag district. It concerns me that you were directed by leadership of our county; you were directed in a direction that I'm not sure was the right direction," he said. "But if it is approved, it's probably considered spot-zoning and sets a bad example now and going forward."
Julie Zeijlmaker, representing District 4, noted the club has operated safely for a number of years and contributed positively to the community. Still, she acknowledged the number of citizen comments in opposition as well as potential environmental impacts if the SUP were to be approved.
District 1 commissioner and vice-chair Jason Capelle opened his remarks by stating he'd gone back and forth on the application and was a big fan of fireworks.
After that, he was more direct.
"I've heard from more than one of the commissioners here, that there've been no complaints, but Mr. [Tom] Lacheney, our attorney, told us the whole reason we started looking at this as an SUP is the amount of complaints. I have that as an email. We have received complaints!" he said.
Capelle said because of those complaints, fireworks display permits for the guild had been filed under a different name, so MAPAG wouldn't be seen as the ones setting off the fireworks.
"If you can't admit you had complaints, you're never going to do anything to acknowledge complaints," he said to the applicants.
He then recalled 2016 when the county was considering changing the special use permit language to allow fireworks testing and display on agriculturally zoned property.
"We asked if there were complaints and the answer was 'no'," he said. "If we had been told 'yes,'which is the truth, we wouldn't be sitting here looking at an SUP that expands this to the entire county."
He also noted granting the proposed SUP would not generate much revenue—if any—to the county. Additionally, he challenged the applicants' claim that there are no problems by citing the amount of local public opposition. He also took issue with the breadth of the initial SUP application that created "all this angst in the community" that the applicants later said they didn't need anyway.
Capelle also said he gave more weight to the concerns of county residents—regardless of the proximity of their homes to the subject property, over the "very large number of letters we received from people all over the place, all of whom live in places where this would not be allowed.
"I don't really feel like this should go forward for a lot of reasons," he continued. "I don't have the satisfaction we're being told the whole story—all the way through—from the county to this latest letter that says there's been absolutely no complaints. I don't think that's accurate at all."
MAPAG President Dave Stoddard attempted to counter Capelle's charges regarding the complaints, but the commissioner responded, "I see this application with your name on it, with someone else's name on it, that you signed. I'm not real happy, but say your piece."
Stoddard said in 2016 the club was accused of causing an earthquake 19 miles away and also for breaking windows in Lake of the Woods. He said the guild held a 20-minute show, yet there were tremendous complaints.
"We didn't know what the cause was but in October (2016) we had another shoot and had the same series of complaints, but in March 2017, we found out the reason for the complaints was someone had a four-inch cannon they were firing in LOW and using us a cover for that thing," Stoddard said. "And they knew we had been blamed for it. The commissioners are aware of this and the ones who told us about this situation."
Stoddard continued that the guild is mathematically based.
"We have shown you that when you go out great distances, you can't hear us. Two miles out you will not know we are there. That's science. If you don't believe that, I can't fight you on that level," he said. "Anyone who is scientifically focused will understand our noise is not going to hurt someone who lives 19 miles away, especially with trees and other things.
"I really don't see where noise is a problem. The farm where we shoot, it is loaded with cows and pigs and there has never been an incident when they have been there," he said. "I have personally stood amid the cows during a fireworks shoot and the most that could be said is they looked up."
Capelle was unmoved. "I don't think many of my comments were about noise. I appreciate your comments, your passion, but the other issues were not addressed."
At that point, Hutchison recommended approval of the SUP with the conditions Thornton had outlined earlier in the meeting, while making a concession, at the request of the applicants, to extend the display window to 10:45 p.m.
His motion received no second. In a call for the vote, the commission voted down the motion 3-1 with only Hutchison supporting it.
Capelle called for another motion, and absent his fellow commissioners offering one, entered his own motion to recommend denial of the MAPAG SUP. Zeijlmaker seconded the motion, which passed 3-1 with Hutchison dissenting.
"I have been on the edge of yay/nay, and these folks have been great citizens and supporters of O.C. in time they've been with us," Yancey said. "I enjoy fireworks, my children and grandchildren do, but at the same time have a responsibility as the commissioner in the district where the application is to hear what the citizens are saying and they, as a whole, do not approve of this fireworks operation."
He said the lack of financial benefit to the county if the permit were to be approved, coupled with the preponderance of local public opposition and the appearance of spot-zoning, influenced his decision to recommend denial.
Capelle concluded, "I stand by my earlier comments."
The application will be forwarded to the board of supervisors which will hold its own hearing at a date to be determined. The board can approve or deny the application, take no action or issue conditions for approval.
Be the first to know
Get local news delivered to your inbox!