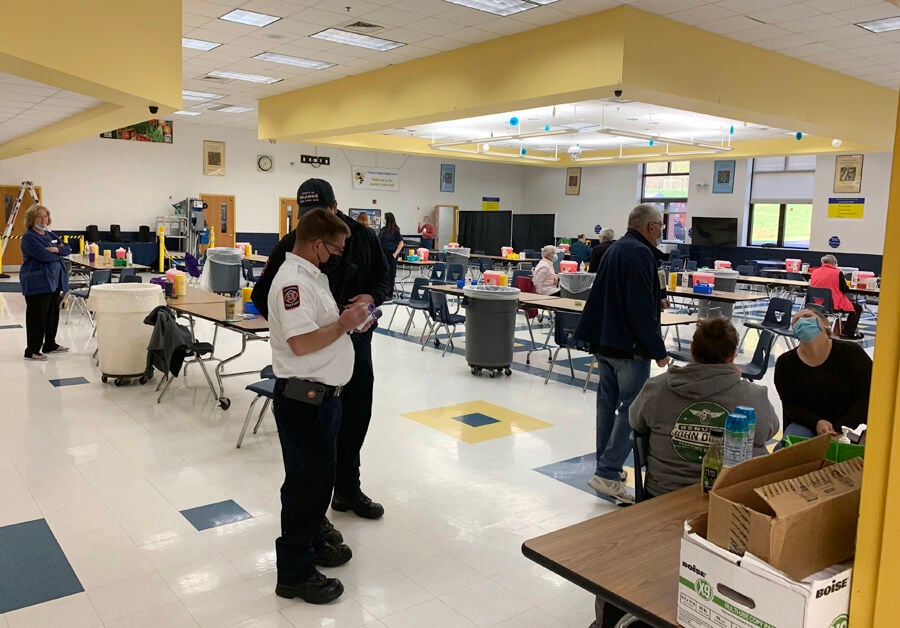 The COVID-19 vaccination clinic at Prospect Heights Middle School is now accepting walk-ins. A joint effort by the Rappahannock-Rapidan Health District (RRHD), Orange Family Physicians (OFP) and County of Orange Fire & EMS (COFEMS), the clinic was by appointment only until last week's announcement. According to a press release issued on May 5 by Orange County administration, Friday was the first day that people could get their vaccine without having to pre-register. Participants in the clinic do not have to be a patient at OFP to get a shot.
The PHMS clinic, located at 202 Dailey Drive, Orange, VA, is open to walk-in vaccinations from 8:30 a.m. to 5:30 p.m., every Friday.
As vaccination rates are gradually slowing nationwide, the Orange County clinic has had to adapt and think of how to tailor its services to the community's needs. Barbara Lohr, practice manager for OFP, said that the first wave of walk-ins on Friday was somewhat lower than expected.
"There were about 15-20 walk-ins on Friday in addition to other scheduled vaccinations," she said. "To be perfectly honest, it was not really a success. Whether that is because people are still hesitant or that we didn't get the word out enough, I'm not sure. We are going to talk to [COFEMS Chief Nathan] Mort today about how we can get it out there for next Friday. The plan will be, from here on out, to offer walk-ins on Fridays for however long we continue to do the clinic."
Despite concerns about vaccine hesitancy, Lohr understands that the pool of people eager to get vaccinated has shrunk after the initial first few waves.
"Part of it, also is that I think we made it fairly easy for people to get the vaccine in this county," she said. "For example, people not having to go through the website like they had to do on the state level. We already removed some of the obstacles."
"I feel like we have definitely vaccinated the people who wanted the vaccine," she continued. "What we are dealing with now is vaccine hesitancy. There are more people who are still of the mindset of, 'I want to wait until it's been on the market for six months.'"
Lohr envisions that most people on the fence will slowly come around. Especially, after they see their family, friends and neighbors enjoying the benefits of being fully vaccinated and going back to a more casual lifestyle.
The next advancement toward herd immunity (enough of the population being vaccinated that the virus is effectively halted) in Lohr's mind, is getting more children and young adults to get their shot. This will allow schools to reopen faster and with fewer precautions in place.
"We're absolutely ready to give the vaccine to anyone, 16 years and older. Obviously, 16 to 18 year-olds need parental consent. Hopefully, if the FDA drops the age minimum down to 12, then we can get kids vaccinated."
Shortly after this interview, the FDA approved the Pfizer-BioNTech vaccine for adolescents ages 12 to 15.
If the summer is anything like last year, then COVID-19 cases and deaths could reach a low simmer before creeping back up as the weather cools. After vaccine demand potentially reaches a plateau during June, July and August, interest may go up again in anticipation of the winter flu season and holidays. Lohr said that the clinic organizers are preparing for that exact scenario.
"Probably before the winter holidays this year, there could a be significant jump in people wanting the vaccine," she said. "Anyone who's traveling or spending a lot of time inside might be interested."
"Our game plan currently is to see how things unfold," she continued. "I think this week and next week will give us the telltale signs. What's dropped off dramatically is first doses. By the end of May, our larger clinics that we did prior to the first of this month will have gotten their second shots. The other thing is we've just started administering vaccines in the [Orange Family Physicians] office. For people that are actually here seeing a provider or can't come to a Friday clinic, we're putting it on our nurse schedule and vaccinating them here."
Although only a few people took advantage of the clinic's new walk-in availability, Lohr noted that 425 additional people who were already scheduled received a dose on Friday.
"I know the nationwide trend has been seeing fewer people come back to get their second dose. But I don't feel like we are seeing that same trend. The majority of our people are getting their second doses. It helps that we schedule the second appointment when they come in the first time."
Until it becomes clear how much walk-in traffic the clinic can regularly expect, organizers will have to adjust the scale of vaccinations as needed.
"We may even get to a point when we reduce the timeframe to two hours on a Friday or something," Lohr said.
For those who can't attend the Friday clinic, there are other options nearby. The Rappahannock-Rapidan Health District issued a press release on Monday announcing that the clinic at Germanna Community College's Daniel Technology Center in Culpeper is welcoming walk-ins and expanding its hours. The clinic will be open Thursday, May 13 from 12 p.m. until 7:30 p.m. and Friday, May 14 from 8:30 a.m. until 12 p.m.
"We hope this added flexibility allows more of our residents the chance to get vaccinated," said Dr. Colin Greene, acting health director for the RRHD.