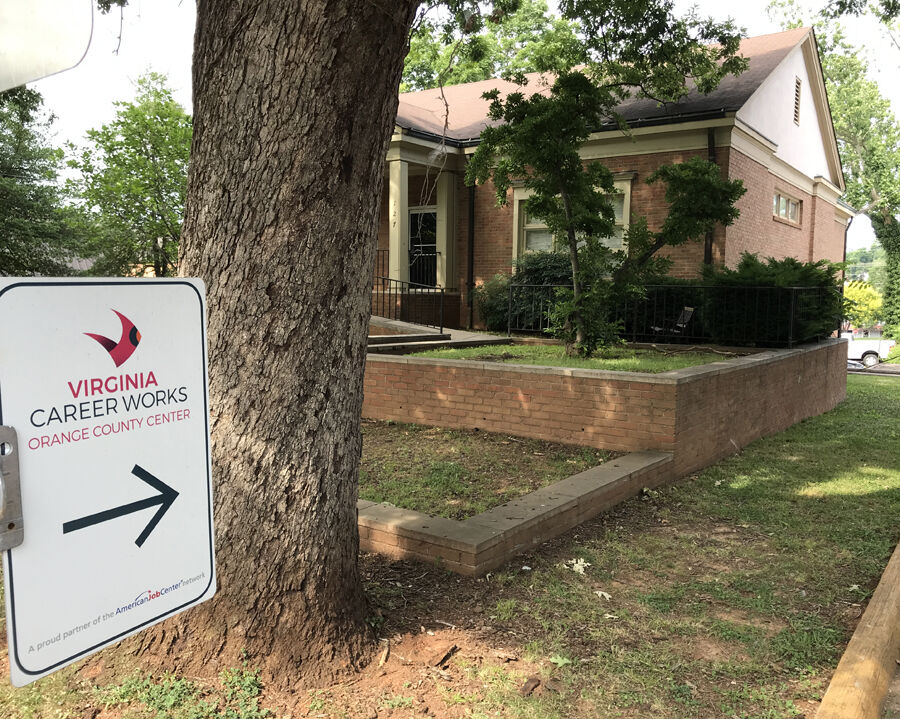 As the economy reopens, Orange County businesses and employers are utilizing resources like the Virginia Career Works (VCW)–Orange Center to sift through potential candidates and repopulate their workforces. The Orange Center is located at 127 Belleview Avenue, Orange.
According to data provided by the Orange County Economic Development Authority (EDA), the county's unemployment rate peaked in April 2020 at 10.4%. In April of this year, it had fallen to 3.7%. While this is welcome news, many business owners have spoken out about the labor shortage they now face.
"It's a normal process for me to engage with the center because the services they offer are priceless to the community," said Jeff Earney, human resources manager for Zamma Corporation in Orange. "But now I think there's more of a sense of urgency, because like other companies we are finding that the candidate pool is limited at the moment."
COVID-19 has almost completely upended the standard job market and created a talent vacuum Earney said. Not only do employers need workers, but they also need highly-skilled ones.
"I've been doing this for about 14 years, and this is probably one of the most challenging times for recruiting I've ever seen," he said.
Zamma Corporation is a local pre-finished molding manufacturer that sells many of its products and materials through Home Depot. The company was founded in 1970. Earney said that he has had an especially fruitful relationship with Marty Bywaters-Baldwin, director of workforce services at VCW's Culpeper Center, who he has known for years. This has led him to rely on the VCW–Orange Center for assistance finding potential employees.
Sarah Morton, workforce development director for VCW–Piedmont Region, said that part of her mission is to identify the pitfalls faced by both employees and employers and find workarounds.
"Clearly, we know that the sectors that have been really impacted the most [by COVID-19] are hospitality and tourism, manufacturing and administrative services," she said. "There have been childcare, education and transportation issues that have compounded this change in the job market. Transportation, in particular, has long been an obstacle for folks in a rural footprint like Orange County. Industries are trying to be creative in helping to provide solutions.
"The governor just announced an initiative to enable small businesses with 100 or fewer employees and who pay $15 or more hourly to offer hiring bonuses," she added.
A key point Morton touched on is that VCW welcomes a diverse population to its facilities. Any person who is searching for the right fit in their career can find something to guide them at one of the centers.
"We offer assistance for anyone who comes to our centers," she said. "We help provide businesses with recruitment strategies and how to present themselves at job fairs in order to attract new employees."
Additionally, we coach jobseekers through career-readiness courses such as soft skills training, interview prep, resume writing, executive functioning skills, and how to dress for success," she continued. "That's what the centers are here for, not just to help marginalized communities, but to help the new mother out there who wants to go back to work."
The pandemic has pushed Virginia's workforce to question what motivates them and what really makes them feel happy and accomplished, Morton explained. She said the shift has been dramatic.
"COVID-19 has really made people think a lot about quality of life and what kind of employment they want," she said. "So many have had to integrate family life with work life. People are now looking for a balance. Folks are reevaluating what career they want to engage in for the next five to 15 years."
Currently, VCW–Piedmont Region has three centers: A comprehensive center in Charlottesville and two affiliate centers in Orange and Culpeper. Soon, Morton said, that number will increase to four.
"We are opening a third affiliate center which will be in Albemarle County," she said. "That's going to help a lot. But again, many of these centers are spread out. Transportation not only prevents the population we serve from getting jobs, but also just from accessing our centers. Virginia Career Works has just applied for a GO Virginia grant. We are in the final stages of approval and hope to get approved. It's not guaranteed. If we are approved, then we will be able to mobilize Virginia Career Works to go out into the far reaching areas and be there to serve clients. So, we're taking the services to the community."
VCW most recently held a job fair at Booster Park in Orange on April 30. The event was organized in conjunction with the Orange County Economic Development Office. Morton said that both more in-person and virtual job fairs are scheduled for the coming months.
"There's a statewide virtual job fair coming up," she said. "People can find that on the Virginia Employment Commission's (VEC) website if they are interested. There are many virtual job fairs that go on regionally. We may end up doing a manufacturing job fair soon. The next virtual job fair will be on July 8 from 1 p.m. to 4 p.m."
Earney noted that the April 30 job fair was a success for Zamma.
"For example, we just hired someone through them. Marty called me directly and said, 'Hey, I think this guy will be a good fit for you.' And this candidate attended the April 30 career fair. He was hired on June 14."
Beyond the regular career guidance and job fairs, the VCW–Orange Center has collaborated with companies like FM Expressions, a screen printing and custom apparel company headquartered in Gordonsville. Shannon Glennon, human resources director for the company, broke down an exciting partnership that had to be paused last year.
"Near the end of 2019 we were working with the [Orange Workforce Center] and Bo Bundrick (Director of CTE and Workforce Development for Louisa County) to set up an internship program for graduating seniors at the local high schools. It had been going phenomenally for the first two weeks or so and then COVID hit and of course we immediately shut it down. I'm looking forward to a time when we can reestablish the program."
To learn more about Virginia Career Works–Orange Center, go to www.vcwpiedmont.com or visit the center at 127 Belleview Avenue, Orange VA 22960. The center is open Tuesday through Thursday from 8:30 a.m. to 4:30 p.m. and can be reached by calling (540) 661-3419.