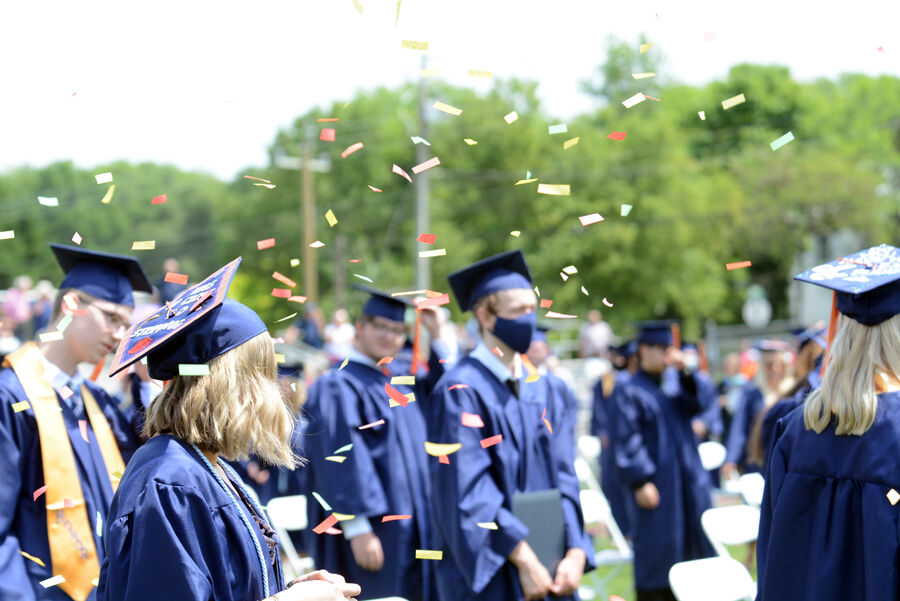 It was only fitting that a hybrid school year concluded with a hybrid graduation.
Orange County High School conferred more than 300 degrees Saturday during a commencement ceremony that was split alphabetically and streamed online.
Even with the lifting of a number of COVID-19 public health restrictions in recent weeks, OCHS held dual graduation ceremonies at Porterfield Park Saturday morning—with graduates divided based on the letters of their last names. Students A-La enjoyed the better draw, beginning at 8 a.m. under overcast skies and cooler temperatures. Students Le-Z sweated as the sun and temperatures rose during the 11 a.m. service.
Still, absent the fervor of thousands of supportive family and friends, the day's split events melded excitement, relief, celebration and wonder after a most unusual senior year.
With that in mind, the day's speakers capitalized on shared themes of resilience, drive, perseverance and achieving the unthinkable.
Senior Andrea Payette, who will attend the University of Virginia next year, served as the master of ceremonies for Saturday's commencement exercises for the 307-student class of 2021.
In her remarks to both groups, she told her classmates that the shared experience of attending OCHS gave each of them a level of understanding of one another.
"Our differences make us stronger—as individuals and as a group," she said. "As we enter this new chapter, I hope we all can remember that what we're doing right now can affect us the rest of our lives.
Inefficient habits can be replaced by new and better ones. We are each responsible for our growth as human beings and each called to be leaders in a group effort to make the world a better place.
Improvement in the world begins with making improvements to ourselves."
She said the beauty of life is it is never too late to improve.
"Motivation is a fleeting phenomenon, but discipline can be controlled and will always move mountains," Payette said. "In difficult moments, I like to return to the law of attraction. Thoughts are powerful and what we focus on expands. What will you choose to focus on and what will you expand in our world?
"Will you choose to focus on kindness, compassion, opportunity, community service, dedication to family or contributing to a company—maybe even starting your own?" she asked her classmates. "No matter what path you choose, it is important to make a conscious effort dedicated to improving the lives of others as well as your own.
Your mind is your greatest tool and strongest asset. Make it a lovely magical oasis of blossoming ideas, engaging thoughts and the rest will come."
Salutatorian Kylie Trask, who will study abroad as part of Duke Kunshan University, built her remarks off of the oft-repeated pandemic phrases of "in these unprecedented times…" and "in these times of uncertainty…"
Yet amid that uncertainty, she declared the Class of 2021 had found its "why."
"We have dug deep within ourselves to find more than just fleeting motivation, but drive—the drive to wake up early each morning and attend Zoom classes. The drive to pass classes to graduate and the drive to live our lives through a pandemic," she said. "Why you have that drive is different, but it was enough force to get you through the last year.
Quoting the philosopher Friedrich Nietzsche, she said, "'He who has a 'why' to live can bear almost any 'how.' Go on with the same perseverance as you did this year."
Valedictorian Katelyn Woolfrey's speech was succinct and direct.
"According to all known laws of aviation, there's no way a bee should be able to fly," she told her classmates. "Its wings are too small to get its fat little body off the ground. The bee, of course, flies anyway, because bees don't care what humans think is impossible."
Like the bee, she said, the class of 2021 did something unthinkable. It navigated a senior year during a global pandemic, culminating in Saturday's graduation.
"Congratulations everyone. We're done. And if we all get vaccinated, the pandemic will be over too. So please, if you are able, get vaccinated, so thank you and good luck with everything you do," she concluded.
School officials and administrators spoke of the graduates' purpose and resilience.
School board chair Sherrie Page said she saw before her young adults who developed character and learned to work hard in challenging times. She said the graduates had also learned to be kinder, more patient, more grateful and more gracious. She encouraged them to "meet people where they are, because you never know what people are going through or what their struggle is or what they've overcome."
School superintendent Dr. Cecil Snead said each graduating class has a unique set of talents based on the culmination of its experiences.
"Each gives us a gift of promise and hope," he said citing the students' resiliency as COVID wreaked havoc on their junior and senior years.
"You have demonstrated a commodity so uneasily attained—resiliency," he said, citing author Elena Aguilar, who defined resilience as "a way of being that allows us to bounce back quickly from adversity—bounce back stronger and better than before so we can fulfill our purpose in life."
Continuing Aguilar's definition, Dr. Snead said, "Resilience cannot be obtained without courage. You must also possess perseverance, empathy, optimism, acceptance, positive self-perception, knowing yourself. Because you are here, you have defaulted to some inner courage you may not realize you possessed until this senior year.
Your resilience and the qualities you possess to achieve that resilience gives me reason to accept your gift of promise to us. We accept your gift of hope to us. Thank you for what you have accomplished and thank you for that promise and hope."
OCHS Principal Wendell Green was the final speaker and his message was one of gratitude and achievement with advice for the future.
Amid those "unprecedented times," he acknowledged the "love and support of family, encouragement of your friends, dedication, commitment flexibility of your teachers, school counselors, administrators, and support staff and the extra push needed from mentors, coaches and other special people in your lives," that helped the graduates reach this point in their lives.
He said the actor Christopher Reeve once said a hero is "an ordinary individual who finds the strength to persevere and endure in spite of overwhelming obstacles.
"Class of 2021, you are our heroes. Your resilience, compassion and caring spirit toward one another has been remarkable. We are thankful for each and every one of you," the principal said, before highlighting a range of achievements and accomplishments OCHS students had made despite the challenging circumstances of the past year.
"Whether you are going to college, the armed forces, trade school or work force, here is some advice I'd like to share," he offered the graduates. "Always be yourself. Treat others like you'd want to be treated. Give 100%. Write down your goals and be willing to work hard to achieve them. Surround yourself with people who are a positive influence. Understand there may be setbacks. Always maintain a positive attitude and never give up."