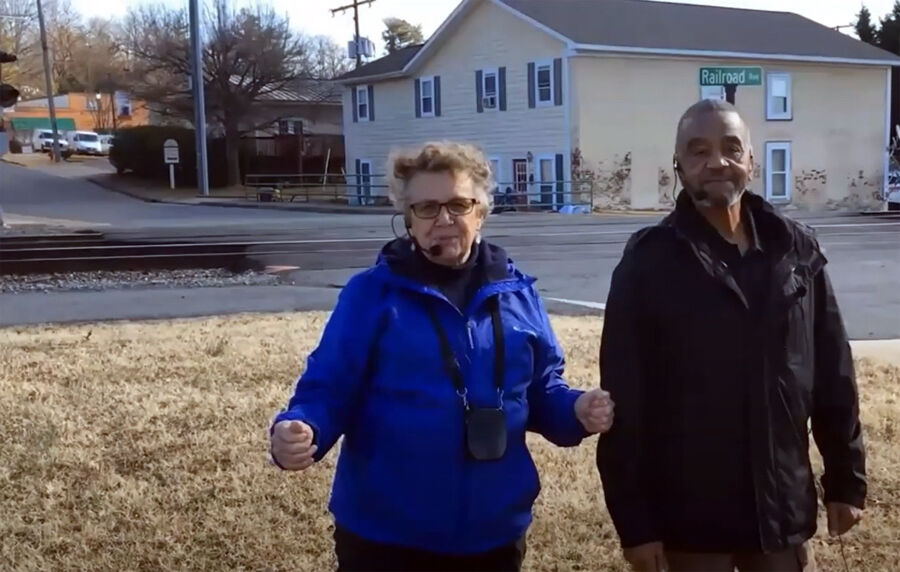 The annual meeting of the Orange County African American Historical Society is part family reunion, part business meeting and part call to action to fulfill its mission of raising awareness of local African American history and the contributions of Orange County's Black citizens.
Sunday's meeting was no different—except it convened virtually rather than in-person at The Arts Center In Orange, as it often does. And, as OCAAHS President the Rev. Darryle Crump noted, had the group not already been planning to meet on the Zoom platform because of the COVID-19 pandemic, it likely couldn't have held Sunday's meeting because of more than five inches of snow across Orange County.
So, instead of meeting in-person, three dozen members and supporters gathered online Sunday afternoon to elect new board members, recap the past year and get a preview of the year to come.
Opening the meeting, the Rev. Crump noted that, despite the pandemic, the society still held its annual Juneteenth celebration and presented its Eclipse Awards—albeit virtually.
In June, the OCAAHS continued its partnership with The Arts Center In Orange and James Madison's Montpelier to present the annual Juneteenth celebration. Because it was conducted online, many who would not otherwise be able to attend could participate, the Rev. Crump noted.
In the fall, the organization announced its annual Eclipse Award winners, recognizing those who have enhanced and been assets to the local community. This year, the OCAAHS added a new youth award category, recognizing outstanding young people who are making a difference for the Black community locally and awarding them scholarships.
In December, the OCAAHS held its annual Eclipse Awards ceremony virtually (instead of an annual banquet), honoring: Mary "Foots" White, Margaret Ware, Eva Hume Starks, James Monroe, and youth award winners, Abena Sekum Appiah-Ofori, and Myles Johnson. The Rev. Crump presented the awards individually at the recipients' homes, save for Starks, who passed in June 2020. The society broadcast the awards presentation in December and it is available to view on the society's website (www.ocaahs.org).
OCAAHS board member Dr. Matt Reeves noted, "The Eclipse Awards are presented to those individuals and organizations that have consistently gone above and beyond routine of raising awareness of Orange County's African American people and history."
The awards are decided on by board and members of the community.
In honoring White, the Rev. Crump said the 102-year-old has been "a giant in Orange and Spotsylvania for years and has done much to enhance the wellbeing of the county."
Honoring Ware, OCAAHS Secretary JoAnn Brock said she's known her since childhood when she lived next to her grandmother on Mill Street in Orange and that Ware, a longtime member of Emanuel Baptist Church, "is the most humble, always has a smile, has a kind word for everyone, says what she means and means what she says.
"She's always treated me and my family and others as family," Brock said introducing Ware's award.
In honoring Starks, OCAAHS board member Bruce Monroe noted five generations of family called her "Granny."
"She was a very spiritual person. She saw her life coming up on the rough side of the mountain, but God always saw her through. She left us with some advice, 'Respect other people and they will respect you. Be kind to everybody.' Thank you Mrs. Eva Starks,'" Monroe concluded.
The final adult honored, was James Monroe, a longtime resident of the Little Petersburg community near Little Skyline Drive and a popular local bartender. An avid baseball fan with an easy manner, Monroe was honored for a lifetime of hard work. In recognizing Monroe, the Rev. Crump called him "A pillar of the community and the 'Mayor of Little Skyline Drive.'"
The two youth award winners were cited for their efforts to diversify the literature curriculum at Orange County High School and for raising awareness of disproportionate disciplinary actions for students of color.
OCAAHS board member Ellen Wessel described Sekum Appiah-Ofori as "a passionate change maker." She cited her social justice work at OCHS and at the University of Virginia, where she and a classmate successfully petitioned the school to remove the "whispering wall," built as a memorial to Frank Hume, a confederate soldier and former member of the Virginia legislature. The school's board of visitors voted to remove or rededicate the memorial.
"Removing the Hume memorial is an important step in signifying that UVA will no longer value white supremicists' history over its black students," Wessel noted.
Johnson, a recent president of the youth chapter of the Orange Branch NAACP, was recognized for his efforts to diversify the high school curriculum and as a student leader.
The Rev. Halliard Brown described him as an "ambitious, caring young man" and credited him with helping get out the vote in the 2020 election and participating in this summer's Black Lives Matter marches in downtown Orange. Johnson, attending Longwood University this fall, plans to major in political science and hopes to become a civil rights lawyer.
"Miles lives by his words, 'Why live your own life without impacting others?'" the Rev. Brown noted.
Back to Sunday's annual meeting, the OCAAHS added Brown, Mary Freeman, Dani Rivera, Lois Goodall, Joan Graves and Judy Peterson to its board of directors, before announcing an upcoming project and issuing a call for participation.
In a short video, board members Zann Nelson and Bruce Monroe described the vibrant African-American community in downtown Orange and announced efforts to create a small park to honor it.
On a small parcel at the intersection of Church Street and Railroad Avenue, the OCAAHS, with the help of the Orange Downtown Alliance and the Town of Orange, plans to build a park honoring the engaging downtown business and residential district of the Church, Chapman, Mill Street and Railroad Avenue community.
"There's a lot of history here—these were the descendants of emancipated slaves," Monroe noted, remembering that Railroad Avenue, parallel to the Orange Train Station and near the Mill Street neighborhood, was the hub of Black activity in downtown Orange.
He said Black citizens throughout the county would travel to Orange and find themselves in this area—patronizing Black-owned businesses including a barber shop, café, pool hall and taxi shop, among others.
"A lot of the ladies in the community would come to town to shop at Leggett's, May-Rudasill or Safeway, and their husbands would come over to the barber shop on Church Street," Monroe said.
Both Nelson and Monroe stressed that to create the park, they need public participation to help paint a more complete picture of the historic community.
"Participation of residents and ex-residents is essential," Monroe said. "We need our stories. This is your park," Nelson stressed. "We can't do it without your stories and your photos."
Both encouraged those participating in the annual meeting to contact them with information and memories of the district to help create the park.
Those interested in sharing remembrances or memorabilia from downtown Orange can contact Monroe at (540) 219-2636 or Nelson at (540) 718-3465.
"We hope this is just the beginning," Monroe said. "We hope every segregated community in Orange can tell their story and Mill Street and Church Street are just the beginning. We hope to tell a neighborhood community story throughout this county."
To view recent meetings and presentations, or to join the organization, visit www.ocaahs.org.