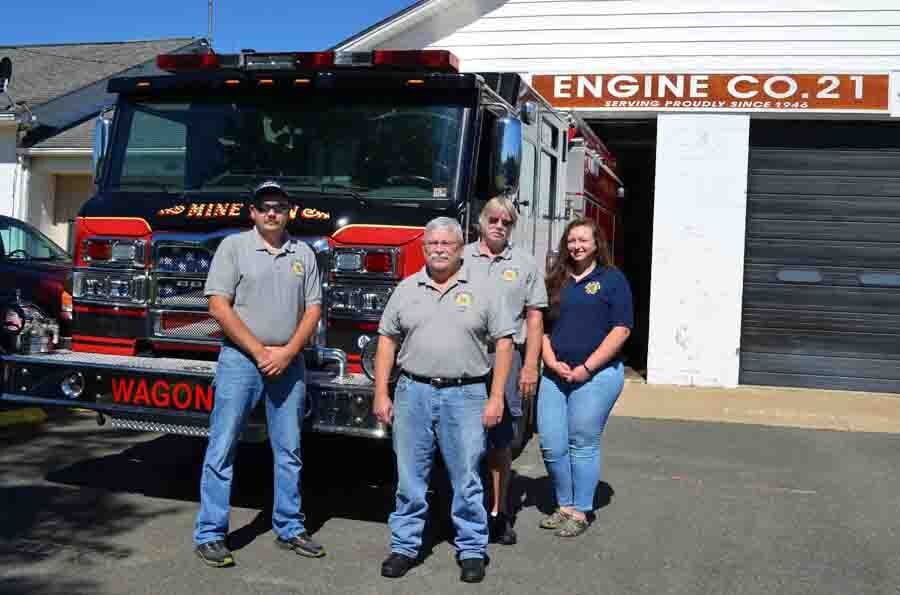 It all started one day in the early 1940s, when a wash house outside a home in rural Mine Run caught fire.
The nearest fire company was summoned immediately, of course, but by the time help arrived from the Town of Orange, 20 miles away, the building had been destroyed and the fire had spread to other nearby structures. The folks in Mine Run decided they needed their own fire company.
The Mine Run Volunteer Fire Company went into service on Oct. 3, 1946. This year, it is observing its 75th anniversary.
Eighty-two-year-old Milton Kennon, whose grandfather was one of the company's founders, served as fire chief for 18 years from 1970 to 1988 and knows better than most how far the company has come in its long history.
"All they had back then was a stream of water," he said. "It wasn't much. The equipment and training are so much better now."
Those early volunteers built their own pumper by attaching a donated oil tank to the chassis of a truck. "They had a little man go inside to scrub it out" so it could be filled with water, he said. A pump added to the front of the truck could deliver a mere 300 gallons per minute.
Today, the company boasts two shiny pumper trucks, a tanker, a brush truck, a command/ support unit and other modern equipment. Its 28 volunteer firefighters are trained to the highest standards of their profession and are responsible for responding when help is needed anywhere in a 101-square-mile area of Orange County.
The company works from two locations -- the main station on Old Plank Road and a location it shares with the County of Orange Fire and Emergency Medical Services on Route 20. Mine Run firefighters respond to about 450 calls each year, primarily for medical emergencies, motor vehicle accidents, structure fires and brush fires.
But one thing that has not changed is the company's close ties to the people of rural Orange County.
"We all live here," said current Chief Jeff Mendonca. "They're our friends, our neighbors, our family. They know that if they need us, we'll be there for them."
Lt. Robert Lohr agreed: "Our community has always been very thankful for us. We've always had a strong support system," he said.
If someone sees the fire truck speeding down the highway, lights flashing, siren screaming, they'll make a point of calling the firehouse the next day to make sure everyone is safe. If firefighters stop at the Exxon station to refuel after responding to a call, someone will buy them cold drinks or sandwiches as a way of expressing thanks.
Supporters are generous with their money, too. The company recently held its annual raffle-dinner, which usually raises about $6,500. That seems like a lot until you consider that the trucks use about $1,000 worth of diesel fuel a month, and personal equipment for a single firefighter—boots, coat, pants, helmet, gloves, hood—costs about $3,500. The company paid $675,000 for one of its pumper trucks.
"We average about $100,000 to $110,000 a year in our operating budget," Mendonca said, "depending on what breaks, what equipment we have to buy. The people who make fire trucks and hoses and turnout gear and medical supplies don't care if you're a small volunteer fire company. The price is the price."
The company receives quarterly financial support from Orange County, but about 60% of its budget comes from donations from individuals and businesses. The Orange County Fire Chiefs Association has persuaded county officials to dedicate a portion of the county tax levy to fire and emergency medical services, and the county has agreed for the first time to help fund the purchase of emergency apparatus.
"The county is just starting to realize what the cost would be if these volunteer fire companies were to go away," Mendonca said.
Other than financing, the company's biggest challenge is recruiting and retaining members. The company has obtained a grant from the Department of Homeland Security and the Federal Emergency Management Agency for the specific purpose of recruiting new personnel.
"It takes a unique person to want to do public safety," said Brook Altman, assistant chief. "It's not for everybody. People who are doing it just for a paycheck, they don't last long."
"For me, it's a way of giving back to the community that helped raise me," said Lt. Ashlee Middleton, president of the company. "I'm from here, and all my family is here. It's just a way of giving back."