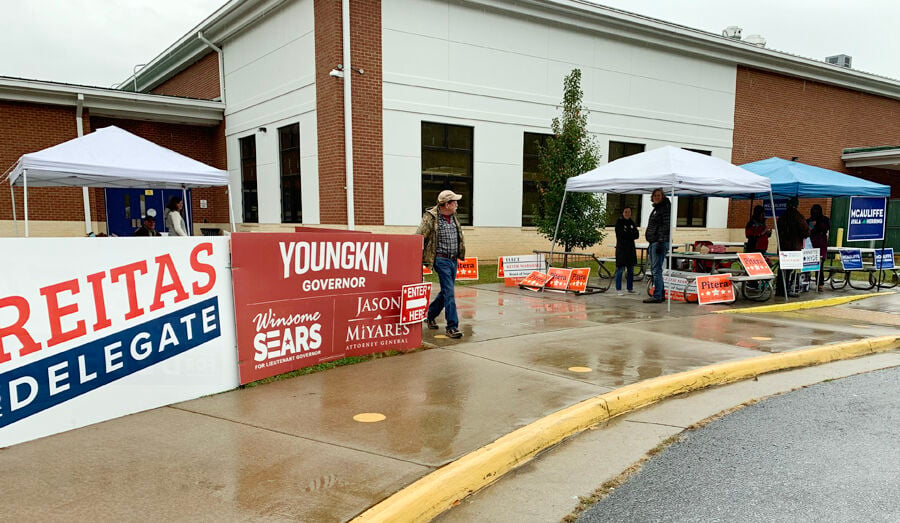 The Orange County Board of Supervisors will look like it has for much of the past year, while the Orange County School Board will feature two new faces following Tuesday's election.
Among three supervisor races, Mark Johnson (District 1), Jim Crozier (District 4) and Keith Marshall (District 3) were all elected to four-year terms. Johnson and Crozier were running unopposed until a pair of write-in candidates emerged this summer. Marshall, appointed in January on an interim basis to replace former District 3 Supervisor Teel Goodwin who died in December 2020, narrowly edged challenger Ellen Pitera with Donald Brooks a distant third.
Meanwhile, political newcomers Melissa Anderson (District 1) and Chelsea Quintern (District 4) were elected to the school board. Anderson, running unopposed, replaces two-term board member Carol Couch, who opted not to seek re-election. Quintern defeated two-term board member Bette Winter.
Orange County voters reliably supported Republicans at the state level, backing incumbent Delegate Nick Freitas, Gov. Glenn Youngkin, Lt. Gov. Winsome Sears and Attorney General Jason Miyares for the top state posts.
Orange County Registrar Donna Harpold reported approximately 16,100 voters participated in this year's election (59%), with 3,091 voting early. She said election day voting was higher this year (11, 894) than in 2020 (10,871) and declared the turnout good, for a gubernatorial election.
Locally, the District 3 Supervisor race drew a fair amount of attention, with three qualified candidates vying to fill the balance of Goodwin's unexpired term (through Dec. 31, 2023). Marshall, a Unionville dairy farmer, was chosen from among five potential candidates to replace Goodwin until Tuesday's election could be held. Pitera, an Orange Elementary School teacher and local business owner, and Brooks, the chair of the Orange County Planning Commission and former law enforcement officer, were two of the remaining four who had applied.
In the closest local race, Marshall edged Pitera 1,009 (42.92%) to 959 (40.79%), with Brooks collecting 357 votes (15.19%). There were 26 write-in ballots cast.
Pitera ran a write-in campaign two years ago in challenging Goodwin for the District 3 Board seat and garnered approximately 26% of the vote.
Marshall did particularly well in District 3 East (Unionville Elementary polling place) with 276 to Pitera's 91. Brook's had 68 votes there.
In District 3 West (Prospect Heights), Marshall collected 454 votes to Pitera's 423, with Brooks getting 155.
Among early and absentee ballots, Pitera fared best, collecting 106 absentee ballots, with Marshall getting 48 and Brooks 27. Among those who voted early, 335 cast ballots for Pitera, 230 for Marshall and 103 for Brooks.
The results were finalized Friday afternoon once all mail-in ballots submitted by Tuesday's deadline had been received by the registrar's office.
In the other two supervisor races, Johnson easily achieved a sixth term on the board with 1,982 (73.68%) votes, easily outpacing write-in challenger W.A. Hogsten (708 votes, 26.32%).
Johnson fared particularly well in District 1 West (Barboursville Fire House) where he collected 80.42% of the vote (875), to 213 (19.58%) write-ins. In District 1 East, Johnson picked up 585 votes to 373 write-ins.
In District 4, board chair Jim Crozier was elected to a third term with 1,893 votes (68.09%) comfortably defeating write-in challenger Delton J. "DJ" Anglin III (887, 31.91%).
Precinct splits were fairly consistent with Crozier collecting 62.51% of the vote (722) in District 4 West (Locust Grove Primary) and 64.31% (728 votes) in District 4 East (Locust Grove Middle School).
In the District 4 School Board race, first-time candidate Quintern collected 1,918 votes (66.16%) to unseat the incumbent Winter (946, 32.63%). Quintern's margins were consistent across both District 4 polling places.
In District 1, first-time and unopposed candidate Anderson received 2,290 votes (95.42%) with 110 write-in votes cast (4.58%).
Among the state races, Orange County and the balance of the 30th District (Madison and part of Culpeper counties) sent the Republican Freitas back to the House of Delegates for a fourth term with 66.03% of the vote (10,597) over Democratic challenger Annette Hyde (5,429, 33.83%). Those percentages mirror the totals district-wide where Freitas collected 65.42% of the vote (23,537) to Hyde's 34.44 (12,392).
Freitas easily won each precinct, except for absentee ballots submitted by election day to the Central Absentee Precinct.
Among the state's top posts, Youngkin collected 66.23% of the local vote for governor (10,670), nearly double former Gov. Terry McAuliffe's 5,351 (33.22%).
Those figures were consistent among the other two top state posts, with the Republican Sears collecting 10,630 votes (66.25%) to Democrat Hala Ayala's 5,398 (33.64%).
In the attorney general's race, Miyares received 10,493 local votes (65.44%) to incumbent Democrat Mark Herring's 5,533 (34.51%).