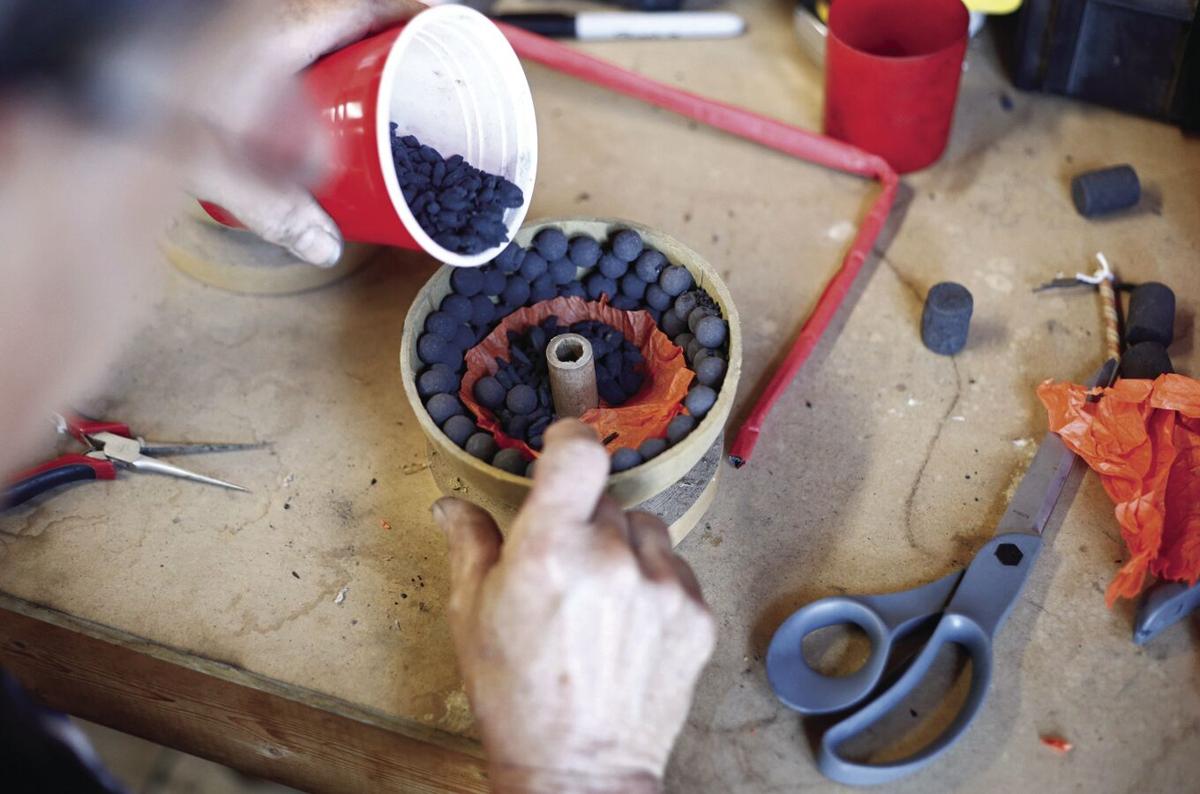 The Orange County Board of Supervisors voted 3-2 last Tuesday evening to deny the special use permit application of the Mid-Atlantic Pyrotechnic Arts Guild (MAPAG).
The controversial application to test and display fireworks on a 127-acre parcel in south-central Orange County drew nearly 230 comments from as close as next-door property owners and as far away as Idaho during the two-week public hearing process that ended last Monday.
The hobbyist fireworks club, founded in 2012, applied to the county to conduct a number of weekend events from May through October on an agriculturally-zoned parcel owned by club members Eddie and Carol Hostetter of Texas.
The property, located on Woolfolk Lane, adjoins two other properties owned by the Hostetters in District 2, approximately three miles from where Route 522 crosses into Spotsylvania County.
Four years ago, county officials worked with MAPAG to streamline the administration of their events. The group was meeting on a parcel in Locust Grove west of Lake of the Woods and required to apply for county fireworks permits each time it gathered to build, test and display fireworks. Since 2012, the county had issued more than 80 permits to the club.
In 2016, the board and county administration proposed a zoning ordinance amendment that would add pyrotechnic testing and manufacturing as a special use in the agricultural (A1) zoning district. The planning commission—at that time—recommended approval and, with no speakers at its public hearing, the board unanimously approved the change.
The club had hoped to continue its operations on the farm off of Route 603 (Indiantown Road), but a survey of the tract revealed it fell short of the 50-acre threshold to meet the zoning ordinance amendment.
In 2019, the Hostetters bought the 127-acre subject parcel and added two adjacent parcels totaling an additional 137 acres later that year.
In January 2020, MAPAG President David Stoddard, of Silver Spring, Md., sent a lengthy and detailed special use permit application to the Orange County Department of Planning and Zoning. But before planning services manager Sandra Thornton could bring the application to the planning commission, the novel coronavirus was surging in Virginia and the commission wouldn't meet again until May.
In that application, MAPAG requested permission to stage seven events (one per month), generally running Thursday through Sunday, from April through October. After an initial backlash of opposition, the applicants reduced the number of potential weekend events to five, reduced proposed testing and display hours, reduced permissible fireworks sizes and limited on-site attendance.
Over a number of rescheduled, extended and postponed meetings and hearings, more than 140 comments were submitted to the commission in opposition of the application and nearly 50 in favor of it. Ultimately, the planning commission recommended the board deny the SUP with a 3-1 vote (commission chair Donald Brooks was unable to attend that meeting).
Before the board scheduled its December public hearing, the applicants initially requested it defer action on the matter and postpone the public hearing to 2021. The board declined and ultimately scheduled a public hearing Dec. 1, announcing it would accept written comments through Dec. 14, before taking the matter up at its Dec. 15 meeting.
In that two-week window, 229 written comments were submitted to the board—187 in favor of the SUP and 42 against it. All 42 in opposition were submitted by local residents, while only 20 local residents urged the board to support MAPAG's application. Nearly 100 comments supporting the application came from at least 18 different states.
At Tuesday's meeting, which featured four supervisors meeting in the Gordon Building and District 3 Supervisor Teel Goodwin joining online from home, the board's discussion largely focused on land use.
District 2 Supervisor Jim White—who represents the district where the subject parcel is located—said the matter before the board was a land use issue and as such, the board must be guided by the comprehensive plan it adopted in 2013.
"It provides explicit guidance on this SUP," he said. "The plan's main purpose is to communicate to landowners, stakeholders, residents and elected officials, what land use will look like. The A1 land use category's purpose is to protect the rural, agricultural, cultural and historic areas of the county."
The method to achieve that is very specific, he said. "It allows three purposes in A1—agriculture, forestry or homesteads. That's it. In my analysis, there's no set of conditions or torturing the language that can make this request look like agriculture, forestry or a homestead."
At that point, he was prepared to make a motion to "apply the plain language of the comp plan."
But District 5 Supervisor Lee Frame disagreed with White's interpretation and argued that the board determined that A1 was the zoning district to locate this type of use as evidenced by its actions four years earlier.
"Back in 2016 we passed an ordinance that allowed fireworks in the county in an ag area," he said. "We said 50 acres was the minimum because we wanted to go away from anywhere else that was more populated. In A2, you'd have scattered groups of residences and subdivisions."
He said the proposed uses in the SUP constituted recreational activities and would have a limited impact in A1 zoning—particularly when compared to other zoning districts.
"I see it as more appropriate in A1 than A2," Frame said.
"Maybe we see it's not appropriate anywhere," White quipped, referring Frame back to the language in the county comp plan for A1 zoning.
Frame cited part of the definition that read, "Protect from residential and commercial growth. Preserve open space. Limit population."
"If we put this in the county, A1 is the place because it provides more open space and fewer people are affected," he said.
District 1 Supervisor Mark Johnson, said the application amounted to a rezoning more than a special use permit.
"Any time we look at a rezoning, we need to look at what the current zoning in that area is. What is the expectation of the people who live in that area and will the proposed rezoning still leave intact the rights of the people in the area and the county, while getting the applicant what they want?" he said.
"We're deciding whether people can build explosives and set them off in an agricultural area," he said. "I can't see how that is good for Orange County or the neighbors. If we allow this, I'm looking around the county and seeing if someone else wants to do this somewhere else in the county, how can we deny it? On what basis would we turn them down?"
He also said he didn't see any tangible benefit to the county from the application.
"I have nothing against fireworks; I think they're fine. But this is something more than fireworks," he said. "This is a club dedicated to experimentation. It's a hobby. It's done purely for their enjoyment and entertainment. It's purely for the club. Orange County citizens are overwhelmingly opposed to it. Those in favor of it are from all over the place. I don't feel any necessity to support this because it's what some club wants to do. I don't see any benefit to Orange County."
Frame countered that if the board didn't find the SUP application appropriate for this large, rural tract, it wouldn't be suitable elsewhere in the county.
"Then we should get it [pyrotechnics] out of the ordinance," he said.
"I don't agree that this is the most appropriate place in the whole county," Johnson said.
District 4 Supervisor and board chair Jim Crozier spoke favorably on behalf of the applicants, particularly as one of the principals who worked with the club on the ordinance four years ago.
"Members of this club have been in this county for many years, doing exactly this," he said. "They were doing it in my district and it was at a point that residential development had encroached on the area and there was a need because this wasn't just a Fourth of July celebration."
"The unfortunate part of this is they said 50 acres was the safe acceptable minimum to do this. When the ordinance was drawn up, unfortunately, the landowner (in Locust Grove) was unaware of how much land he had," Crozier said. "The fatal mistake here is they didn't do enough due diligence and they ended up only having 47.5 acres. It put them away from a willing landowner and immediate residents that didn't really complain about it."
"I don't have anything against the applicants. I don't doubt that they're professional and know what they're doing. I'm not quibbling about that," Johnson said. "This almost becomes if you vote in favor of it, you're saying it's their land and they can do whatever they want. If we approve this, we'll be on shaky footing denying the next thing that comes along."
"Their goodwill isn't the issue. There is no set of conditions that can make this use ag, forestry or a homestead," White maintained.
"As much as I'd like not to, I'll entertain a motion," Crozier said.
"A lot of people have said they don't like it," Frame said. "Some of them are close enough to say they will be impacted, but many are five miles away or more. It's hard to say they will be."
With the attention the application garnered beyond the county's borders, he worried what potential adverse impact denying the vote may have on the county's image.
"How many SUPS do we have that get comments from across the country? We did with Walmart and were considered 'business unfriendly.' If we say 'nay,' is it going to have an impact on our tourism? Will they think we don't want outsiders coming to Orange County?" he asked his fellow board members.
"I think we're elected to represent the people of Orange County," Johnson responded. "We're not elected to make people in other states feel warm and fuzzy about Orange County. We spend a lot of money on tourism to talk about the things that make Orange County special and make you come here from another county, state or country. We're not in any way being unfriendly to outsiders. Certainly we don't want to appear to be backward and outsiders, but we need to represent Orange County and for the people of Orange County, in this case, to me it's pretty clear."
Crozier again called for a motion.
White said based on the special use permit application's inconsistency with the county comprehensive plan, he moved to deny the application. Johnson seconded the motion.
"A1 is there for a reason. I'll be the first one to tell you this organization is superb. The people in it are superb. I think it's admirable they purchased these properties for this. I'll leave my comment at that," Crozier said. "I honestly would like to not be part of this vote, but I am."
White's motion to deny the special use permit passed 3-2 with Frame and Goodwin dissenting. Crozier said he voted to deny "reluctantly."