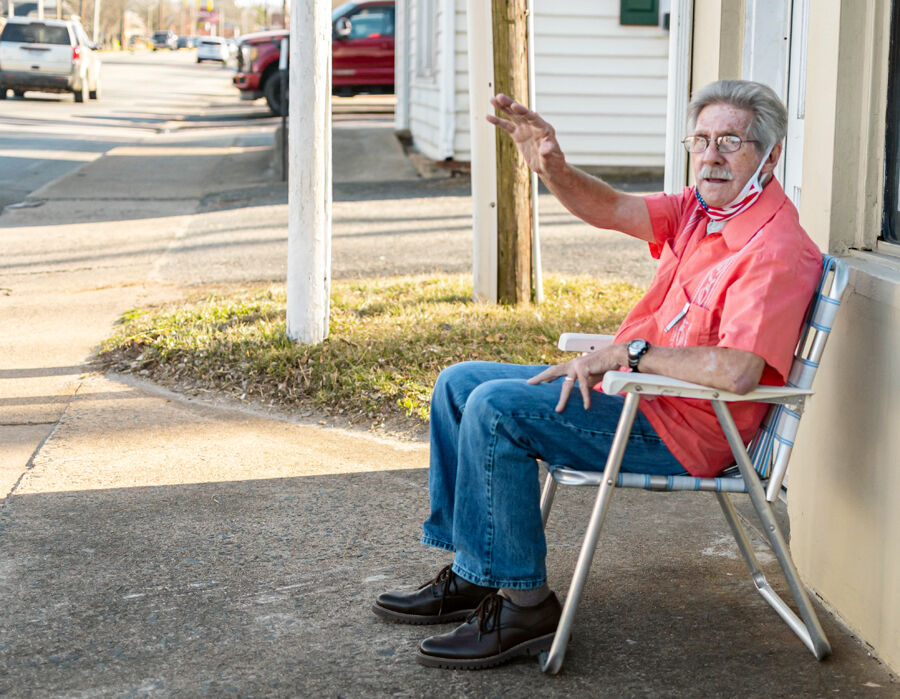 A cavalcade of car horns blare up and down Madison Road on a Friday afternoon. One might assume this is just a typical traffic jam at the end of a long workweek, with drivers impatient to get home and relax. But there's a real purpose behind the noise; they are greeting a man sitting in a plastic lawn chair outside a one-story building. The sign next to the entrance reads "Madison Road Barber Shop" and the man waves genially, unfazed by the attention he's receiving. In fact, Cecil "Sonny" Breeden Jr. can't set more than a foot outside his business without being greeted by countless horn honks from travelers cruising through the Town of Orange. He doesn't seem to mind.
Breeden says he doesn't know every person who waves back at him, but he recognizes many of their cars. It's no surprise. He's been cutting hair, shaving necks and waving to neighbors for 45 years this April and doesn't plan to stop any time soon.
Known by most locals as the "waving barber," on this particular afternoon Breeden is putting the finishing touches on a haircut for Victor King. Once Breeden takes off King's smock and vacuums his neck, he immediately begins to sweep up the hair trimmings. In a matter of seconds he's ready for his next customer. King stands up and hands Breeden a crisp $10 bill for his handiwork. When Breeden turns back to give him his change (haircuts are only $7), King waves him away and gives him a knowing nod. "Keep the change" is communicated without a word. It's a wholesome interaction in an impersonal world where fast card swipes and tip calculations are the norm.
King puts on his coat, cap and mask and heads for the door. He stops to chat with Breeden about the weather and local goings-on. Breeden points to the calendar on the wall and reminds him that on Wednesday, April 14, the day of the shop's 45th anniversary, haircuts will be free for walk-ins.
Before Breeden could even think about this milestone, he had to endure a harrowing accident that changed his life. In 1974, Breeden was kicked in the head by a horse, which fractured his skull and caused permanent brain damage that affected his speech. According to a 2016 profile of Breeden written by Lindley Estes for the Free Lance-Star, after the accident he returned to barber school for a second time and then opened his shop.
Despite hair styling and barbering running in the family (his mother was a hairdresser and his daughter currently is a stylist), Breeden has another passion, antique cars.
"We've had some car shows here at the dealership where he's brought his cars over that he owns and has restored and fared very well," said Kevin Reynolds Jr., used car manager at Reynolds Subaru, across the street from Breeden's shop.
Reynolds, an Orange native, said growing up around his family's car business and having a neighbor as welcoming and thoughtful as Breeden was a blessing.
"Everybody knows that he's an icon and legend on Madison Road in Orange," Reynolds said. "You see people coming in and out of there all the time to visit with him and get haircuts. I've gotten numerous haircuts from Sonny."
With only a few weeks to go until the anniversary, Breeden said he doesn't have any ambitious plans and is instead content with doing what he's always done: meeting new people and putting a smile on their face.
Neighbors and friends are happy to have Breeden as an enduring fixture in the community and a comforting presence every time they pass by or stop in the shop to catch up.
"You couldn't ask for a better representative of the Town of Orange and a better neighbor, friend and local businessman than Sonny," Reynolds said. "We love having him across the street and I wave at him every morning."