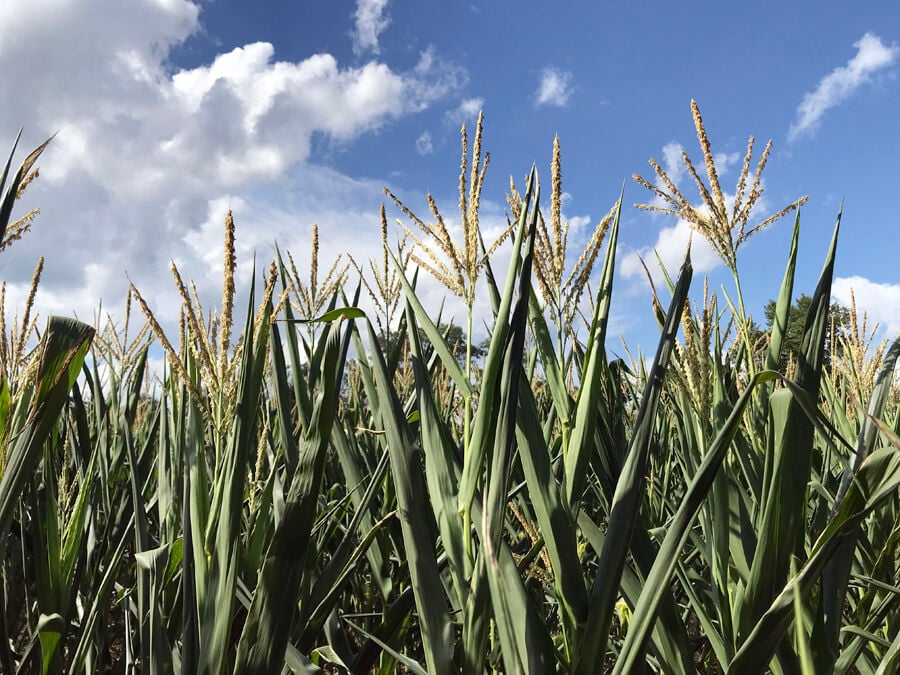 A wet May and dry June have given way to fluctuating weather in early July in Orange County. According to precipitation totals collected by the Northern Piedmont Center for May, the county received 0.64 inches of rain, about 3.5 inches behind the 80-year average for the month. For June the precipitation total was 4.2 inches, roughly 0.2 inches higher than the 80-year average. However, the 2021 year-to-date total is 16.75 inches of precipitation, more than 4 inches behind the average.
The manager of the Northern Piedmont Center, Greg Lillard, said that timing has been key for farmers trying to withstand the rollercoaster conditions of the last several months. The center was founded in 1940 by Virginia Tech and is located along Route 15 just south of the town of Orange.
"We have seen some impact," Lillard said of the variable weather conditions. "Our hay yields have been lower than usual and we didn't have the early rain to help finish it off. When it comes to the row crops, if they were planted early the crops emerged before or during the dry spell then there will likely be yield loss. In some spots, it could be as high as 20%. If you planted late the loss should be minimal. Particularly with the rain we had last week."
According to data published by the Northern Piedmont Center, May is the second wettest month on average for Orange with 4.43 inches of precipitation normally falling during that period (July is the wettest with an average of 4.47 inches of precipitation). The same data set reveals that June sees about 3.42 inches of rain each year. This adds up to 42.93 inches of precipitation annually.
Lillard pointed out that the back-and-forth nature of weather in the area has prevented farmers from taking advantage of the situation.
"I haven't heard any predictions for what the rest of the summer is going to look like," he said. "But what's happened so far is that we'll enter a dry period, and then as soon as that ends we'll get a ton of rain. Then we go right back to dry again. [The weather] is teasing us along, but we're not getting any real production out of it."
"It gets so dry, that the ground becomes almost like a brick, especially here in Orange with the clay that we have," he added. "So, when we get a large amount of water at one time, it essentially just runs off. Really, we need a week of just steady, slow rain to get back to where we should be right now."
Kaci Daniel, unit coordinator extension agent with the Virginia Cooperative Extension (VCE), said that there is small silver lining to be found when looking at the rain situation.
"Hay yields were down, but whereas folks previously were worried about getting a good second cutting, there's now renewed hope that it will recover," she said. "The dry weather did allow folks to cut and bale without interruption. When we got the sudden deluge last weekend, some producers saw flood damage on river bottoms with debris, trees, and flattened plants."
Nevertheless, Daniel said the problem is serious and that local farmers have been on pins and needles waiting to see how the rest of the season plays out.
"Most people are just finished with their first cutting of hay," Daniel said. "That is a lot later than typical years. When we went almost the entire month of May without moisture, that really delayed things. In terms of some of the crops for grain, like with a lot of the hybrid varieties of corn, the timing of rainfall is everything. So, people were pretty scared back in May, but then we finally got some moisture. Unfortunately, a lot of it came at one time, but at least we got it. Many farmers are running short on grass because we didn't get the early rains and it's become a continuing problem."
The second harvesting of hay later this summer could determine how successful the season is overall, Daniel explained.
"Often that second cutting is the more valuable and the more nutritive of the two, because it's not the stuff that's gone through the whole winter," she said. "It's the freshest, newest, most tender grass that's been baled for hay. At the same time, we've had these stretches where it's not rainy every day. Some years we have a thunderstorm every afternoon."
"So, there are pros and cons to the situation, but farmers are really good at staying the course and having faith that the next day or week or month or year will be better," she continued. "They're kind of used to that."
VCE Associate Extension Agent Courtney Wesner said that innovations in seed and crop science has helped farmers fight back against an unpredictable climate.
"It's interesting the amount of technology built into these field crops nowadays," she said. "The hybrid seed varieties that most of these farmers are using are pretty hardy and can withstand most drought conditions. Currently, the pastures are probably in worse shape than the row crops."
Wesner said that luckily 2020 proved to be an excellent year for growing and harvesting hay, leaving local farmers with an insurance blanket this season.
"The other thing that I've found talking to people is they have more carryover hay from last year because we had such a good hay year," she said. "So if they have a hay barn or even if they don't, the carryover hay from last year will probably help because we did have a large surplus. The quality of the hay has been relatively high. These guys are good at harvesting hay at the right point of maturity."
Striking a hopeful note, Wesner said that the strategy right now is to wait and see. She allowed that in a few months the situation could be drastically different.
"We are hoping for some respite," she said. "Those rains that we did get definitely helped. We just need more of that. I don't think it's a full-blown crisis. I'm not having people calling here freaking out about being able to get hay. That's not happening yet. We still have time."