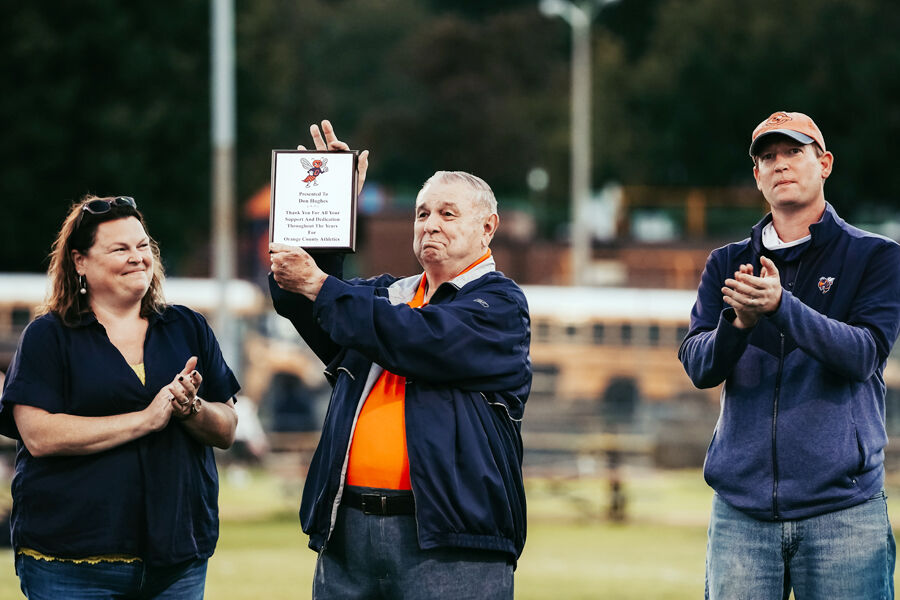 Orange County High School (OCHS) honored Donnie Hughes for nearly a lifetime of support and dedication to Hornet athletics at their Oct. 1 Homecoming football game.
Hughes, a 1960 OCHS graduate, received a plaque before the game honoring him for his many contributions to the school, which began while he was still a student at OCHS.
"He created and designed our very first Hornet logo," said OCHS Activities Director Mike Neeley. "It's still somewhat in use today."
Hughes designed the logo in 1959 while in his junior year of high school.
"I've painted that thing so many times on different objects," Hughes said. Maybe the most notable iteration was the Hornet logo in the school lobby which was eight feet in diameter.
Additionally, Hughes served as the manager of the football team and timekeeper for the basketball team.
"Over the years, he created hand painted homecoming footballs that said Orange versus whoever we were playing, and all of the football team would sign it," Neeley noted.
Raffle tickets would then be sold for the Homecoming football with all proceeds going to the Orange Volunteer Rescue Squad.
After studying commercial art at Richmond Professional Institute (now Virginia Commonwealth University) Hughes began a career as a sign painter while concurrently earning a living as a funeral director.
As a longtime member of the Orange County Rescue Squad, he provided emergency medical services as a certified EMT, shock trauma tech and cardiac tech until a back injury eventually forced him to retire in 1991 after three decades of volunteer work.
Additionally, he's served the community through church functions, conducting civil marriages and generally lending a hand wherever one was needed.
"If it needed to be done, I was there to try and help to do it," he said "I was just community oriented."
Hughes also served as a magistrate from 1974 through 1995.
"I've made a lot of friends, both with the police officers and those that were arrested," he said. "I try and treat everybody the same and treat them in a nice fashion."
The plaque Hughes received before the homecoming game, includes his original Hornet logo and reads, "Thank you for all your support and dedication throughout the years for Orange County athletes."