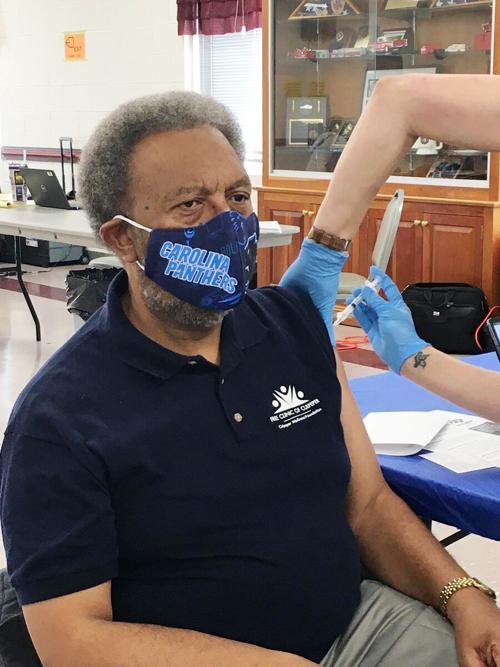 As Orange County reports two more residents who died of the deadly coronavirus, the Rappahannock Rapidan Health District is nearing completion of its first wave of vaccinations.
According to health district director Dr. Wade Kartchner, by the end of last week, nearly 1,000 vaccinations will have been administered within the five-county health district (including more than 550 to Orange County residents).
"Through the dedication and hard work of our vaccination team, and in collaboration with Culpeper Medical Center—Novant Health UVA and Fauquier Health, we anticipate reaching most of the Phase 1A group by the end of next week," he said. (Those in Phase 1A include healthcare workers and residents of long-term care facilities.)
"We plan to soon evolve to a larger site with pop-up events in other counties and/or Saturday availability. We continue to recruit staff and volunteers, and look forward to the time when vaccine is distributed to medical providers and pharmacies as well."
Last Wednesday, Gov. Ralph Northam identified which essential workers will be receiving the vaccine in Phase 1B and Phase 1C. When Phase 1B is launched, it will include frontline essential workers, such K-12 teachers and staff, grocery store workers, migrant farmworkers, corrections facility employees and people who are incarcerated, and those working or living in homeless shelters, Dr. Kartchner reported. Additionally, people over the age of 75 will be vaccinated in this stage. "We anticipate this launch to occur the week of Jan. 18," he said.
Business owners and managers who employ essential workers in public-facing operations within the district are encouraged to complete a survey at https://forms.gle/Ckh6P8hx8Q9U7W1F6 to be placed on a list of employers requesting COVID-19 vaccinations for their staff.
Those essential workers have been identified (but not limited to): police, fire and hazmat employees, corrections and homeless shelter workers, K-12 teachers and staff, childcare staff, food and agriculture (food packaging and distribution) workers, manufacturing workers, mail carriers, public transportation workers, emergency communications employees and local government officials.
Additionally, those 75 or older living in the health district (Orange, Culpeper, Madison, Fauquier and Rappahannock counties) committed to receiving a vaccine when it is available is asked to complete a separate survey at https://forms.gle/fQfFcnaNoXBTSMF46.
Health district officials ask potential vaccine recipients to fill out only one survey and note that survey participation does not automatically schedule an inoculation. Health district staff will contact those who participate in the survey when additional information is available.
The potential of increased local vaccines is welcome relief as COVID-19 cases continue to surge in Orange County and across the commonwealth. In the seven-day period of Jan. 3 – 9, Orange County recorded 166 new cases, including a daily high of 39 last Saturday, Jan. 9. As of Tuesday morning, there were 1,197 cases, 49 hospitalization and 15 deaths and Orange County—with 253 of those recorded in January alone.