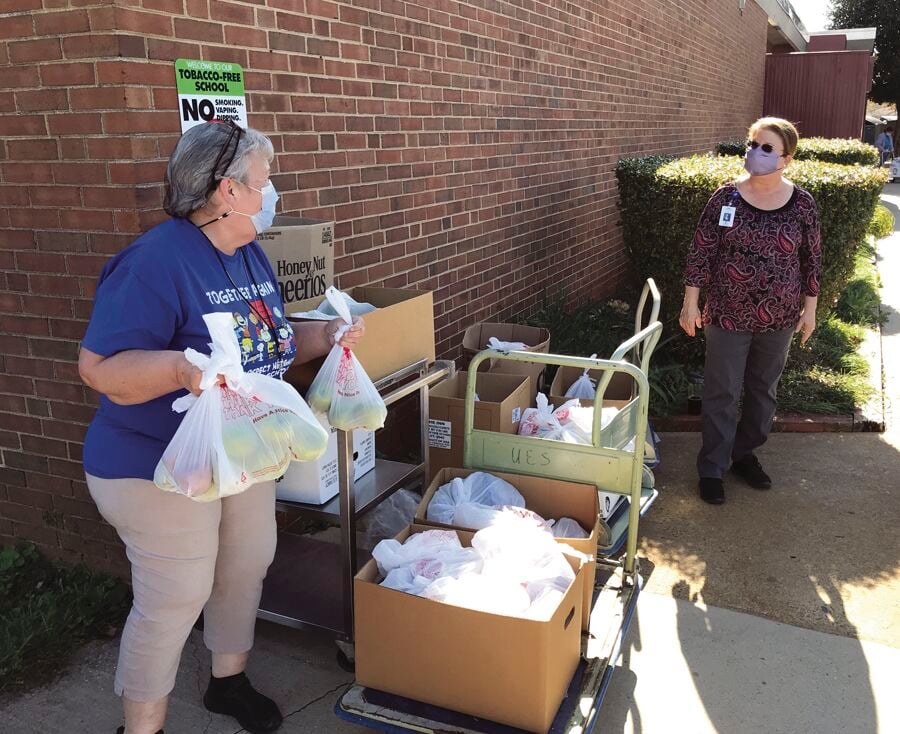 On Thursday, June 3, Orange County Public Schools' family meal program will shift gears and begin its summer season. Families of children who aren't in summer school can come pick up a week's worth of meals on Thursdays from 12 p.m. to 1 p.m. in the bus loop at Orange County High School. Meals are given out on a first-come, first-serve basis and are completely free for families with school-age children.
Currently, pickups can be made every Friday from 11:30 a.m. to 12:30 p.m. at four designated locations: Orange County High School, Locust Grove Middle School, Gordon-Barbour Elementary School and Unionville Elementary School.
There will be a 13-day gap between when the school year meals program ends on Friday, May 21 and the summer program begins on Thursday, June 3. Families will be given extra meals on that last Friday to tide them over until things restart in June.
"The school system will have certain times set up where children in summer school can come and pick up a meal that day," said Linda Blair, OCPS' supervisor of nutrition. "However, the seven-day meal distribution at the high school every Thursday, is really what takes the place of that daily meal."
According to Blair, OCPS has had a summer meals program for as long she can remember. Yet, the unique environment created by COVID-19 pushed the schools to tweak things.
"Last year was the first year that we did bulk distribution or basically giving out seven meals all at once," Blair said.
Any kinks that may have existed in the past have been ironed out and the process has been streamlined.
"There's no need to call ahead," Blair said. "There is a line, but it moves very quickly. We don't have to take down any information or anything unless the children are not with the parents. In those cases, we just ask people to fill out a form with the names of their kids, so that we know we are giving the food to actual parents."
The food given out via the program is carefully chosen to be as nutritious as possible, while still being appetizing.
"It's quality food," Blair said. "It's tacos and burgers, fresh fruit, apples and name brand cereal for breakfast. Also, a gallon of milk is included."
Blair explained that the meals program is open to all families in the area. They do not turn away parents from counties outside of Orange.
The service is funded by OCPS' regular budget but has been supplemented by federal dollars approved in the face of the pandemic.
"We have had some grant money come our way," Blair said. "That's more of something that our finance department handles, but I know that they have utilized grant money to help our budget."
Denise Snow, who manages the cafeteria at Orange County High School said that she has seen firsthand how the program can be a godsend for many parents, especially those with multiple children.
"They talk about how much it helps," she said. "Some of the parents have five or six kids and they actually get a gallon of milk per child. We've gotten friendly with many of the families that come through frequently. Today we had a woman stop by with all six of her kids in the back. She has six boys, and they are very rambunctious. I told her, 'all I can say is you're a good woman.'"
Each week Snow and her staff help to assemble containers filled with seven breakfasts and seven lunches. Certain dishes, like spaghetti, have to be prepared right before the pickup day so that they are ready to be reheated when parents come to get them. Most of the meals are ones that can be easily cooked or prepared at home by families.
A secondary goal of the meals program is to support small businesses, that's why Blair said the schools decided to partner with grocers they could trust.
"We purchase our food through a cooperative procurement with Merchants Grocery Company in Culpeper," she said. "Pet Dairy and Standard Produce also supply us with food. All of the companies we work with are local. We are reimbursed by the federal government for those purchases based on the number of meals we give out."
Pat Payne, who is the replenishment buyer/school specialist for Merchants, works with OCPS to coordinate the weekly food deliveries. She recalled how vital the meals program became last spring when the pandemic was still poorly understood.
"At the beginning, when everybody was so unsure of how to serve the meals, people were looking for meals that were sealed and ready to go," she said. "The schools in Orange really had to step up and change their whole way of doing business. We were a small part of it. Back then you were supposed to take your groceries and bags and wipe them down. Everyone was scared to touch anything."
In March and April of 2020, when many grocery stores had limited stock, Blair said that the schools' food bank was one of the only places in town to get milk and other essential items.
While traffic at the various meal pickup sites has ebbed and flowed throughout the last 14 months, Blair sees a big season ahead.
"There was absolutely a spike in traffic right before the holiday in December," she said. "That was very noticeable. As spring has approached, our numbers have been going down a little bit. I think when summer hits, we may see the numbers go up again."
Payne said that Merchants will continue its single-minded efforts to promote the health and wellbeing of kids in the community.
"We take our school business very seriously. We like to partner with nearby schools. It's changed over the years since I've been here. Our main mission is to make sure the kids get fed and we try to do everything, on our part, to make that happen."
To learn more information regarding meal distribution and the summer pickup schedule, visit www.ocss-va.org.