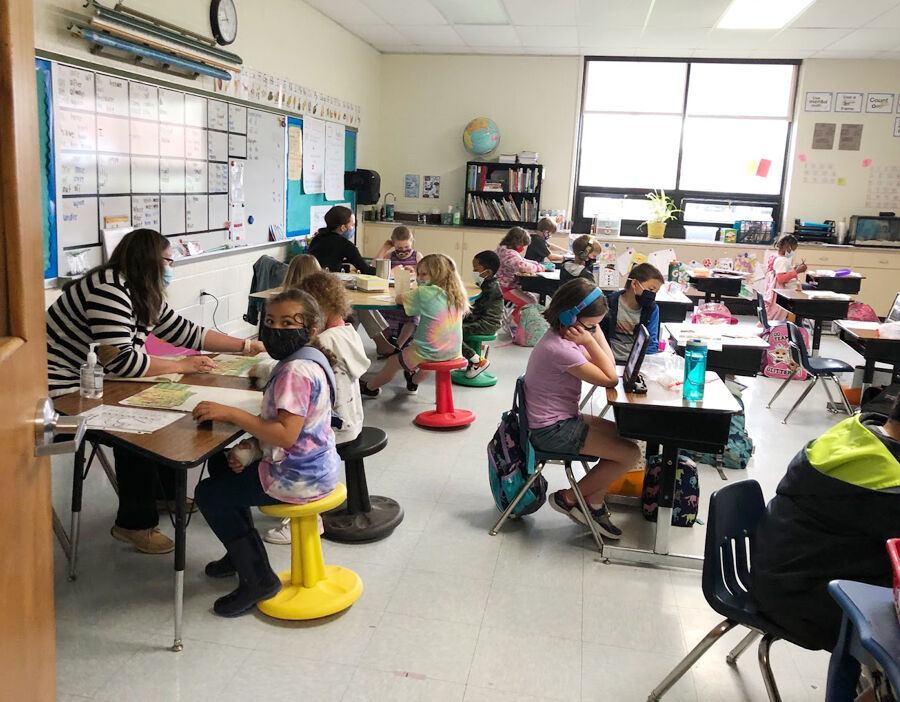 At the end of the first predominantly in-person school week for Orange County Public Schools (OCPS) in more than a year, administrators are taking stock of how far they've come and how far they have left to go. All of the county's schools began a four-day in-person schedule on April 12. Students have the option to attend classes from Monday to Thursday in-school, with Friday being a flex-day for virtual learning.
Superintendent Dr. Cecil Snead said that OCPS administration and the school board have been working together to get students back into the schools and closer to something resembling normal.
"One cannot just flip a switch and say, 'now we're back in school,'" he said. "You have to think about transportation challenges and all these other things. We began planning over a month ago to offer our parents the opportunity to send their children to school four days a week and we had to do that under some restrictions: the students all have to wear masks, we do temperature checks, we continue our sanitizing protocols."
Although the county's elementary and middle schools were operating on a two-day staggered schedule since the beginning of the 2020-2021 school year (with high school students attending in-person classes just one day a week), the ultimate objective was always to ratchet things back up to five days.
"We've had in-person instruction ever since school started on August 24," Snead said. "It was under what's called a 'hybrid model.' So, what that looked like on the student side is that they went to school two days for face-to-face instruction and supplemented the other days with virtual instruction. All students had the opportunity to participate in the hybrid model. Some students elected to go into the 100% virtual Orange County, or Virtual OC, platform we created."
Virtual OC was designed for students who feel both more successful and comfortable learning from home.
"The students who have opted for 100% virtual schooling are learning online through our Canvas Learning Management System. They're able to log in and participate in the in-person classes remotely. Kind of like they are in a Google Meeting or using Zoom."
Through Canvas, students can read materials, watch instructional videos, discuss topics, turn in assignments and receive feedback and grades from their teachers.
Increased in-person instruction began following spring break in early April.
As of the week of April 12, 65.53% of students are participating in the four-day instructional model, while 34.31% of students have chosen Virtual OC. At the beginning of the school year Aug. 24, 2020, 56% of families chose the hybrid model with 44% opting for exclusively virtual instruction. All students, regardless of what schedule they are following, are learning virtually and asynchronously (on a different timeline than teachers) on Fridays for the rest of the school year.
"Students, especially at the high school level, have had more independence this year in regard to their education," said Bill Berry, assistant superintendent for student and administrative services. "Some have thrived, some have struggled."
Snead pointed out that some issues are to be expected when school systems go through such a seismic series of changes. He said that the pandemic has pushed OCPS to rethink how it educates its 4,885 students and cater to their needs in more efficient ways.
"Regardless of this pandemic, we wanted to have an online learning presence anyway," he said. "Our customers are changing. If a student needs to be out for a week, for whatever reason, they can seamlessly continue their work through Virtual OC. It used to be when someone was gone for a week, teachers would have to scramble and try to pull everything together the best they could. The pandemic kind of forced our hand on making this move. But that's okay. It must have been meant to happen."
Berry said that he views the increasing presence of technology in the everyday lives of OCPS students as positive in the long-run and could potentially better prepare them for their careers.
"For example, if I'm a business owner looking back at a student's grades during this year and see that they have still performed well, then that could be an indication that they would work well in my organization," he said. "Especially if I have to put them in a situation where they are working independently."
To offset some of the growing pains that come with virtual learning, OCPS has tried to connect teachers and students in a seamless fashion, bringing the classroom to them rather than the other way around.
"We purchased 55 to 65-inch monitors, like a Samsung TV in your house," Snead said. "Our teachers have those monitors in their rooms. Mark Outten, who is our technology director, had the vision and helped us get that technology into the classrooms. So we've been able to leverage that. Each student has a Chromebook they can use and if you are a primary school student then you have an iPad for virtual learning. Really, we have a lot of positives coming out of this."
Despite the progress that has been made to integrate both forms of learning into a cohesive whole, Snead explained that OCPS is gearing up for a relatively normal school year this fall.
"We anticipate that by the 2021-2022 school year, we will be operating at five-days-a-week, in-person learning again," he said. "But we are also going to keep our 100% Virtual OC option."
What won't change anytime soon is the massive logistical process of transporting kids to school safely during an airborne pandemic.
"We've had to redo our bus routes," Berry said. "That's been an extremely large task for our transportation staff. They've had to work around the clock for about two weeks. We surveyed parents and then took that information and designed routes for the students. You have to keep in mind that we are no longer able to put 70 students on a 70-passenger bus. We also have to make sure that we are disinfecting or sanitizing the buses in between each run.
Justin Sarver, director of transportation for OCPS, and his staff have had to get creative with the bus route system to get students to and from their respective schools.
"In order to respond to the need to return all students to school, we have had to implement a two-tiered bell schedule throughout the school division, meaning that secondary students at middle and high schools arrive at school by 7:10 a.m.," he said. "All of our elementary schools arrive at school at 9:00 a.m. The hour and a half stagger between the start times permits us to use the same drivers to drive each group of students. By doing so, we have actually increased the number of bus routes to support each of our schools with 57 drivers."
Complicating things is a major shortage in bus drivers, a problem that existed before COVID-19 but one that has been exacerbated since the virus reared its head.
"The biggest challenge we have had to overcome as a department is a 17-person driver shortage," Sarver said. "Like many other school divisions, we experienced a large number of retirements and resignations related to the pandemic. Prior to the pandemic, we had already experienced a reduction in qualified applicants, and this continues to be the trend."
"We do have a driver shortage," Berry said, echoing Sarver's concerns. "We certainly need bus drivers."
For now, the transportation department has had to learn to make do during lean times.
"I cannot express to you how proud I am of my office team, our drivers, and our schools for managing this situation and helping students succeed in the environments that best meet their needs," Sarver said. "The transition from the previous hybrid model to four-day instruction required a complete re-route of all of our buses at all of our schools. This required significant coordination between parents, schools, and transportation in a very short amount of time."
Snead, Berry and Sarver all said that the OCPS facilities department has gone to great lengths to ensure that risks for spreading the virus are mitigated or eliminated inside school buildings.
"Gone are the days of water fountains; we are installing in all of our schools those water bottle refill stations," Berry said. "That's what we've used some of our federal funds for, is upgrading those stations."
Where necessary, we might be doing a deeper cleaning on Fridays," he continued. "But we have found that we are really able to keep up with that throughout the workweek. During the day, our custodians are addressing those high-touch surfaces: the doorknobs, the push bars on doors, the faucets in the bathrooms, the flush levers. So, those items are being wiped down."
"I had my principals go back and look at the space in their buildings and determine how many students we could safely place in a classroom," Snead said. "Also, they looked at what the logistics would be for class changes (moving through the halls between classes) at the high school and middle school levels. So, we set up a health committee about a year ago to help us maneuver through these ever changing times."
According to Sarver, similar measures have been taken on all the buses.
"Each school bus is sanitized between each route using an electrostatic sprayer," he said. "Drivers also use other materials to frequently wipe down high-touch areas on the bus to help mitigate transmission. Each student must wear a mask at all times on the bus. Finally, to improve ventilation, buses keep their windows down. These measures have been successful, and we expect that these continued processes will continue to keep our students safe."
On April 12, Snead visited a number of schools to check on how the new schedule was being received by teachers and students. He was pleased with what he observed.
"We've had a wonderful week so far with our four-day in-person schedule," he said. "Of course we are going to do this for the rest of the year."
The 2020-2021 school year ends on Friday, May 28, but Snead and the rest of the OCPS administration staff plan to get right back to work the following week preparing for 2021-2022.
Sarver highlighted how the adversity of the last 13 months has brought the schools and by extension Orange County together when it could've easily ripped people apart.
"It has been humbling to watch so many people work through their personal fears so that they can support their students. I cannot tell you how many times a day I hear our bus drivers refer to their students as 'my kids,'" he said.