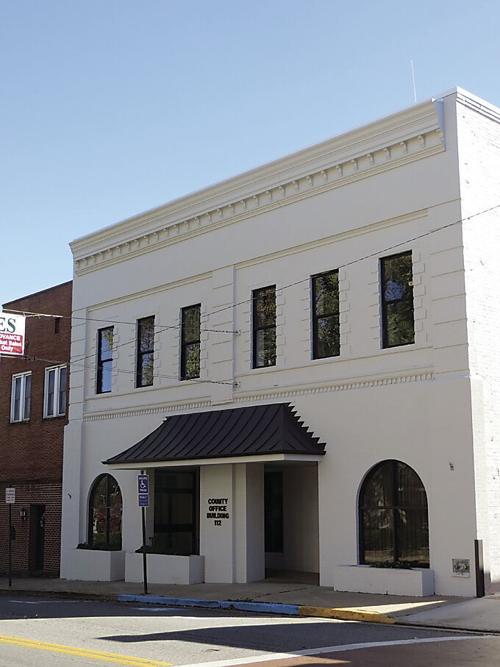 Five familiar citizens submitted applications by the Friday afternoon deadline for the open seat on the Orange County Board of Supervisors.
The seat became vacant following the Dec. 30, 2020, death of four-term supervisor Teel Goodwin, who had served on the board since taking office Jan. 1, 2008, and was most recently reelected in 2019.
At its Jan. 12 meeting, the board announced it would solicit applications from interested citizens to serve as the interim District 3 Supervisor until the Nov. 2 election. At that point, candidates will run to fill balance of the term, which will expire Dec. 31, 2023. One of the points included in the legal announcement soliciting applications asked potential applicants if they were interested in running for the seat at the Nov. 2 election.
The five candidates are well-known to many in the community as active and engaged citizens. They include: former Orange Mayor and town council member Chuck Mason, District 3 planning commission appointee Donald Brooks, former District 3 supervisor write-in candidate Ellen Pitera, retired veterinarian and Rapidan farmer Bob Wilbanks, and Unionville dairy farmer Keith Marshall.
The five applicants offered varying levels of information for the board to consider their candidacy, ranging from brief and direct to comprehensive resumes and letters of interest.
Marshall is an Orange County native, having owned and operated the family dairy business since 1979. With his wife, Deanne, they operate a robotic, organic milking operation with a total herd of 990 and a milking herd of 550.
Marshall is a 1988 graduate of the University of Mary Washington with a degree in economics.
In his letter of interest, Marshall writes, "Given the passing of District 3 Supervisor S. Teel Goodwin, I am offering my service to fulfill the remainder of his term until a general election can be held to allow the citizens of District 3 to elect their next supervisor."
In his letter to the board, Wilbanks expresses his interest and, with regard to whether or not he will run in November, writes, "I can only say at this time that making that commitment would be dependent upon my performance in the interim position in the eyes of the constituents of the district, as well as in the eyes of the board."
After establishing successful veterinary practices in Texas, Wilbanks and his family moved to Orange 14 years ago. He owns a beef cattle farm in Rapidan.
"Orange County has been giving to me and my family for 14 years. I think it's time I gave something back. I have no personal agenda–just a pledge to work hard, to be accessible, and to use common sense in all the decisions I make on our resident's behalf," he said.
Pitera, an art teacher at Orange Elementary School, ran a write-in campaign against Goodwin in 2019, collecting 479 votes to Goodwin's 1,279.
In her letter to the county administrator, Pitera notes, "My decision to run then was based on my desire to use my unique talents to serve the people of Orange County. I still wish to serve and my intention is to run for District 3 Supervisor in the special election this November."
Pitera and her husband Rob operate Rounton Farm on Rapidan Road, which is a wedding venue, summer camp and hunting club. An Orange County native, she earned a degree in studio art and a teaching certificate at Sweet Briar College in 1993, and later a master's degree as a reading specialist at the University of Virginia. In 2015, when Sweet Briar was facing closure, she was one of seven alumni who helped rescue the college and secure its future. For most of her career, she's been a teacher in schools from Orange County Public Schools, Falls Church and two stints teaching in Kenya.
Former Orange Mayor and co-owner of Mason Insurance Agency in Orange, Chuck Mason was direct and to the point in his letter of interest.
"I feel like I know District 3 as I have lived here my whole life," he wrote. "Additionally, my time on the town council of Orange will help with the relations between the town and the county. Right now, they are going well and I don't want anyone to mess it up."
Mason has served 16 years on the Orange Town Council, many as mayor. Mason Insurance is the oldest continuously operating business in the county, having been founded in 1891.
A lifelong Orange County resident, Brooks spent a lengthy career in law enforcement before becoming a sales consultant at Jim Price Chevrolet. He's served as the District 3 planning commission representative since 2008
Brooks spent more than 25 years as an officer in the Orange County Sheriff's Office, spanning four different sheriffs.
He has a history of community, church and civic activism in the county.
In his letter of interest, Brooks declares his interest in running for the seat in November, and said as the current District 3 planning commission member, "I have the knowledge of the county's plan and efforts to best serve the citizens."
The board is expected to consider the applications at its Feb. 9 meeting, with each of the candidates permitted an opportunity to address the board and advocate for their selection.
The District 3 seat on the Orange County Board of Supervisors will join the District 1 and District 4 seats on the Nov. 2, 2021, ballot.