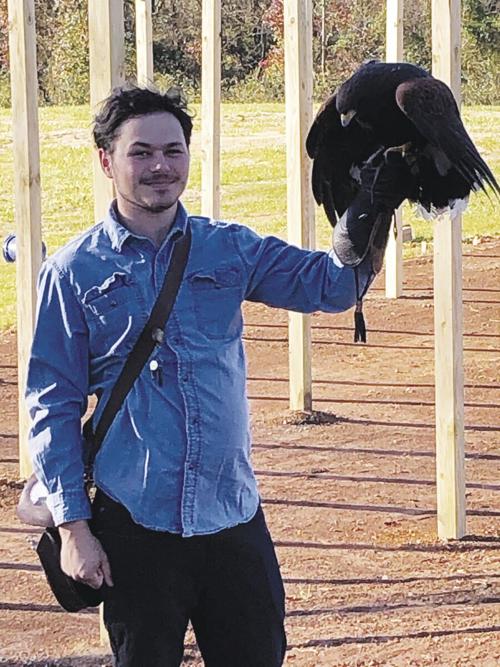 Rappahannock Electric Cooperative recently awarded grants of more than $74,200 to 11 local organizations including $11,332 to Rapidan-based Earthquest Inc. Through their Power of Change initiative, REC member-owners can round up their electric bill to the next whole number or make a single donation to contribute to local non-profits. Twice a year the Rappahannock Electric Cooperative distributes the money to organizations within their communities.
In early November, Earthquest received $11,332 from REC to build mews for birds of prey. The non-profit, which has been educating the public about wildlife conservation and the environment for more than 30 years, recently relocated to Rapidan. The grant will enable the 501-c3 to build housing for the non-releasable birds of prey that are a vital part of its program.
According to Robert Haynes, Director of Operations for Earthquest the grant has helped speed up the construction process. Earthquest is building mews (elevated stables) and parrot barn on the Rapidan property.
Earthquest and their birds travel around the United States to schools, fairs and other events to teach about raptors and their habitat. The birds that are part of the nonprofit's educational programs are unable to be released back into the wild. Earthquest has owls, hawks, eagles, vultures and condors that are used in their educational programs. The programs teach about life cycles and habitat of the birds of prey.
Haynes said many people have never seen a raptor up close and have no idea about the birds' habits or habitat.
"For many people, this is the first time they've been close to a bird of prey," he said. "Until then, they haven't thought about what they do, what they eat or where they live. These birds are ambassadors for their wild cousins. It is a chance for people to see these birds and learn about the struggles they face in our modern world."
Earthquest was founded by Steve Hoddy in 1989. Hoddy, a graduate of a wildlife management program at Moorpark College in California, worked with a raptor rehabilitation facility and with wildlife trainers for the movie industry in California before moving east. After managing several wildlife exhibitions and demonstrations for other organizations, Hoddy formed Earthquest to provide environmental education programs with a focus on presenting live raptors. Hoddy believes that demonstrations of the animals' abilities offers a unique and memorable experience. Until 2019, Earthquest was based in Georgia. The non-profit decided to relocate to central Virginia after traveling to the area to present educational programs.
For Haynes, it is a return to his roots, since he grew up in Rapidan and achieved the rank of Eagle Scout in a Madison County troop. His love of the outdoors was developed here and he welcomes the opportunity to bring contact with nature to the people from his hometown.
This year has been somewhat unusual for the non-profit with many planned events being cancelled by the COVID-19 pandemic. Haynes said it has given the organization time to get settled in the new location.
"In a normal year we see about 80,000 people at our events," he said. "A lot of our school programs and renaissance fairs aren't happening. We still are doing a lot of smaller events though."
For more information about Earthquest go to their website www.earthquest.org or visit them on Facebook @earthquestorg.
For more information about the Rappahannock Electric Cooperative's Power of Change initiative go to www.myrec.coop/power-change.