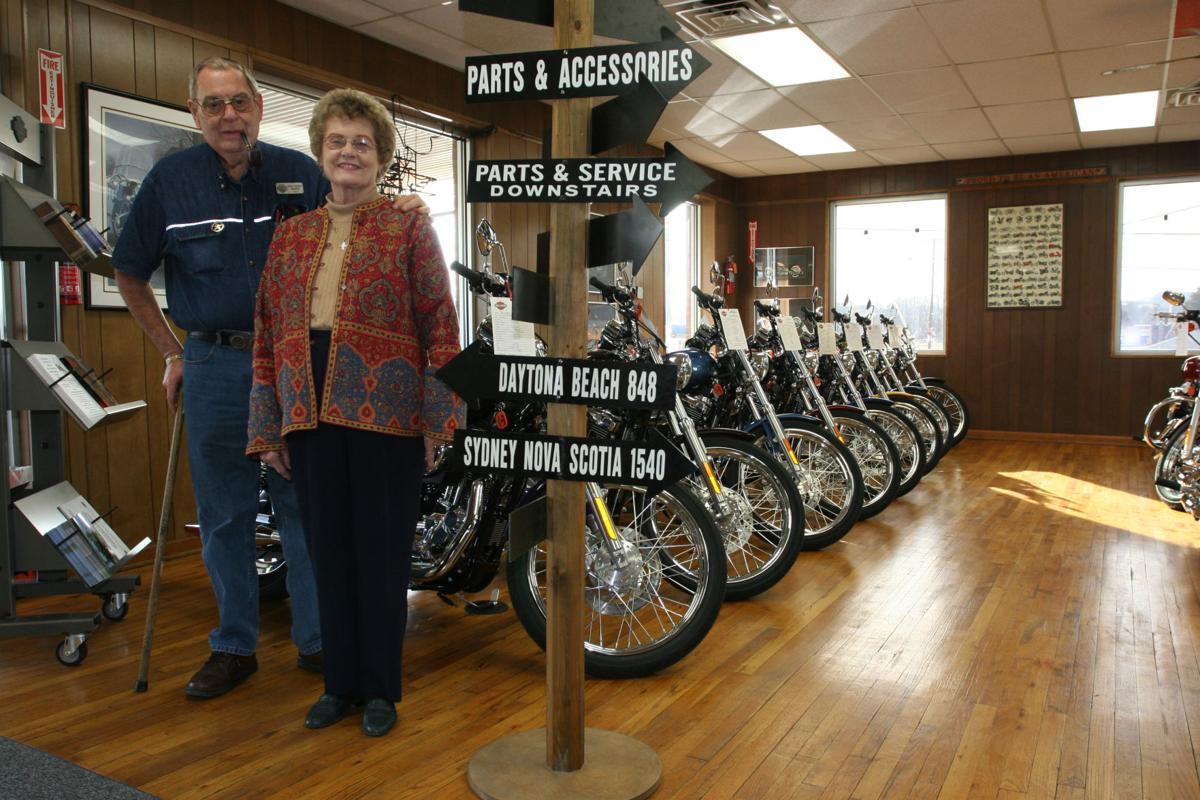 "He was all about the motorcycles, and he was all about the people."
So said Hunter Newman of Orange about Donald Edward "Don" Waugh, who died at age 85 at Dogwood Village on Feb. 24. Newman is one of a great many people mourning the loss of the pipe-smoking, fun-loving, community-minded motorcycle dealer nicknamed "Hoss" and "Big Daddy."
Waugh's funeral on Feb. 27 at Trinity United Methodist Church in Orange drew some 400 people. The funeral procession included about 200 motorcyclists who wended their way around town and took a final pass by the extraordinarily successful motorcycle business Waugh sold several years ago.
According to local attorney Charles Bowman, Waugh's lawyer and fellow biker, Waugh was a legend in the eyes of Harley-Davidson dealers because he got in on the ground floor when the company was struggling to make a comeback in the 1970s.
In time, Harley-Davidson exponentially expanded its clientele beyond the Hell's Angels crowd, and Waugh was part of the success story. Waugh Enterprises, just off Route 20 in Orange, became a destination store attracting customers from across the state and beyond.
A resident of Orange, Waugh wasn't just a Harley salesman; he was a well-traveled biker who attended all the major rallies and served as auctioneer during the fundraising drive for the Muscular Dystrophy Association, part of the Harley-Davidson Bike Week in Daytona Beach, Fla. At Daytona, Bowman said, Waugh took time out to serenade the crowd with his harmonica.
His abundant good humor was part of his charm—and an essential ingredient of his business acumen. Bowman described how the born salesman would ask a customer whether he already owned a Harley. If the answer was no, Waugh would say, "We've got to help you out! A man without a Harley-Davidson is just like a homeless person."
Both Newman and Bowman said Waugh made a point of befriending his customers, men and women alike, and trading jokes and stories with them.
"I don't think there's anybody that has ever had more fun running a business than Don Waugh," Bowman said.
Waugh was known for his generosity and compassion as well as his playful spirit. Newman said bikers going through a hard time would sometimes stop by the shop before heading out on a ride. Waugh was quick to sense a friend who needed a companion on the road.
In Newman's recollection, Waugh would say, "'I'm going with you. Let's go ride. We're gonna take a ride and clear your mind. And when we come back, we're gonna go get something to eat. And we're gonna sit around and chat a little while. And when you leave here, you're gonna feel good.' And it happened every time."
Waugh inherited his love of all things on wheels from his father, P. D. Waugh. The elder Waugh ran a tractor, car and motorcycle sales and repair business out of the same building that Don Waugh eventually turned into a Harley-Davidson dealership.
Even as Waugh Enterprises grew in size and stature, it remained a family business. The Waugh children, Palmer and Donna, worked alongside their father and their mother, Marcelline, and a burgeoning roster of employees.
Inside the display room at Stonewall Harley-Davidson, formerly Waugh Enterprises, sits Waugh's 2011 custom-painted Harley, a gleaming sidecar bike. It is part of a memorial tribute including a portrait of Waugh, his denim motorcycle vest and several photos of him and Marcelline.
With Waugh driving and his wife taking in the view from the sidecar, the devoted couple motorcycled all over the country and up to Nova Scotia. They frequently traveled with the Harley Owners Group (HOG) that Waugh started in Orange.
First Sgt. Rebecca Moody of the Orange Police Department and her fellow officers kept an eye on the proceedings during the motorcycle shows that Waugh Enterprises sponsored in Orange. She said the police never had any problems with the bikers: "The guys would come together; everybody was happy."
Jeffrey Hayden, owner of D & J Thrift Shop, a short drive from the motorcycle dealership, knew Waugh for 25 years and counted him as a good friend.
Hayden enjoyed browsing in "Memory Lane," Waugh's museum of his personal collections that took up part of the showroom at the dealership.
Items on display included model cars and motorcycles, knives, harmonicas, clay pipes, playing cards and NASCAR beer steins.
Hayden was among several who noted that Waugh sat at his desk near the front door of the dealership and smoked his pipe while greeting customers. Even after the business adopted a "no smoking" policy, the boss puffed away, in cheerful defiance of the signs forbidding him to do so.
Forest Porter, the retired pastor of Trinity United Methodist Church in Orange, helped officiate Waugh's funeral. He said Waugh did everything he could for his church and community.
Waugh gave Porter a 2006 low-rider Harley, a gift that stunned the minister, who up to that point had only ridden bicycles.
"It was loud and had a lot of chrome on it," Porter recalled with a chuckle.
Donna Waugh-Robinson, of Orange, said her father cherished Orange County, where the family roots go back to the 1600s.
"He taught us to be good stewards of the community and always give back. That was how he lived his life," she said.
She remembered how her father gave sidecar rides to residents at Dogwood Village and children participating in the 4-H Therapeutic Adventure Camp of Orange. Through the Make-A-Wish Foundation, he also provided rides to children with life-threatening illnesses.
He was a founding member of the original Kiwanis Club in Orange and an active member of the Orange County Chamber of Commerce, Rotary Club and Orange Downtown Alliance.
For many locals, the charity most closely associated with Waugh is the Orange County Children's Toy Box. Waugh-Robinson said that in 1991 her family took over the project from the local chapter of the Jaycees, which was closing due to a decline in membership.
From then on, Waugh Enterprises served as home base for the endeavor supplying needy county children with presents during the holiday season. The business donated funds and provided space for the toys coming in from all over Orange County.
"My father was such a big kid—he loved Christmas. He didn't want to see any child go without," she said.
Beneath Waugh's rough-and-ready appearance beat a soft heart. He adored his Boston terriers and welcomed other people's pets to the dealership. Waugh-Robinson said customers brought in their dogs, cats, birds, potbellied pigs and ferrets, and her father played with them all.
By all accounts, Don Waugh was a kind man and superb businessman who lived a full and happy life.
Waugh-Robinson had satisfaction in her voice when she said, "He had 85 good years doing it his way."